Spring Alabama Aviation Events Blooming from Alabama Aviator - Aviation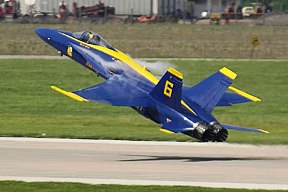 News | Official Spring is here with a new airshow season and aviation events that aspire to inspire, entertain and delight. Alabama offers a full schedule of flying fun this year so you don't have to travel far very from home. It's all right here, no matter if you just love airports and airplanes, fly ins, air shows or aviation history. Springtime is flying time here in Sweet Home Alabama....

Blue Angels not only standouts on air show roster - Sarasota Herald-Tribune | "In my 24 years here, this air show has by far the largest show schedule I have ever got into," said air boss Bob Hall, adding that fans will be "wowed" by the large and loud Super Hornets. The air show is scheduled for 10 am to 4 pm Saturday and....

Blue Angels to Fly Over New Orleans for Historic 1812 Celebration from Alabama Aviator - Aviation News | New Orleans will serve as the inaugural city in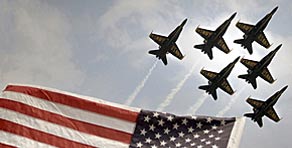 a three-year national celebration commemorating the War of 1812 and the Star-Spangled Banner. The 2012 celebration will take place April 17 - 23, 2012, featuring a colorful spectacle of ships spreading on the East Bank of the Mississippi River from Erato Street to Upper Poland Avenue. Additionally, the Navy's famed Blue Angels will perform a memorable air show as part of the week's festivities....

Blue Angels return to Florida International Air Show in Punta Gorda - The News-Press | The US Navy Flight Demonstration Squadron, the Blue Angels, demonstrate the Maneuvering Delta during the Quad City Air Show June 19 in Davenport, Iowa. / Special to news-press.com When: Saturday and Sunday, gates open at 9 am, with opening ceremonies...

Hill AFB prepares for Memorial Day air show with mock F-16 crash - KSL-TV | 16 crash last year at the Reno Air Races that killed 11 people, including the pilot of a vintage P-51 Mustang that went out of control. Baran coordinated the drill involvement of federal, state and local emergency response agencies, which converged on...

Red Checkers to fly over Mount - SunLive | The Royal New Zealand Air Force Red Checkers team will perform an aerobatic display over Mount Maunganui this Sunday as part of its national tour to celebrate 75 years in the RNZAF. Tauranga was an important region for the RNZAF during World ...

Fantasy of Flight to Host Splash-In from State Aviation Journal by Kim Stevens | Fantasy of Flight will once again play host to one of Central Florida's splashiest events on Thursday, March 29 from 10 a.m. to 5 p.m. The aviation attraction welcomes "Splash-In," a one-day event specifically designed to celebrate seaplanes and other amphibious aircraft. Throughout the day, dozens of seaplane pilots will use Fantasy of Flight's Lake Agnes as their chosen landing strip....

Spotlight on Jets and Vettes - Arizona Daily Star | The show is put on by the Tucson Corvette Club, the Sonoran Desert Corvettes-Tucson group and the Pima Air & Space Museum. • When: 9 am-5 pm Sunday. The last admission is 4 pm • Where: Hangar One, Tucson Pima Air & Space Museum, 6000 E. Valencia Road.

Aerobatics team to wow the crowd - Manawatu Standard | The 34-year-old is one of the pilots involved in the Air Force Air Show next Saturday, which this year is part of the Royal New Zealand Air Force's 75th anniversary celebrations. The Red Checkers will put on a demonstration at the show, ...

Southport Airshow and British Musical Fireworks Championships confirmed for September - Crosby Herald | WARPLANES and rockets are set to attract thousands of tourists to Southport this September. The Southport Air Show and British Musical Fireworks Championships have both been confirmed by...

RARITIES JOIN AIR TATTOO LINE-UP from Royal International Air Tattoo News | Aircraft fans looking for something a little out of the ordinary this summer will be delighted by news of the latest participants released by Air Tattoo organisers.

WWII planes on display in San Marcos next week - Herald Zeitung | Vintage World War II-era planes will be on display Monday through Wednesday at San Marcos Municipal Airport as part of the Wings of Freedom Tour. Featured planes include a Boeing B-17 Flying Fortress, Consolidated B-24 Liberator and North American P-51 ...

Tico 2012 Warbird Airshow Photo Review - warbirdsandairshows |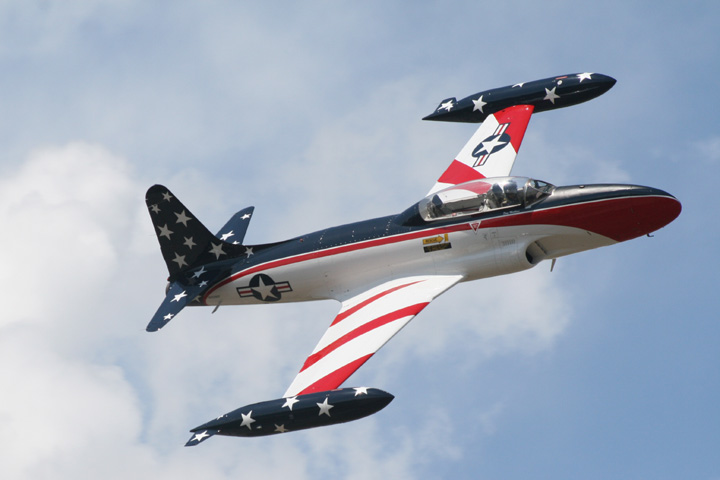 Warbirds at Space Coast Regional Airport, Titusville, FL - March 9-11, 2012 | Tico. What else can one say or need to say? The first warbird show of the year after winter without the sights, sounds and smells of warbirds performing in warm, sunny weather while the calendar still says it is winter. While the weather in this year didn't quite live up to the expectations on a couple of the days, if one was at the event any of the three days they saw some great warbird flying. This year the show was all about four B-25s. Normally if you are lucky one B-25 will be at an event and it may not even fly if it is static only. This year all four Mitchells flew all three days and with air boss Ralph Royce directing the highly experienced pilots that were flying the B-25 portion of the show was very memorable....

Army Apache Mishap Caught On Video from AVwebFlash Current Issue | Nobody was killed (although it's likely some careers were bruised) when an Army AH-64 Apache helicopter crashed in the snowy mountains of Afghanistan, possibly last month. Although the precise date of the mishap hasn't been confirmed, Wired quotes an unnamed source at Stars and Stripes as saying the incident occurred in February. Video started popping up Tuesday of the aircraft engaged in a "return to target" maneuver that didn't go as planned...

Podcast: Lyle Jansma From Cockpit 360 - Warbird Radio.com | ...on the air with Lyle Jansma from Aero Capture Images. We'll be talking about his new iPhone App: Cockpit 360...

P-38 Art from The Unwanted Blog | From an old issue of Lockheed Horizons, a cutaway painting of the Lockheed p-38...

Radio Traffic B-52 Pilots over Hanoi Linebacker II 4 of 5 - Big Hit! from Defense Forum

Plane-pull takes flight for charity - Victoria Times Colonist | Pull together for a good cause Saturday by watching five-member teams pull a 9000-kilogram plane for charity in the Victoria Epilepsy and Parkinson's Centre Society's Plane Pull for Epilepsy. Teams of five will play tug-of-war with the 69 year-old ...

More than 70 combat planes involved twice a day in world's most realistic training exercise: welcome to the Red Flag 12-3 from David Cenciotti | Taking place from Feb. 26 to Mar. 16, 2012, Red Flag 12-3 at Nellis AFB, Nevada, was attended by combat planes belonging to 12 different U.S. Squadrons and from the 75 Sqn of Royal Australian Air Force and 2 Sqn of the UK's Royal Air Force. The Red Flag (RF) is a realistic training exercise, organized several times a year at Nellis AFB and...

Video Of Man Flying Like A Bird Has The Internet Crying Hoax by Megan O'Neill | By now you may have already seen the video of a man flying like a bird with custom-built wings. The video, which features a Dutch man named Jarno Smeets achieving flight with a sweet winged contraption, has been viewed over 2.5 million times since it hit YouTube on Monday, but as much as we all want this to be real, it's looking more and more like the video is a hoax....

Hear and talk with astronaut Nicole Stott at the Dunedin Historical Museum this Sunday — and more! - travelforaircraft | This is a press release I received from the Florida Aviation Historical Society (FAHS) about a great opportunity to be with a NASA astronaut in Dunedin Florida this Sunday, 25 March. Her name is Nicole Stott, a veteran space traveler and space walker having flown into space twice as a mission specialist (she has an engineering background) — including a stay on the International Space Station — and has done much more in NASA than fly into orbit....

Weather Continues To Delay NASA Five Rocket Mission From Virginia from Aero-News Network | Agency Researching Upper Level Jet Stream NASA has rescheduled the launch of five suborbital sounding rockets from the Wallops Facility in Virginia as part of a study of the upper level jet stream to midnight to 0300 EDT, March 22.