Children find inspiration in Thunder Over Utah Air Show - The Spectrum | lmost in unison, child after child climbed onto their parents' shoulders as the U.S. Navy Blue Angels launched from a runway Saturday at the St. George Municipal Airport. It didn't take long for amazement to start kicking in....

Air show produces 'thunder' over Southern Utah - The Spectrum | Man-made thunder rolled across Southern Utah on Saturday as members of the U.S. military's performance teams visited the St. George Municipal Airport for a show of daring feats and flying skills....

Blue Angels fly in Pensacola again - Fox10 | PENSACOLA, Fla. (WALA) - The Blue Angels will return to Pensacola National Naval Aviation Museum Wednesday, March 21. The practice flights, which begin at 8:30 a.m., should last about an hour and are free and open to the public....

Maj. Caroline Jensen - http://afthunderbirds.com | ajor Caroline Jensen is the
right wing pilot for the U.S. Air Force Air Demonstration Squadron "Thunderbirds," flying the No. 3 jet. She entered the Air Force in 1998 as a graduate of the U.S. Air Force Academy. Before joining the team Major Jensen served as a T-38 instructor pilot and assistant flight commander for... More from Pacific Flyer

CAF's President of Safety Robert Stenevick – Warbird Radio LIVE! – Monday – 10am (EASTERN) | MONDAY – Commemorative Air Force's President of Safety, Maintenance and Operations Mr. Robert Stenevick joins Matt Jolley on Warbird Radio LIVE! As safety month continues, tune in and...

Air-show at Duxford to celebrate Queen's diamond jubilee - Cambridge First | THE Queen's diamond jubilee will be celebrated in style at the Imperial War Museum Duxford, where a special Jubilee Air Show will take place on Sunday, May 27....

F-18 Hornet Demo - lauderdaleairshow.com | The Boeing F/A-18 Hornet is a twin-engine supersonic, all-weather carrier-capable multirole fighter jet, designed
to dogfight and attack ground targets (F/A for Fighter/Attack). Designed by McDonnell Douglas and Northrop, the F/A-18 was derived from the latter's YF-17 in the 1970s for use by the United States Navy and Marine Corps. It has been the aerial demonstration aircraft for the Navy's Flight Demonstration Squadron, the Blue Angels, since 1986...

Remote-controlled airplanes steal the show - The Times of India | Dharwad: As part of the four-day national techno-cultural event 'Insignia-2012', an air show was organized at SDM College of Engineering and Technology in Dharwad on Sunday.The air show had two types of models, radio remote controlled air models and radio controlled wired engines....

15,000 visit air show on last day - Deccan Chronicle | Around 15,000 visitors turned up for the last day of India Aviation 2012, the aviation exhibition at Begumpet Airport that began on March 14 Though the organisers were keen to emphasise that this was not a mela, there was a carnival-like atmosphere, as thousands of Hyderabadis flocked to the exhibition on Sunday...

Gearing up for Sun 'n Fun from General Aviation News by Dan Johnson | Sun 'n Fun 2012 is about to begin. Billed as the "Spring Break for Pilots," the central Florida airshow is revving up in numerous ways, thanks partly to the show's new leader, John "Lites" Leenhouts (and yes, everyone really does call him "Lites," his Navy pilot nickname). His team is refreshed and ready for a new event. The turmoil from last year's tornado is behind them and many changes are planned...

Every Day is a Highlight at EAA AirVenture 2012 from Alabama Aviator - Aviation News | Special activities set for each day of 'The World's Greatest Aviation Celebration'- EAA AVIATION CENTER, OSHKOSH, WI - EAA AirVenture Oshkosh lives up to its role of "The World's Greatest Aviation Celebration" once again in 2012, as each day has highlights for the most hardcore aviator as well as those who are just discovering all the attractions within the wonderful world of flight....

Get Ready for EAA 416 Annual Grass Field Fly In on the Bayou from Alabama Aviator - Aviation News | Roy E Ray airport is one of the few airports in Alabama with a subdivision located on the field. The airport, established in 1962, now consists of about 20 homes, with hangars and taxiway access to the 2640 ft grass runway. Based on the field is a collection of WW II aircraft, one T-6 and four Stearman, including one of the original Tuskegee Airman trainers. Other based...


Formation flight Sunday. Venoms from Planeshots

The unsung aviator who helped saved Darwin - The Punch | A genuine American war ace who did his greatest fighting 70 years ago over the skies of Darwin has passed away in California at the age of 95....

Watch This Crazy Hercules Aeroplane Flying Just 1.5m Above The Ground - Gizmodo | Crazy jet fighter pilots: CHECK! Crazy bomber pilots: CHECK! Crazy airliner pilots: CHECK! Crazy military transport pilots: Watch this crazy pilot flying this Swedish Air Force' Hercules C-130 as low as 1.5m and just over the head of his colleagues....

CoolPix: Pan Am Anzac Clipper, Clear Lake And Pearl Harbor from AirPigz by Martt | A couple days ago I stopped in at the Lake County Museum in Lakeport
Califonia to see what might be interesting to learn about the county and lake area that my mother grew up in. We're visiting her right now, and enjoying the view of Clear Lake, California's largest natural lake. It's a big one at over 17 miles long and over 7 miles wide at the widest part. As an avgeek, you can't help but think of seaplane flying when you see this massive lake surrounded by beautiful small mountains....

Know a Girl Who Wants to Learn how to Fly? from You Fly, Girl by Cathy Gale | ...Girls With Wings is pleased to announce that we have developed an additional scholarship for 2012. Girls With Wings has traditionally offered a Private Pilot Scholarship to help defray the cost of flight training lessons in pursuit of a private pilot certificate. This scholarship is targeting those individuals who have soloed but have not completed the Private Pilot Course. The Private Pilot Scholarship is an award in the amount of $1000.00....

Round Trip: Art from the Bone Yard Project from Alabama Aviator - Aviation News | Contemporary Artists use WWII Aircraft as Canvas at the Pima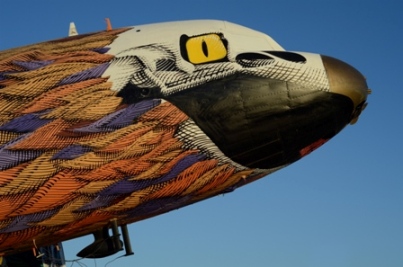 Air and Space Museum in Tucson -Tucson AZ - The Pima Air & Space Museum is exhibiting Round Trip: Art From the Bone Yard Project in Tucson. Conceived in Spring 2010 by Eric Firestone, and organized with curator Carlo McCormick, The Bone Yard Project resurrects disused airplanes from America's military history through the creative intervention of contemporary artists, taking entire airplanes and their elements out of aeronautic resting spots in the desert, known as "bone yards," and putting them into the hands of artists...

Flight attendant looks back on 6 decades in the air - www.msnbc.msn.com | Ron Akana, 83, is the face of a profession that has gone from glamorous to gray, as more flight attendants work longer than they ever imagined.

New England Air Museum's Space Expo April 1st from Aerospace-Defense News | The New England Air Museum in Windsor Locks, Conn. will hold its annual SPACE EXPO on Sunday, April 1, 2012.