BATTLE FOR BRITAIN'S RED ARROW JET JOBS - Express | THE Red Arrows' iconic jets
could soon be built overseas at the cost of hundreds of British jobs, angry MPs warned yesterday. Defence giant BAE Systems is scrapping the manufacture of the Hawk trainer aircraft at its factory in Brough, East Yorkshire, the House of Commons heard....

Schools at Warbirds Over Wanaka - Voxy | Cadets from the Air Training Corps 50th Squadron based in Alexandra will be offering their services as airshow guides to Upper Clutha school students on a free day out the Warbirds Over Wanaka International Airshow next Easter. For the second time students from local schools are being offered free tickets to the first day of the three day event....

It's lift-off for city's first air festival - The News | A FREE air festival which organisers say will rival the best aviation shows in the world is being planned to take place in Portsmouth next summer. The world's only aerobatic wingwalking team, the Breitling Wingwalkers, Second World War Spitfire planes and an old Royal Navy Sea Vixen fighter jet are just some of the star attractions being lined up for a seven-hour extravaganza of soaring displays over Southsea Common on Saturday, August 18, 2012. Organisers of the first-ever Portsmouth Air Festival have pledged the event...

Air show could return to Suffolk skies for 2013 - Bury Free Press | THE return of Mildenhall Air Fete could be in sight after planning to bring back the popular aviation show in 2013 got under way. RAF Mildenhall confirmed on Wednesday that tentative plans to bring back the show –- which pulled in more than 500,000 visitors before being cancelled in the wake of 9/11 – were being looked at....

Turkey Drop Aborted, "Pilot" Vows Return - AVweb | Thanksgiving Day feels like the right day to confirm that the town of Yellville, Arkansas, this year did break with tradition and did not punctuate its October Turkey Trot Festival by dropping live turkeys from an airplane ... though it may next year. According to the Arkansas Times blog, the drop was effectively discouraged when the FAA promised to send observers and to enforce FAR 91.15. (The regulation prohibits pilots from dropping any object....

A flight on a B-17 - Boing Boing | When the B-17 Aluminum Overcast appeared on the horizon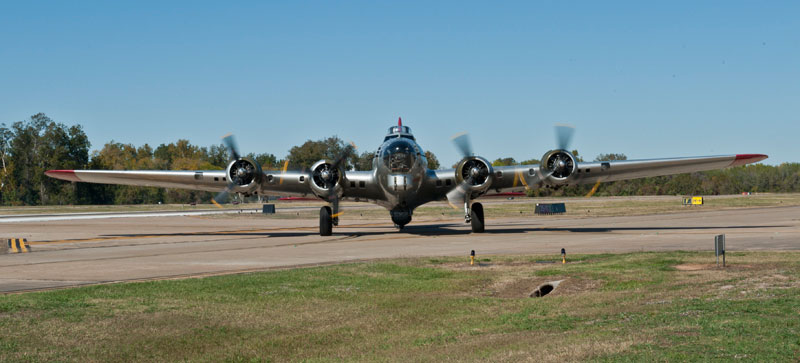 above a Houston suburb sky last week, her shape was immediately recognizable. She was curvy, substantial and down right gorgeous. At almost 70 years old, she was also a little creaky and sputtered and smoked a bit as she pulled in on the runway. This was our ride for the afternoon, and I was giddy like a 10-year-old as we prepared to board....

C130J Display Flight at Paris International Airshow 2011 - vimeo.com | Video we filmed using an Iphone 4 as Pilots Wayne Roberts and Steve Knoblock put the C130J through its paces over the Parisian sky

Congratulations to San Francisco NAACP honorees, 'Red Tails' lifts off - San Francisco Bay View | The San Francisco NAACP Annual Gala was held Nov. 5 honoring the legacy of the 1961 Freedom Riders, Danny Glover and the Tuskegee Airmen. Carol Ruth Silver and Claude Albert Liggins received the SF NAACP Freedom Riders' Legacy Award. Actor, producer and humanitarian Danny Glover and Cheryl Dawson, MA, MDiv, received the San Francisco NAACP Philanthropist/Activist Award....

Local man flies cargo over Himalayas during World War II - Enid News | When the United States joined the Second World War, Henry Buller had no way of knowing the role he would play in history's largest armed conflict. In early 1942, Buller was farming family land near Orienta in Major County and preparing to marry his sweetheart, Clarabelle. Three years later, he had flown more than 250 hours over "The Hump," flying cargo missions across some of the world's roughest terrain in the Himalayas....

WWII Flying Museum to mark 70th anniversary of Pearl Harbor - Times-Herald | The Commemorative Air Force - Dixie Wing and local veterans organizations will join forces on Dec. 4 to host Peachtree City's fourth annual observance of National Pearl Harbor Remembrance Day. The program will be held at the Historical Airpower Facility, Falcon Field, from 11 a.m. - 1 p.m....

Kansas Aviation Museum plans Cessna exhibit - The Wichita Eagle | The Kansas Aviation Museum is working on the final stages of an exhibit focusing on the Cessna Aircraft Co. and its long history in Wichita. The exhibit is a way to preserve and present information on founder Clyde Cessna and the company bearing his name, museum officials said....

My 2nd Distinguished Flying Cross - Shotgun15e | Lt Col Daren Sorenson was the flight lead of a flight of two F-15Es, callsign Dude 05, providing Close Air Support (CAS) in support of Coalition Forces, Operation Enduring Freedom, Afghanistan on 25 May 2011. On that day, Dude 05 flight had just completed kinetic support of a Troops in Contact (TIC) situation in the Konor province when they were retasked to support a second TIC 60nm west in the Nuristan province. Approximately 50 dismounted friendly...

Powder Puff Derby Virtual Museum: Paper Awards - You Fly Girl | For the 1967 Powder Puff Derby, which ran from July 2-10, 1967, Mary Rose Myers received a "citation of appreciation" from the City of Atlantic City and...

WWII Wrecks Discovered Off Maui - Honolulu News and Opinion | Off the southern shore of Maui, 70-year-old war relics hid beneath the ocean surface, unknown except to local divers. This year, however, the sites of six historic World War II wrecks have been uncovered and recorded for posterity by a team from the National Oceanic and Atmospheric Administration (NOAA) and students from UH Manoa. "I love history. A lot of what happened on the ocean can still be read through historic properties underwater," says Hans Van Tilburg, a maritime historian and archaeologist for NOAA's office of national marine sanctuaries....


de Havilland Canada U-1 Otter - Travel for Aircraft | De Havilland Canada (DHC) had such success with the DHC-2 Beaver (the ¼-ton truck) they evolved the design to a ½-ton truck for the skies — it had twice the Beaver's capacity and became known as the Otter. DHC began producing Otters in 1951 while also manufacturing Beavers. The Otter production ended in 1967 about the same time as Beaver construction also ceased....

A sad end to a great plane's career - Bayou Renaissance Man | Regular readers will recall the two part Weekend Wings article I wrote on the General Dynamics F-111 Aardvark strike aircraft. The last of them were retired by the Royal Australian Air Force (RAAF) last year....

This gives me warm fuzzies! - Bayou Renaissance Man | I'm awestruck by the craftsmanship and sense of adventure displayed by Petersen Engineering of England. They've come up with a modern variation on the famous Bentley Speed Six, but with a difference. This one's powered by a Rolls-Royce Meteor, a derivative of the Rolls-Royce Merlin aircraft engine, immortalized as the powerplant of the Spitfire and Hurricane fighters of World War II, as well as the Mustang Mk. X conversion that inspired what would become the world-famous P-51 Mustang escort fighter of 1943-45....

Barry Schiff: Friday's Fabulous Flyer - Flight for Success | ...Barry may have started his flying career by ducking a flying shoe—but he ended it as a Captain with TWA in 1988. And ending his career is open for debate, as Barry is actively involved in writing, teaching and mentoring young pilots... and getting checked out in new (old) planes....

Training Tomorrow's Warriors - Pacific Wings | Training tomorrow's warriors is what the 23rd Flying Training Squadron at Fort Rucker, Alabama, is all about. Pacific Wings joined the squadron to see how the US Air Force trains its future helicopter pilots using the UH-1H Iroquois and TH-1H Huey II....

Pilot gives back to youth, remembering his first opportunity to fly By Scott Kirk Special to the Reporter-News | Fred Novak can remember to the day when he decided that, if given the chance, he would offer young people the opportunity to fly. "I was always the kid who would go to the airport and look over the fence and wonder what it would be like to fly," said Novak, a retired Air Force maintenance officer. Today, as a member of the Experimental Aircraft Association, Novak has been recognized by the organzation after offering 300 young people a free airplane ride to help introduce them to aviation....

Today in Aviation History – November 24 - CRUFC
Today in Aviation History – November 25 - CRUFC