Praise for success of airshow
- gulfnews.com | Dubai: General Shaikh Mohammad Bin Zayed Al Nahyan, Crown Prince of Abu Dhabi and Deputy Supreme Commander of the UAE Armed Forces, yesterday lauded the success of the Dubai Airshow. He said, after touring the Dubai Airshow 2011, "The Dubai Airshow has ...
Hawks grounded at 15 Wing due to accident in the UK
- Moose Jaw Times-Herald | Flt. Lt. Sean Cunningham, of the RAF display team the Red Arrows, which are similar to the Canadian Forces' Snowbirds team, was killed on Nov. 8. His plane was still on the runway when the accident happened. The Red Arrows fly the Hawk TI aircraft, ...
Spirit of Tuskegee UPDATE – Warbird Radio LIVE! – Thursday
from WarbirdRadio.com by Matt | THURSDAY – Smithsonian Curator of Modern Military Aircraft Dik Daso joins Matt Jolley with an update on the Spirit of Tuskegee! Gerald "Hawkeye" Voigt will also stop in with a preview of next week's Plastic Scale Modeling Hour. Tune in at 10am (EASTERN) for the big show.
Alabama Aviation Events this Week
from Alabama Aviator - Aviation News | A special Association Achievement Reception in honor of Dr. Ed Stevenson is on Thursday, November 17 from 6:00pm to 8:00pm. A Birmingham Aero Club member and officer, since 1977, he is a Southern Museum of Flight Board member, and past Vice-Chairman. Dr. Stevenson serves on the Alabama Aviation Hall of Fame and is an Emeritus member of the Board, and past-Chairman. Dollar Bill Lawson of Clear Channel Communications will be the Master of Ceremony....
Singapore Airshow preparations underway
- FlightCentric.com | by Flightcentric.com Singapore Airshow, Asia's largest aerospace and defence show, continues to attract strong support from leading industry players and thought leaders. A packed schedule of flight displays and ground tours will be complemented by ...
Early Texas aviators put their lives at risk
- Hays Free Press | Far and away the most famous early aviator from the Lone Star State was Sam Cody of Birdville, now known as Haltom City, a Metroplex suburb east of Fort Worth. Though completely illiterate, in the brand-new science of aeronautical design he was a ...
First Aircraft Across the Atlantic — Curtiss's NC-4
- Travel for Aircraft | First Aircraft Across the Atlantic — Curtiss's NC-4 | Less than two decades after the Wright Brothers accomplished the first powered flight under control as tenuous as it was with the strong winds and staying within ground effect (which was unknown at the time) Glenn Curtiss's company designed and built a four engine flying boat of enormous size — the NC seaplane (flying boat) — in 1919 with the aid of the Naval Aircraft Factory (NAF). Four were built (NC-1, NC-2, NC-3 and NC-4) — together they would make history — and together they comprised Seaplane Division One of the U.S Navy. Although the USA entered WW I at a great technological disadvantage....
B-17 Bomber
- San Antonio Express | An artist's rendering is on the nose end below the cockpit windows on the "Aluminum Overcast" B-17 bomber. The plane was in Kerrville Wednesday November 16, 2011. A bomb cache on board the B-17 bomber "Aluminum Overcast....
Alberta Aviation Museum fighting to save F-104 Starfighter
by Alberta Aviation Museum | The Alberta Aviation Museum has located an appropriate F-104 Starfighter (2) seater and is moving forward with acquiring the aircraft for restoration and exhibit. This is one of the few remaining available and is identical to the (2) seat version used in the Royal Canadian Air force and...
Greater St. Louis Air & Space Museum and Prairie Aviation Museum Team Up to Discuss Growth Strategies
from The Aero Experience - Celebrating Midwest Aviation by Carmelo Turdo | Greater St. Louis Air & Space Museum President Mark Nankivil and Vice Presidents Rick Rehg and Carmelo Turdo met recently with representatives of the Bloomington, IL-based Prairie Aviation Museum to discuss common issues and strategies for growth. The conference took place at Frasca Field, in Urbana, the home of the Frasca International simulator plant and the Frasca Air Museum. Along with open and frank discussion regarding the challenges faced...
Flying Tigers exhibit opens at Pacific Aviation Museum
- General Aviation News | The Pacific Aviation Museum Pearl Harbor has opened its American Volunteer Group/"The Flying Tigers" Exhibit in honor of the pilots and support personnel who protected the China skies. The permanent exhibit is housed in the museum's Hangar 79. A Curtiss P-40 Warhawk Flying Tiger, which was one of the most popular and successful American aircraft of World War II, joined the aircraft collection at Pacific Aviation Museum Pearl...
the Avro 707C, about 1953 (on)
from x planes
Year of success for RAAF Heritage Centre
- Daily Advertiser | LESS than three years ago there were fears Wagga would lose its link to the nation's aviation history. But after a hard-fought battle, residents and volunteers alike yesterday joined forces to celebrate the first anniversary of the newly refurbished...
Aviation Youth Career Day; Exposing Students to Careers in Aviation - Saturday ...
- Everything Long Beach | "Long Beach has a rich aviation history and Aviation Youth Career Day is a wonderful opportunity to teach our young people about their aviation roots and include them in the centennial celebration of flight," said Curt Castagna, President and CEO of...
Retired Aermacchi to join museum's line-up
- Queenstown Lakes | Shot on the wings of a Skyhawk, Wanaka's new Warbirds and Wheels visitor attraction museum has won a bid for a retired Royal New Zealand Air Force Aermacchi. Defence Minister Wayne Mapp announced the allocation on Tuesday. The Aermacchi will be...
From Antique Airfield:
Letter to our Pilots and Aircraft Owners
- Veterans Airlift Command | I am sharing with you all my husband's recent experience flying commercially so that you all can get a better understanding of how much you help out. My husband, Jack Zimmerman, was asked by a foundation that wanted to support him, and his hunting, on a dream...
Northrop's X-47B wins Popular Science award
- SignOnSanDiego.com | Northrop Grumman The X-47B, a tailless unmanned aerial vehicle largely designed at Northrop Grumman's Rancho Bernardo plant, has been selected for the "Best of What's New" Award by the editors of Popular Science magazine. The award, announced in the...
The Ultimate Homebuilder - Frank Robinson
from EAA - The Experimental Aircraft Association | People build their own aircraft for all sorts of reasons, but high on the list is a desire for a machine you just can't buy from a factory. And that's exactly why Frank Robinson built his own helicopter. And that was 10,000 Robinson helicopters ago.
Indiana Wing Civil Air Patrol
- FB | Tomorrow Indiana Wing cadets are taking part in a very special activity at Grissom Air Reserve Base! The 434th Air Refueling Wing has graciously invited us to be part of an air refueling mission on one of the Boeing KC-135 Stratotankers. We'll be livetweeting and updating during the event. Make sure you're following us on Twitter!
1 visionary + 3 launchers + 1,500 employees = ?
- Air & Space Magazine | Is SpaceX changing the rocket equation?
The Candle Lighters
- Air & Space Magazine | Alan Shepard was brave enough to ride the Mercury-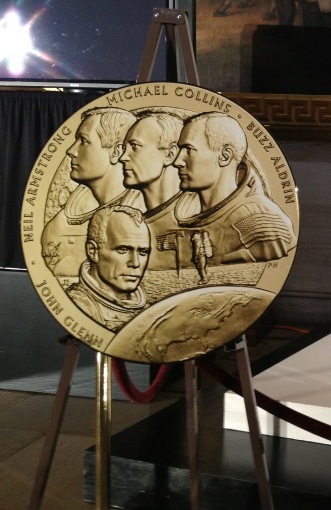 Redstone rocket. These guys were brave enough to light it.
NASA Legends Awarded Congressional Gold Medal
from Alabama Aviator - Aviation News | Leaders of Congress honored astronauts John Glenn, Neil Armstrong, Buzz Aldrin and Michael Collins with congressional gold medals in a ceremony in the Capitol Rotunda on Nov. 16, 2011. The Gold Medal, Congress' highest expression of national appreciation for distinguished achievements and contributions, was first given to George Washington in 1776. Glenn was the first American to orbit the Earth, achieving the feat aboard Friendship 7 on Feb. 20, 1962. On July 20, 1969, Armstrong and Aldrin became the first humans to set foot on the Moon, while Collins piloted Apollo 11's command module....