Big crowd for final day of NAS air show * WJXT Jacksonville | After nearly seven decades of heart-pounding, jaw-dropping stunts and maneuvers, this team of daredevil pilots is always sure to leave a crowd asking for more. The Blue Angels took to the skies of Jacksonville for one final performance Sunday during...

Air show delights in Thermal * KESQ | The 10th Annual Jacqueline Cochran air show in Thermal was a crowd-pleaser. Pilots whizzing by crowds of families lined up at the Jacqueline Cochran Regional Airport, then spinning up into the air at incredible heights doing twists and turns that made...

Watsonville Fly-In marks golden anniversary * AOPA Pilot | When it comes to celebrating aviation, the folks in Watsonville, California, don't take a back seat to anyone—and that doesn't just mean the core group at the Watsonville Municipal Airport. The annual Watsonville Fly-in and Airshow is a community-wide...

Lamb soars to Red Bull Air Race world title * Red Bull (International) | Nigel Lamb snatched a
maiden Red Bull Air Race World Championship title in a dramatic series finale at the Red Bull Ring in Spielberg, Austria. A second place finish behind France's Nicolas Ivanoff handed the British pilot the coveted title after rival...

Ivanoff Wins in Austria, Lamb Crowned Champion * The Checkered Flag | Nicolas Ivanoff has won a sensational last round of the Red Bull Air Race in Austria, but it's Britain's Nigel Lamb who will be celebrating into the night after winning his first Red Bull Air Race Championship. The day's competition started with an...

Retired pilot clinches second place in Austria Red Bull Air Race World * Astro Awani | KUALA LUMPUR: Malaysian pilot, Capt Abd Halim Othman flew his way to second place in the Red Bull Air Race World Championship held at Spielberg in Austria on Sunday. The Royal Malaysian Air Force (RMAF) retired pilot nicknamed 'Toogoo' crossed...

The National Championship Air Races 2014 · Beau Goff, Photorecon.net | September. For the majority of the world, this is just another month on the calendar. Usually the harbinger of fall, and with it the beginning of school, cooler weather, the end of summer...

World War II airmen fly again in storied B-29 * Daily Commercial | Charles Chauncey, who flew 35 missions in a B-29 bomber during World War II, sits in the gunner position of a B-29 as it flies from Baton Rouge, La., en route to New Orleans, Thursday, Oct. 23, 2014. The bomber will spend the weekend at the WWII...

Solar Impulse Wrapping Up Flight Tests before Heading to Abu Dhabi · Dean Sigler, CAFE Foundation Blog | Solar Impulse 2, HB-SIB, flying now for several months, is being readied for a trip to Abu Dhabi, the capital of the United Arab Emirates and host city for Solar Impulse's around-the-world flight. From there, early in 2015, it will embark on its around-the-world flight, alternately flown by Bertrand Piccard and Andre' Borschberg...

Handley Page Halifax Discovered in Norwegian Fjord * Warbirds News | A research team from the Marine Technology Center at the Norwegian University of Science and Technology in Trondheim, Norway has discovered the sunken wreck of an RAF Handley Page Halifax under roughly 180m of water on the bottom of a nearby fjord. Six engineering students were involved in the project, which involved studying historical details and a great deal of planning from how to conduct the search. As with almost all undersea search projects, there is usually a lot of failure before a successful conclusion. When the students guided their small remote submersible down to the wreck, they let out a huge cheer when she appeared in view. They have conducted a thorough survey of the remains, which they captured on video...

Happy Birthday [10/26] To The North American Aviation P-51 Mustang · WarbirdsNews | By Aviation Enthusiasts LLC * The North American Aviation P-51 Mustang flew for the first time 74 years ago today. One of the truly great fighters of World War II, the P-51 was designed from a British requirement which stipulated the construction of a prototype aircraft within 120 days, use of an inline engine and an unit cost of no more than $40,000. The Mustang fought superbly in all theaters as a fighter, fighter-bomber and reconnaissance platform. With...

Astronaut's photographs from space station help put things in perspective * Houston Chronicle | A: The Snowbirds, Canada's military aerobatic team - like the (U.S. Navy's) Blue Angels - were practicing in early spring near Comox, British Columbia. They contacted me to see if I could see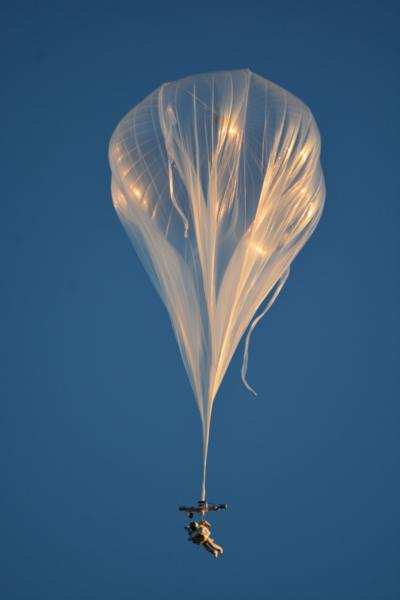 them from space. We emailed back and forth, and I said, "If...

Google Exec Out-Jumps Baumgartner's Freefall Record * Aero-News Network | Near Space Parachute Jump Sets New Record When it comes to setting a record in anything that has to do with aerospace, some records last a long time but most don't, and such is the case with the most-recent record for the highest freefall parachute jump (which, before Baumgartner, had stood for decades...). Only 2 years ago, Felix Baumgartner set a record for the highest parachute jump when he stepped out of his Red Bull sponsored gondola hanging beneath a gas filled balloon at 128,100 feet. This record was broken last week when a computer scientist named Alan Eustace parachuted from an altitude of 135,890 feet. During his descent, it's reported that Eustace reached a speed of 822 miles per hour...


There's MORE HERE. Updated frequently.