Announcing the Nevada Aerospace Hall of Fame Fifth Annual Induction Ceremony and Dinner | Las Vegas- -The Nevada Aerospace Hall of Fame has selected four individuals this year for induc-
tion. These individuals all have contributed significantly to Nevada's aviation history.... Roscoe Turner, Margaret Gee, John Parangosky, Bob Hoover.

Minden Pilot Wins World Championships * Press Release | October 3, 2014. Minden, NV -Jim Payne from Minden has won his third consecutive world championship in the Aerokurier Online Soaring Contest (OLC). This contest is a year-long contest with almost 15,000 competitors from around the world. To compete, glider pilots record there flights with a GPS logger and submit their flight logs to the contest web site for scoring...

US Air Force Thunderbirds to Soar This Weekend at the Melbourne Air & Space ... * Daily Commercial | (BUSINESS WIRE)--Oct 2, 2014--Melbourne's aerospace industry is booming and so is its Air & Space Show. This year's event is set to soar featuring the U.S. Air Force Thunderbirds on Oct. 4-5 at the Melbourne International Airport. Sponsored by Northrop...

PHOTOS: Refueling the Thunderbirds * FOX 13 Tampa Bay, WTVT-TV | The Thunderbirds demonstration team was flying from California to Florida for an airshow this weekend, but they needed a little extra gas for the trip. The MacDill-based crew was more than happy to oblige, refueling the F-16s twice after catching up...

Flying green at Miramar Air Show * CBS 8 San Diego | SAN DIEGO (CBS 8) - This year's Miramar Air Show features an environmentally friendly airplane. In this Earth 8 video story, Natasha Stenbock finds out more from its pilot, Bret Willat of Sky Sailing, Inc....

Kyle Franklin to headline CAF AIRSHO · General Aviation News | MIDLAND, Texas — Kyle
Franklin, one of the airshow industry's most sought-after performers, returns to the Commemorative Air Force AIRSHO with his new act, "Dracula, the Rise of Vacul." CAF AIRSHO 2014 will be held at the Midland International Airport Oct. 11-12. "We are proud to welcome Kyle back to AIRSHO," said AIRSHO Chair Gena Linebarger. "This will be Kyle's first appearance in West Texas with his new act, Dracula. I know people will be amazed by his flying and new airplane."...

Pete McLeod – Full Out for Las Vegas Air Race * Net Newsledger | THUNDER BAY - The Red Bull Air Race Series will take to the skies in Las Vegas on October . There is a real Northwestern Ontario flair to the Red Bull Air Race with Pete McLeod who is originally from Red Lake Ontario. In 2009, Pete McLeod of Red Lake,...

Stearman Fly-in set for Oct. 4 in Jennings * KPLC-TV | Pilots began arriving Wednesday for the 34th Annual Stearman End of Season Fly-in, set for Oct. 4 in Jennings...

Wings Wheels Rotors & Expo slated for Oct. 26 at Los Alamitos Army Airfield · General Aviation News | Wings Wheels Rotors & Expo (WWRE 2014), the annual open house hosted by the California National Guard, Joint Forces Training Base (JFTB) and the Los Alamitos Area Chamber of Commerce, will be held Oct. 26 from 9 a.m. to 4 p.m. at Los Alamitos Army Airfield Joint Training Base in Los Alamitos, Calif....

Start your engines: 2014 Wings & Wheels headed for Georgetown * Sussex Countian | Richard "Dick" Cole, one of four surviving members of the Doolittle Raiders. He'll once again serve as a special guest at the festival on Saturday, when he'll share his amazing stories from World War II. "Dick Cole is 99 years old," said Karen Duffield...

Golden Knights Parachute Team jump into Owensboro * 14 News WFIE Evansville | The Golden Knights participate in more than 200 demonstrations across the country. Paratrooper, Staff Sergeant Shelby Bixler, says her team is excited to be in town. "We're actually towards the end of our air show season, this is one of out last few ...

Gold Team DC to Dover * U.S. Army Parachute Team "Golden Knights" | Gold Demonstration Team had a busy weekend jumping into Washington DC and Delaware. The team had the privilege of jumping into Howard University in downtown DC, where the college was hosting a NCAA Football game. The Golden Knights got the game started with a 4,000 foot stack out, followed by a baton presentation to Wayne AI Frederick, the President of the School, as well as Coach Ted White, the football coach. The students were very excited about the jump and cheered for the team as they flew overhead. After the jump and line-up, the team met up with some of the students from the ROTC program to present them with a team lithograph. It was a joy to jump into such a motivated and exciting University....

California International Airshow - Salinas Review by Tyson Rininger | Celebrating their 34th year, the Salinas Airshow hosted the USAF Thunderbirds as well as Vicky Benzing, Sean D. Tucker, Melissa Pemberton, the Liberty Jump Team and the always popular Metal Mulisha. Along with the performers, warbirds took to the skies showcasing both the European Theater with a trio of P-51's, a BT-13, Sherman Smoot's historic C-47 and the incredible flying of Sam Knaub's C-54. The Pacific Theater warbirds included the B-25 'Executive Sweet', Taigh Ramey's amazing PV2-D Harpoon, Chuck Wentworth's F4U Corsair, four T-6 Texans and a replica Japanese 'Kate'....

Museum's Open Cockpit Day Saturday, October 18 Invites Guests to Explore the World of Aviation * Press Release | Honolulu, HI – Visitors will have the opportunity to sit in the seat, man the controls, and really feel the history of WWII fighters and modern-day jet fighters at Pacific Aviation Museum Pearl Harbor's third Open Cockpit Day, Saturday, October 18, 10am to 4pm. The event is free with paid Museum admission and free for Museum Members...

Fly-in on Oct. 4 to help injured hobbyist return home * Tampabay.com | In a show of their concern, the modelers group will stage an all-day fundraising fly-in beginning at 8 a.m. Saturday at the club field, at 16301 Ponce de Leon Blvd. They hope to raise enough money to pay for handicapped-accessible refurbishments to the...

Timeless Voices - Ruben Witkowski · eaavideo.org | Ruben Witkowski enlisted in the US Navy in 1942. He became an Aviation Machinist Mate and served aboard the aircraft carrier USS Hancock (CV-19) working on F4U Corsairs.

World War II Veterans Take Flight on B-17 * WHAG | FREDERICK, Md. - 71 years ago at 18-years-old, Malcolm Lawrence was inducted into the U.S. Army. And for the first time in 69 years, the World War II radio operator and gunner took a ride on a Boeing B-17 Flying Fortress. "We were told in 1944 that we...

Photos: Annie and Jerry tour Boeing B17-F * Roanoke Times | This was my first time to see a Boeing B-17 F. I got into a long line waiting for ground tours. I asked people to take pictures for me in front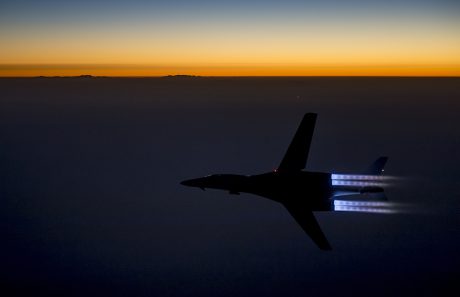 of B-17 F at every angle. I was so excited to see inside and took pictures. (see the cockpit) See! Even a...

A interesting photo shows a B-1B accelerate at night after refueling from a KC-135 * The Aviationist | ...photo showing one "Bone"(from "B-One") refueling at night from a KC-135 during an air strike on Sept. 27, as it ignites the afterburners to accelerate in bound to the subsequent waypoint along its route....


There's MORE HERE. Updated frequently.