Aviation Pioneer Chip Yates To Accept International Award * Flight of the Century | Yates has been selected to receive the FAI's Louis Bleriot Medal for his record-setting flights in 2013, which established new international landmarks in speed, altitude and distance for electric flight....

Video: Blue Angels rip through San Francisco skies * KOMO | Footage and commentary on the prep for Fleet Week.

Behind the scenes with the Blue Angels * SF Gate | The Blue Angels were set to head to the skies
over San Francisco Thursday in preparation for their performances this weekend. For Cmdr. Tom Frosch, the team's leader, flying during Fleet Week is a thrill not just for the spectators — but for the pilots as well...

Up, up and away over the San Francisco Bay * Mercury News | It was fun and exhilarating ... until I got sick. When my editor asked me last week -- half jokingly -- if I'd like to go up in a Fleet Week stunt plane, I jumped at the chance, surprising some colleagues who never guessed that this mild-mannered suburban mom is actually a thrill-seeker at heart...

Wings and Waves takes flight this weekend over Daytona Beach * News-Journal Online | A Screamin' Sasquatch and Thunderbirds will soar through the skies over the World's Most Famous Beach this weekend. The Wings and Waves Air Show will feature aerial performances by the U.S. Air Force Thunderbirds, a bi-plane beastie known as the Screamin' Sasquatch Jet Waco, and some 40 other aircraft....

Aero-TV: Kyle Franklin -- Acro Flying With Showmanship * Aero-News Net | One Of the Airshow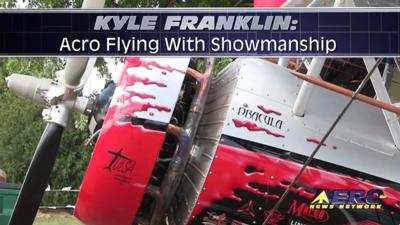 Industry's Most Creative Performers Talks Shop With ANN | While at EAA AirVenture 2014, ANN News Editor Tom Patton caught up with Kyle Franklin at the Concorde Battery display booth. Patton has been checking up on the health of the airshow industry and he asked Franklin to give his views...

Thomasville Fly-In to Kick Off Today * WCTV | THOMASVILLE, Ga. -- The Thomasville Fly-In, a celebration in the air and a nearly fifty year tradition is taking place today. The Fly-In kicks off today and it will last through Sunday at the Thomasville Regional Airport. It's a free event and open to everyone...

Community Invited to Bryce Canyon Airport for Fly-in, Open House * St. George News | PANGUITCH — The communities of the Bryce Canyon area are preparing to welcome extra pilots and the public to its historic airport with the first-ever Bryce Canyon Fly-in and Airport Appreciation Day happening Friday and Saturday...

Voodoo and Strega are here! * Planes of Fame | Voodoo just arrived! We are excited to have both Strega and Voodoo here on display at Planes of Fame Air Museum!...

Fort Worth Alliance Air Show 2014 * Airplanes.com | The USAF Thunderbirds will be one of the highlights of the program at the Fort Worth Alliance Air Show on October 25 & 26, 2014. Also featured on the program of events is the US Special Operations Command Parachute Team, as well as aerobatic pilots Manfred Radius, Kevin Coleman, Dan Buchanan, Rob Holland, and Matt Younkin...

Breitling Jet Team - Belgian Air Force Days 2014 * TakeOffTube.com

Amazing Fireworks Flight With Gene Soucy * TakeOffTube.com

CAF Red Tail Squadron – Event Update – CAF WWII Air Expo * CAF Red Tail Squadron | On October 2-5 the CAF Red Ta 10669334_718067074940971_3513277791046784249_oil Squadron participated in the CAF Air Expo at the Dallas Executive airport (formally Redbird airport). This the location for the National Airbase for the CAF. The Air Expo had an "Open House" feel which was welcomed by the local neighbors. DOTA's Calvin Spann and Homer Houge joined the audience and shared their memories with the crowd. Gordon Guillory, President of the local Tuskegee chapter (Claude R. Platte Chapter) spent many hours with us...

Photos: Pemberton & Sons Aviation * Crosswind Images | A brief visit with one of the leading families in classic aircraft restoration and operation.

Dennis McCarthy: World War II combat pilot has one final mission * Los Angeles Daily News | ...The B-25 took off from Camarillo Airport on Saturday, Sept. 6, heading 18 miles out toward the Channel Islands....

Kentville woman wins aviation and aerospace award * Nova News Now | ...The award recognizes outstanding Canadian women in aviation and aerospace industries and is named after Elsie MacGill, who achieved many firsts during her lifetime...

LORD, IF YOU'RE UP THERE... * Photorecon | ...Still falling face up, I appeared to be clear of the debris and I saw no sign of the seat between my legs, so I pulled the parachute's rip cord. No comforting jerk, though....

NASA Partners With X-37B Program For Use Of Former Space Shuttle Hangars * Aero-News Net | NASA's Kennedy Space Center in Florida has entered into an agreement with the U.S. Air Force's X-37B Program for use of the center's Orbiter Processing Facility (OPF) Bays 1 and 2 to process the X-37B Orbital Test Vehicle for launch...

There's MORE HERE. Updated frequently.