October winds take air out of Air Race World Championship * Las Vegas Review-Journal | Hannes Arch clips the gate 4 pylon at the Red Bull Air Race World Championship race at the Las Vegas Motor Speedway in Las Vegas on Sunday, Oct. 12, 2014...

Paul Bonhomme has Red Bull Air Race World Championship title aim blown ... * Cambridge News | AIR RACING: PAUL Bonhomme dropped to third overall in the Red Bull Air Race World Championship following a tough time at the penultimate round in Las Vegas. The Hinxton pilot's bid to defend his title took a dent after the scores from qualification...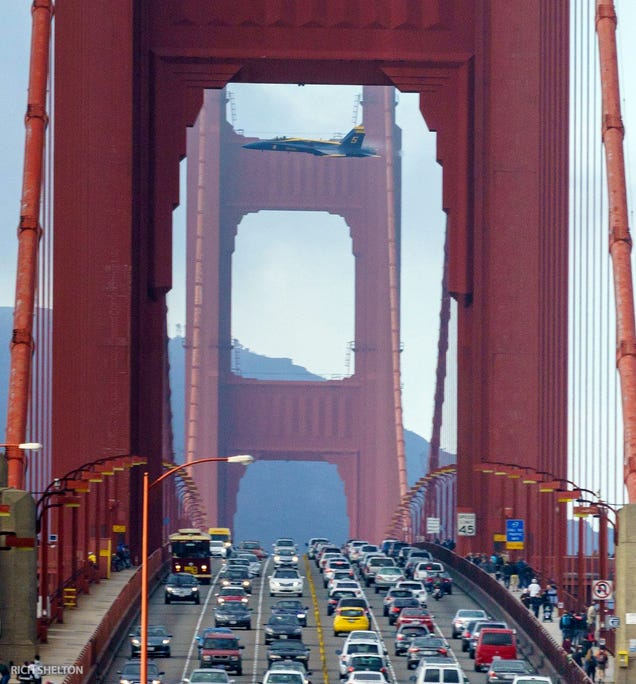 Incredible photo of an F-18 zooming through the Golden Gate bridge * Jesus Diaz | More photos at the link.

Onboard Flash Fire Jet Truck Racing Dracula at CAF Airsho 2014 by Kevin Hong | Watch as Kyle Franklin blazes over Neil Darnell of Flash Fire Jet Truck for a teaser and race at CAF Airsho in Midland, Texas this past weekend. Footage...

Warbird Montage 2014 Apple Valley Airshow * ICAS

Flying Tiger * TheDay.com | Edyta Blaszczyk, Odessa American/AP photo A P-40 Warhawk prepares to taxi past the crowd before taking flight Saturday at the Commemorative Air Force air show at the Midland International Airport in Midland, Texas. The CAF air show is held annually at...

J-10 fighters show aerobatic stunts in smog-free sky * ecns | Six J-10 fighter jets perform aerobatic stunts in the sky of north China during a training program for the 10th China International Aviation and Aerospace Exhibition on Monday, October 13, 2014. A strong cold front has swept across northern China and...

Dayton air show announces 2015 dates * WDTN | DAYTON, Ohio (WDTN) – It is never too early to start planning for the air show. The Vectren Dayton Air Show announced dates for the 2015 show. High flying acts will take to the skies June 20 and 21, 2015 at the Dayton International Airport. 2015 marks...

Pilot error blamed for fatal Dayton Air Show crash * WLWT Cincinnati | DAYTON (AP and WLWT) —Federal safely investigators have determined that pilot error was the probable cause of a fiery crash at a 2013 Ohio air show that killed a wing walker and pilot in front of thousands of horrified spectators. NTSB releases final...

Today in 1947: Chuck Yeager * National Air and Space Museum, Steven F. Udvar-Hazy Center, Smithsonian | first person to fly faster than the speed of sound in the Bell X-1 "Glamorous Glennis."

The Veteran's Speaker Series: Capt. Kenneth Hancock * Good4Utah | Kenneth Hancock (Retired) will be speaking at the Salt Lake City Library Auditorium Monday, October 13th at 7:00PM for the Veteran's Speaker Series on his service as a World War II B-25 pilot. Capt. Hancock flew 66 combat missions over Italy and was...

PRESS RELEASE – Capt. Eric "Winkle" Brown joins TPM as Patron * Travel for Aircraft | PRESS RELEASE Issued: 13th October 2014 Captain Eric "Winkle" Brown joins The People's Mosquito as Patron Capt. Brown during his time as CO RNAS Lossiemouth, 1967 The People's Mosquito, the UK's DH.98 restoration-to-flight project, is honoured to announce that Capt. Eric "Winkle" Brown has graciously accepted its invitation...

A Woman's Perspective of Serving with the Tuskegee Airmen Support Personnel * Red Tail Squadron | "Whatever you've read about segregation, it was that and then some." ~ Mrs. Callie O. Gentry, stenographer of the Tuskegee Airmen | Over 10,000 military and civilian African-American men and women served as support personnel for the Tuskegee Airmen during World War II. Their collective effort and passion to serve our country opened the doors for others to join the Armed Forces with equal opportunity. One of them was Mrs. Callie O. Gentry. This 88-years-young woman shares her memories of serving with the Tuskegee Airmen and living through an era that shaped the future for generations to come...

Happy Birthday To The Curtiss P-40 Warhawk · WarbirdsNews By Aviation Enthusiasts LLC | The Curtiss P-40 Warhawk flew for the first time 76 years ago today. Developed from the P-36, the P-40 was America's most numerous fighter aircraft in service when World War II started. The P-40 bred a generation of fighter pilots with Boyd "Buzz" Wagner becoming the first United States Army Air Forces ace of World War II....

B-17 "Champai[gn] Lady" Restoration- Video Update · WarbirdsNews

U.K. Helicopter Museum To Exhibit World's First Rotary-Wing UAV * Aero-News Network | Could Carry Two Torpedoes Or Depth Charges, Also Flew Surveillance And Targeting Missions The Helicopter Museum in Westonsuper-Mare, Somerset, U.K. has taken delivery of a rare Gyrodyne GH- 50D DASH (Drone Anti-Submarine Helicopter), developed in the 1960s and the first vertical take-off/landing unmanned air system (UAS) in the world to enter operational service...

RAF Museum Teams up With the University of Birmingham · WarbirdsNews | Marking the centenary of the outbreak of the First World War, registration is now open for 'World War One: Aviation Comes of Age', which will allow users to explore the aerial aspect of the conflict through a series of academic resources and multimedia content...

Daniel Bopp * Wasabi Air Racing | Daniel Bopp is a master builder. He first contacted me several years ago when he was looking for information about White Knight for a model he was building. He also built a wicked model of the Pond Racer and a turbine SS1 (jet intake through front windows)...

Must See Video: THE CUBS 2 OSH STORY - 75th Anniversary Gathering In Hartford, WI *
AirPigz | If you've been paying attention you know I'm a big believer in the Piper Cub as the perfect pure-flying-pleasure airplane. If you aren't convinced of the Cub's 'best airplane ever' status, then watch the video trailer above for THE CUBS 2 OSH STORY, and then I hope you'll either buy the digital download or the DVD of the 32 minute professionally-produced video. You...

Young Eagles Take Flight Oct. 18 * SurfKY News | MUHLENBERG COUNTY, Ky. (10/13/14) — This Saturday, Oct. 18 is another fun 'free flight' date at Muhlenberg County Airport. EAA Chapter 1184 will again be giving free airplane rides to Young Eagles ages 7 thru 17...

Young Eagles Flight Rally is Oct. 18 * Tampa Bay Newspapers | CLEARWATER – Young people ages 8 to 17 can take to the skies on Saturday, Oct. 18, 8 a.m. to noon, at the Young Eagles Flight Rally at the Clearwater Airpark, 1000 N. Hercules Ave. The rally is part of the EAA Young Eagles Program, created to interest...

There's MORE HERE. Updated frequently.