Air show pilot never stops pushing boundaries * Florida Times-Union | Sean Tucker isn't just talk when he encourages people to push their personal boundaries. He's out there doing it, too. In fact, his life is all about pushing boundaries – whether it's in the aerobatic box, flying his specially built Oracle Challenger ...

UPDATE: Historic aircraft staying put due to permit confusion * Rome News-Tribune | A last-minute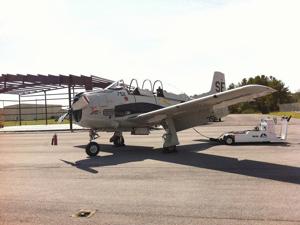 wrench was thrown into the plans to tow a historic warplane from Tennessee to Rome overnight Wednesday, meaning it won't be able to make it to this weekend's Wings Over North Georgia air show....

Tuskegee Airmen P-51 Fighter Plane on Display at Hearne Airport * KBTX | The Commemorative Air Force has a Red Tail Squadron P-51 Mustang fighter parked at the Hearne Airport. It's a plane like the ones flown by the African-American military pilots known at the Tuskegee Airmen. It's there in conjunction with the "Rise Above...

B-17 used in 'Memphis Belle' movie arrives for public exhibit, flights * Memphis Commercial Appeal | Rusty Graber, of Memphis, takes a photo from the top turret of the B-17 Flying Fortress "Movie Memphis Belle" Wednesday afternoon. The World War II vintage aircraft will be flying over the Memphis area with public flights and ground tours Saturday and...

Online Events you don't want to miss: John Klatt chat at 6:30 EST today, and Friday you can see NASA astronaut Captain James A. "Jim" Lovell, Jr. will speak at the National Air and Space Society's Vice Admiral Donald D. Engen Flight Jacket Night. (info)

Red Bull Weekend * Wasabi Air Racing | Hey Guys, Jenn and I felt privileged and excited to be invited by Wade Hammond of the Team Bonhomme team, Jim and Sarah Reed of Team Ivanoff, and Michael Reid of the Team Chambliss team to visit this last weekend's Las Vegas Red Bull Air Race. It was a great time and we were excited to see this new type of aerial competition in person, such an exciting time for aviation, and what a cool format!!..

Man behind 'Pardo's Push' legend visits 4th FW * Air Combat Command - Top ACC Stories | The 4th Fighter Wing welcomed one of the Air Force's most heroic fighter pilots from the Vietnam War for a base visit, Oct. 10. Retired Lt. Col. Bob Pardo, known for saving the lives of a fellow F-4 Phantom crew with what became known as "Pardo's Push," visited the...

Alaska Aviation Legends: Gene Zerkel, aviation entrepreneur * Alaska Dispatch | "I wanted to go to the Military Airlift Command at Hickam Field in Hawaii, but was retained as a B-25 instructor at Reese Air Force Base." Zerkel then left the Air Force in August 1953 and went to work as a first officer with the Flying Tiger Line in...

New Jet at Air Museum * KFYR-TV | Being trucked in from Davis Monthan Air Force Base in Arizona, an F-106 has been donated to the Air Museum as part of their 5th Fighter Interceptor Squadron Display. The display will pay homage to the squadron that once served at the Minot Air Force Base...

Doolittle Tokyo Raiders Congressional Gold Medal Designs * CoinNews.net | The Doolittle Raiders, 80 Americans led by Lieutenant Colonel James H. "Jimmy" Doolittle, took off from the aircraft carrier USS Hornet in 16 B-25 bombers on April 18, 1942 to attack military targets in Tokyo and other cities. All volunteers, the men...

Halloween Bash at Women's Air & Space Museum * The Plain Dealer | History will give way to haunting on October 24 when the International Women's Air & Space Museum hosts a Halloween Bash.

RAF Museum,October Half Term Activities · WarbirdsNews | PRESS RELEASE- October half term is almost upon us and this year the Royal Air Force Museum Cosford has planned a week of hands on craft activities that will keep the younger members of the family entertained. These family fun workshops will run from 27 to 31 October between 11.30am and 3.30pm with all materials provided by the Museum...

Severly damaged C-17A flies again! * Aero Pacific Flightlines

A Bit of Air Force Humor...Part II by Tyson Rininger | If you enjoyed the first segment, you'll get a kick out of our Air Force crews launching flights in style.

There's MORE HERE. Updated frequently.