Blue Angels Prepare to Fly in Omaha * KMTV | Offutt, AFB -- The skill it takes to fly with the Blue Angels, incredible. Coming just inches from each other in mid-air, sometimes flying as low as 50-feet, the maneuvers are flawless. But before any of the six F/A18s take off, they get a look over...

10 things to know for the Offutt Air Force Base Air Show * KMTV | Organizers say there is limited parking on base and recommend taking advantage of multiple off-base parking locations with a shuttle to the air show. Park and Ride locations are at Bellevue West, Bellevue University, South Roads, Bellevue East, and...

Gold Medal in Zone Accuracy and Overall First Place * US Army Golden Knights | Congrats to SFC Joe Abeln

2015 Mustang Inspired By F-35 Jet For EAA AirVenture Auction * Motor Authority | The special
2015 Ford Mustang (via Mustangs Daily) has been inspired by the Lockheed Martin F-35 Lightning II, and is set to be auctioned off at the Gathering of Eagles charity event at EAA AirVenture, a fly-in aircraft convention taking place every...

Team Sky rider Ian's amazing flight with the Red Arrows display team * Lincolnshire Echo | Professional cyclist Ian Stannard took his role with Team Sky literally - with a flight in the back seat of a Red Arrows jet. But it was no routine trip as the 27-year-old actually watched the start of the Tour de France from above. Ironically, the...

2014 Flying Legends Airshow Report · WarbirdsNews Standing at any of the runway ends during the
Duxford air shows is a stunning experience. Either you get to see the aircraft turning in onto the display line or they make you feel their massive horse powers while passing you on take-off. Action is guaranteed! If you look around the airfield there are enough warbirds to fill a whole show, but Stephen Grey and The Fighter Collection always make sure there is icing on the cake, and invite several warbirds from far off lands to compile a nicely themed flying program during the afternoon....

Airport managers hope aerial show draws interest to area aviation industry * Victoria Advocate | Bob Salter, of Kerrville, gets out of his One Design airplane after doing an aerobatics practice run at the Jackson County Airport on Thursday. Salter will fly in the intermediate class in the International Aerobatics Association competition on Friday...

Vintage plane winging its way to Penticton * Pentiction Western News | This particular aircraft is actually a 28-year labour of love on the part of the non-profit Commemorative Air Force Airbase Arizona and is staffed by volunteers. It was originally purchased as scrap metal by a man for $1,800 and donated to the...

EAA's B-17 bomber calling Austin Straubel home for four days * Fox11online.com | World War II veterans pose in front of the EAA's B-17 bomber "Aluminum Overcast," April 14, 2014. (WLUK/Chad Doran). ASHWAUBENON – The Experimental Aircraft Association's restored World War II B-17 Flying Fortress is calling Austin Straubel...

Packers Coach Takes B-17 Flight * WBAY | "Blessing to be here to honor Bob Schneider, our grandfather, who obviously was a part of World War II, and just to be able to experience this and go up in a B-17 is truly a blessing," says McCarthy. "Oh a great guy, one of the greatest guys, what a...

World War II B-17 Bomber visits Kentuckiana * WHAS 11.com | "He was a bombardier in a B-17, so he flew in the front," my dad, Kirk Kirkpatrick, remembers. "On his 23rd mission, he was shot down. Only five of the ten made it out alive. He was one of the five." He survived a German prison camp for nearly three years.

B-29 bomber in Salt Lake City this weekend * Theentertainmentjournal | Residents of Salt Lake City will experience "hands on" history this July when FIFI, the Commemorative Air Force's iconic Boeing B-29 Superfortress bomber, flies into Salt Lake City International Airport. The B-29 is the only remaining Superfortress in...

Lincolnshire based Red Arrows do have future, says PM * ITV News | David Cameron has insisted the Lincolnshire based Red Arrows will continue flying well into the future following warnings that the RAF display team could be grounded unless its ageing planes are replaced. The Prime Minister said the Hawk T1 jets flown...

Air New Zealand's 787-9 stretched Dreamliner encore * Travel for Aircraft | Air New Zealand's 787-9 stretched Dreamliner encore As Boeing demonstrates and displays the newest Dreamliner version, the stretched 787-9 at Farnborough Air Show this week, Air New Zealand has flown the first of ten to be purchased to Auckland. Preparations and training will see the stretched Dreamliner begin to ply the Auckland–Perth route commencing on...

WPS Foundation backs air museum * Marquette Mining Journal | Bob Vick, left, president of the K.I. Sawyer Heritage Air Museum, receives a $1,500 contribution from Upper Peninsula Power Company Regional Account Executive Bob Anderson to help in the preservation efforts of the museum at the former Sawyer Air Force...

Milestone For Yankee Air Museum Bomber Plant Purchase * WEMU | Yankee Air Museum founder and Michigan Aerospace Foundation president Dennis Norton says a milestone was reached on Tuesday. "As with any real estate transaction there's a lot of work that has to be done after we sign the purchase agreement," Norton...

The 'Panning' Game · Warbirds News | Panning is such an essential technique in photography. It is so important, it must be practiced over and over again! When you feel you have a solid panning technique, you need to then push it forward. We have asked to some of the best warbird photographers to give us their feedback and tips on how to give the perfect 'panning effect' to our photos....

Battle of Britain Talks * RAF Museum London Events | James Holland Peter CaddickAdams and Stephen Bungay commemorate the Battle of Britain with three very special lectures

Search Could Begin Again For Missing B-25 Bomber In Mon River * CBS Local | PITTSBURGH (NewsRadio 1020 KDKA) – On the last day of January in 1956, a B-25 bomber crashed into the Monongahela River near what is now the Homestead Grays Bridge. Ever since, it has been one of the great mysteries of Pittsburgh. Some think it is...

[Photo] F-16 flips on top of another F-16 at Davis-Monthan Air Force Base * The Aviationist | Winds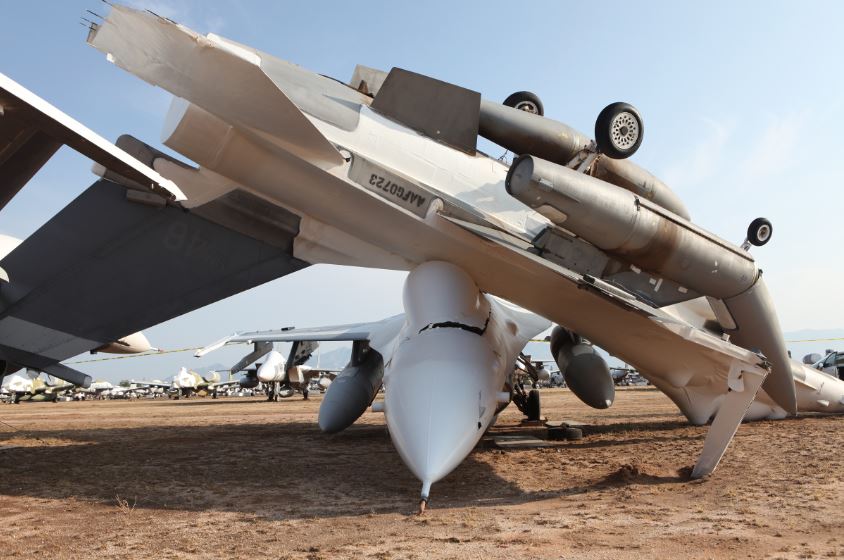 gusts of 66 mph most probably caused a retired F-16 to flip onto another F-16 at Davis-Monthan AFB, Arizona.

[Video] U-2 spyplane landing as seen from chase car · The Aviationist | A unique view, from inside a U-2 chase car. Pilots are not supposed to have a car entering the active runway as they are about to land, unless they are on board a legendary U-2 Dragon Lady spyplane....

Disney's 'Planes: Fire & Rescue' flies faster, harder than original * Milwaukee Journal Sentinel | Dusty Crophopper's air racing career comes to a sudden stop when he learns of an imminent health problem — a busted gearbox. But in "Planes: Fire & Rescue," the 3-D sequel to Disney's "Planes," Dusty (voice of Dane Cook) does not give up and go back...