It's Blue Angels Airshow Weekend At Pensacola Beach * NorthEscambia.com | Civilian acts includes Gary Ward, Team Aerodynamix and Skip Stewart. Crowd favorite Fat Albert won't be in this year's show; the plane is down for maintenance. Are you heading to the show?...

Geneseo Air Show this weekend * News 10NBC | A plane back from Normandy for the 70th
anniversary of D-Day is among those on display this weekend for the Geneseo Air Show. Whiskey 7 will be among more than 20 historic planes taking off for an aerial performance on Saturday and Sunday at the...

Arlington Fly-In fun continues through weekend * HeraldNet | At the airport, events and exhibits begin each day at 8 a.m., with air shows starting at about 2 p.m. The street fair opens at 10 a.m. Highlights include lots of kids activities, food vendors, shuttles to the Fly-In, the Arlington Idol singing contest...

Piper Cub pilots celebrate 30th fly-in * Lompoc Record | The West Coast Cub Fly-In will celebrate its 30th anniversary in Lompoc with what is expected to be its largest event yet. The fly-in, which will be based at the Lompoc Airport and is scheduled to last through Sunday, has become one of the Central...

Pilots for Christ to host Fly-In on Sunday * Jamestown Sun | Fly-In begins at 10 a.m. and an all-faiths church service at 11 a.m. with a complimentary lunch to follow. Special guest U.S. Rep. Kevin Cramer will address the group. Following lunch the group will drop 1,500 numbered golf balls from a helicopter at a...

Airshow star Michael Goulian to serve as AOPA Ambassador * AOPA Pilot | Airshow pilot Michael Goulian is the newest AOPA Ambassador. Legendary airshow and racing pilot Michael Goulian will serve as an "AOPA Ambassador," the association announced July 10. "Nobody conveys their passion and enthusiasm for flight quite like...

AirVenture gets bigger and so does Sporty's · General Aviation News | Sporty's will unveil a new display tent at this year's EAA AirVenture in Oshkosh, slated for July 28-Aug. 3. Even larger than last year, the 16,000-square-foot display will feature new products, as well as a headset demo station where pilots can compare comfort and fit of a variety of headsets side by side. Another area is set aside to demonstrate cockpit video cameras from GoPro and Garmin. Book signings will take place, and Sporty's staff, including flight instructors, will be on hand to demonstrate the Stratus ADS-B receiver, new online training courses and apps, and more...

Red Arrows celebrate 50th Anniversary at Royal International Air Tattoo 2014 * Metro | The Red Arrows team was founded in 1965 at RAF Fairford in Gloucestershire, where a major celebration is planned at the 2014 Royal International Air Tattoo. Since forming the team has performed more than 4,500 displays in 55 different countries...

Here's a photo of the four F-35B jets set to take part to UK airshows stuck on the ground at Pax River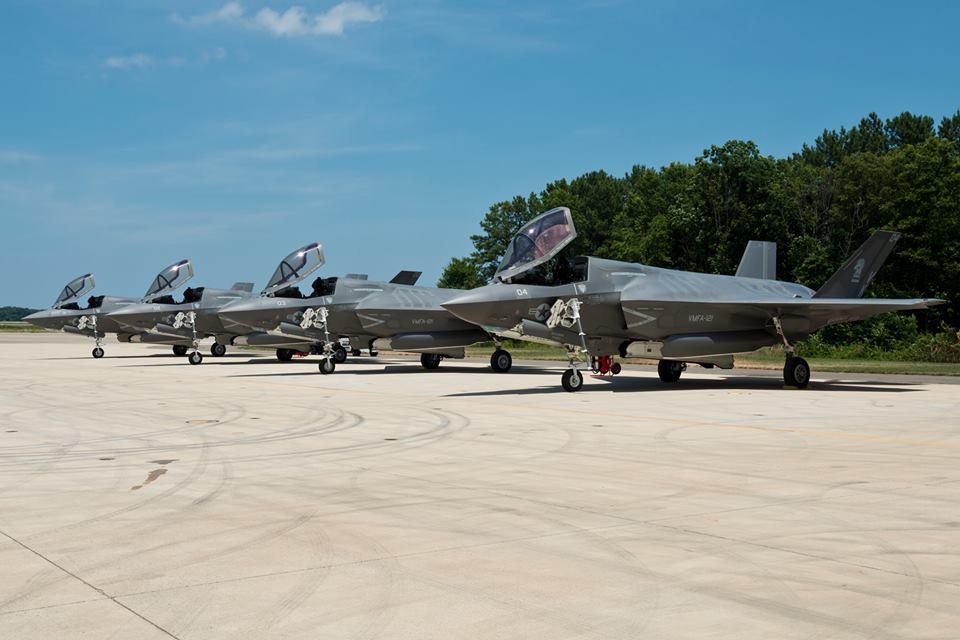 * The Aviationist | They will not make it to RIAT at Fairford, but they could still attend Farnborough International Airshow 2014....

Canberra bomber joins The Red Arrows for Sywell Airshow in August * Northampton Chronicle & Echo | A spokesman said: "In addition to the unique sight of two Avro Lancaster bombers flying in formation and The Red Arrows, the world's only flying Canberra jet bomber will also star. "Other acts include, Spitfires, Mustangs, The Blades and Breitling...

Not so PLANE! Carol Vorderman keeps it chic and classy in knee-length boots ... * Daily Mail | It appears as if her Countdown days are well and truly over as Carol Vorderman continues to promote her love of flying. The TV personality arrived at the Royal International Air Tattoo earlier this morning - where she was invited to see a Eurofighter...

'Like a giant lawn mower went through there:' Brewer man recalls B-17 crash 70 ... * Bangor Daily News | BANGOR, Maine — Somewhere under decades of dense forest growth on a remote mountain west of Rangeley are the remains of a B-17 aircraft in which 10 American fliers spent the last moments of their lives July 11, 1944. The entire crew of young men on...

Robert Reser · Flight To Success | Friday's Fabulous Flyer | ....Bob holds ATP and typed in B727,
B757, B767, B747-400, DC-10 and B-25. He flew USAF and Air National Guard transport (C-123), observer (O-2), and jet fighter (RF-84, F-89, F-102) aircraft for 20 years and flew commercial airliners large transports for 30 years. He also holds USAF Navigator and Radar Observer ratings...

McDonnell Banshee Fighter Pilot Shares Experiences at Local McDonnell Aircraft Retiree Luncheon * The Aero Experience | The weekly luncheon of a local McDonnell Aircraft/McDonnell Douglas retiree group included a special guest speaker this week - Mr. Bill Hunsicker. Mr. Hunsicker served as a U.S. Naval Aviator during the mid 1950s, flying the McDonnell-built F2H-3 Banshee fighter/bomber during the critical years after the end of the Korean War fighting and the emergence of China as the Pacific threat to the U.S. The attendees this week were eager to hear a first-hand account from a Banshee pilot on what it was like to fly an aircraft that some of them designed and built. They were not disappointed with what they heard....

Frozen in Time — a Duck on ice · Travel for Aircraft | Frozen in Time — a Duck on ice Frozen in Time: an epic story of survival and a modern quest for lost heroes of World War II, Mitchell Zuckoff, 2014, ISBN 978-0-06-213340-3, 393 pp. Those who fly, especially in the earlier days, risk becoming stranded in remote as well as harsh locations, As author Zuckoff notes...

PIMA Air & Space Museum Ranked No. 2 Space Museum In The US · WarbirdsNews | TripAdvisor announced the Tucson Pima Air & Space Museum as the second best space museum in the country! The TripAdvisor space-themed attractions in this ranking are based on the quality and quantity of reviews for space museums, planetariums, and space centers. Pima Air & Space Museum has received more than 1200 TripAdvisor reviews, predominantly excellent, winning the coveted TripAdvisor award for Excellent ratings three years in a row (2012, 13 and 14).Pima Air & Space's ranking is...

D-Day Veterans Bring History to Life at the Air Force Museum Theatre on July 12 · WarbirdsNews | This Saturday, the Air Force Museum Theatre will host a special event combining Living History, D-Day: Normandy 1944 and live presentations. Filmmakers Kara Martinelli and Adam White will introduce Living History at 4 p.m., then following the screening, personal stories and additional insight will be shared with the audience by D-Day veterans and restorers, followed by D-Day: Normandy 1944.Lt. Ralph Lynn, B-24 co-pilot, and Jim "Pee Wee" Martin, 101st Airborne paratrooper, will visit the....