Greg Koontz to Receive 2014 Bill Barber Award for Showmanship | EAST TROY, WISCONSIN,
June 27, 2014 -- World Airshow News has announced that Greg Koontz is the 2014 recipient of the Bill Barber Award for Showmanship. Koontz joins a growing list of honorees that reads like an airshow hall of fame. Greg Koontz is known throughout North America and parts of Latin America as a foremost authority on American Champion Super Decathlon aircraft. His aerobatic routines in both the...

National Cherry Festival aerial photos show record crowds at Blue Angels air ... * The Grand Rapids Press - MLive.com | TRAVERSE CITY, MI -- Organizers of the National Cherry Festival say record crowds flocked to Traverse City for the U.S. Navy Blue Angels performances. More than 500,000 people lined West Grand Traverse Bay parks and beaches to see the Blue Angels...

Geneseo Airshow lands this weekend at National Warplane Museum * The Daily News Online | GENESEO — The world's only flying mosquito airplane is expected at the Geneseo Airshow, which lands Saturday and Sunday, July 12-13 at the National Warplane Museum and airfield off Big Tree Lane. More than 50 historical aircraft, including the...

American Airpower Museum : Looks like our FG-1D "Corsair" will be heading to the Geneseo Air Show in Upstate New York this weekend.

Arlington fly-in to salute those who helped after mudslide * The Seattle Times | A free jazz concert and airborne pyrotechnic show Saturday night at the conclusion of the three-day Arlington Fly-In will be a gesture of gratitude to the many Stillaguamish Valley residents who helped their neighbors deal with the effects of March's...

Red Arrows hit 50 with party in the sky * The Times | Squadron Leader Jim Turner, known as Red 1, will lead the nine Hawk jets in the skies above Fairford in the Cotswolds on Friday as they take part in a special formation alongside the team leaders of Patrouille de France, Patrouille Suisse and Italy's...

Red arrows captured on camera, flying over York Minster * The Press, York | THIS fantastic photograph of the Red Arrows flying over York Minster was taken just minutes before their flypast at Harewood House to mark the start of the Tour de France. It was taken by Senior Aircraftman Adam Fletcher, a photographer with the RAF's...

Aerial thrills aplenty at this year's Fairford tattoo * Swindon Advertiser | The Prince of Wales will meet the pilots and aircrew beside their aircraft following the display and after the team has performed a special flypast with aircraft flown by the team leaders from the Patrouille de France, Patrouille Suisse, Frecce...

After delay, B-29 bomber expected in Cd'A * Coeur d'Alene Press | The B-29 Superfortress bomber Fifi is expected to be in Hayden this morning for the last day of the three-day vintage aircraft exhibition by Commemorative Air Force, the Texas-based flying museum. Mechanical problems kept the vintage bird grounded on...

Lancaster bombers to fly in formation over Britain * Express.co.uk | They will become the first Lancasters to fly in formation over Britain in 50 years. And next month aviation enthusiasts will get the opportunity to see and photograph the Canadian bomber in the air at close quarters. The Lancaster is in the markings of...

91-year-old Ernster flies vintage bomber at special event in Austin * Cuero Record | July Fourth had a little different meaning for Clete and Kathleen Ernster of Cuero this year. They were whisked away Friday morning by helicopter to Bergstrom airport in Austin for the Commemorative Air Force Central Texas Wing Barnstorming Event in...

Polka Dot Warriors · Vintage Wings of Canada | Somewhere over southern England, the crew of a fully bombed-up, four-engined Consolidated B-24J Liberator by the name of You Can't Take it With
You beats its way through low clouds on a hot hazy day. They are bound for the railroad marshaling yards outside Munich. The day is steamy, the visibility is low and grey. The wings flex. The pilots repeatedly lift from their seats, to the limits of their seat belts. The noise in the cockpit is thunderous, the heat is almost liquid. It smells of gas and sweat and bakelite. Fear rises from their guts, dries their mouths, increases their heart rates. It's mid summer of 1944. July 7 to be exact. The pilots lean forward, toward the...

Australian B-24 Liberator Restoration * Warbirds News | Most aviation enthusiasts are aware of the role that the Boeing B-17 Flying Fortress and Consolidated B-24 Liberator played in USAAF service during WWII. Many, however, are not aware that seven Royal Australian Air Force squadrons flew the B-24 Liberator in long range strikes against Japanese military targets in South East Asia. During WWII, the RAAF operated a mixed fleet of 287 B-24D/J/L and M models. RAAF B-24s flew missions from...

The life of a B-1 Aviator Part 1 * Newscenter1.tv | Ellsworth Air Force base is home to the very complex B-1 bomber aircraft. The B-1 is the backbone of America's long range bomber force and after following a B-1 Weapons System Officer around for a week, its easy to see that these brave men and women...

F-22 Pilot Celebrates 1000 Hours at Tyndall AFB * WJHG-TV | Major Daniel "Magic" Lee logged his one-thousandth hour Wednesday afternoon in an F-22 Raptor. Maj. Leep was supposed to be the fourth erson to log a thousand hours in a Raptor, but his friend, Maj. Jonathan "Stiffler" Gration, at Langley Air Force...

EAA AirVenture Oshkosh 2013: Bill Barber Award Winner Greg Koontz! * The Aero Experience | It has just been announced that Greg Koontz has won the 2014 Bill Barber Award for Showmanship! Awarded annually by World Airshow News, it will be presented at EAA AirVenture 2014 (Skip Stewart was last year's winner). The Aero Experience has covered his performances in both the Decathlon and Piper Cub at Midwest airshows, and we have great photos from EAA AirVenture Oshkosh 2013. Congratulations, Greg, and see you in a few weeks!...

EAA AirVenture Oshkosh 2013: The Breezers * The Aero Experience | EAA AirVenture Oshkosh 2013 featured a flight of Breezer II home- built/light sport aircraft during some of the daily airshows. This aircraft is a German-designed, all-metal aircraft distributed by Breezer Aircraft USA in Lakeland, Florida. The aircraft were flown by young pilots from the Aerial Formation Demonstration Team, and they looked great against the evening sky....

Museo de la Brigada 2506 — the Bay of Pigs Museum in Miami * Travel for Aircraft | It is known as the Bay of Pigs Museum in Miami, by the Miami Times and on the streets of Little Havana.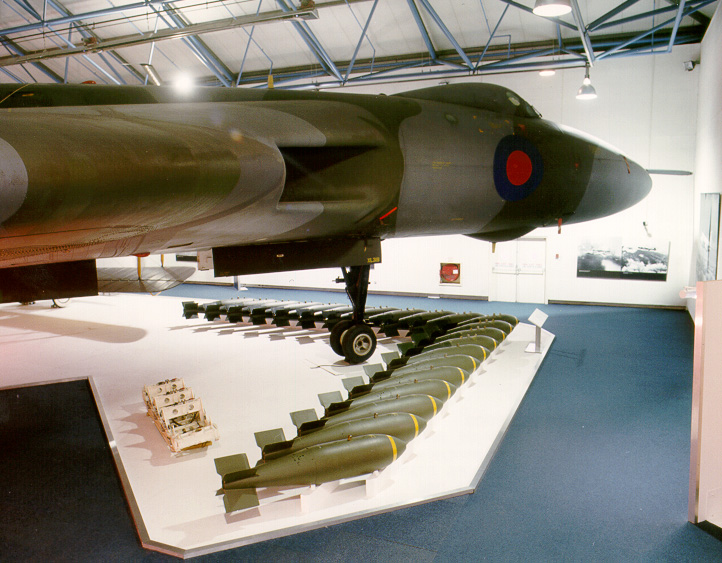 Officially the name is Museo de la Brigada 2506 (Museum of Brigade...

Access the Avro Vulcan * RAF Museum London Events | Sit in the pilots seat of the magnificent Avro Vulcan

Silver Line Will Link Air & Space Museums in D.C., Va.* Comcast SportsNet Washington | Metro's new Silver Line will provide the first public transportation link between the National Air and Space Museum's locations in D.C. and Northern Virginia. Beginning July 26, when the Silver Line launches, Fairfax County will begin running a bus...

Take flight this weekend with the Young Eagles program at Manitoulin East * Manitoulin Expositor | Manitoulin East Airport manager and Young Eagles pilot George Dobbs told The Expositor that all children, 7 to 17, are welcome but encourages pre-registration. These forms can be picked up at the Northeast Town municipal office in Little Current, the...