2014 Rockford Airfest Kickoff - WREX-TV | ROCKFORD (WREX) - There's a lot of excitement among spectators getting ready for the 2014 Rockford Airfest this weekend. They're already practicing. One thunderbird is in Rockford, and the crew is doing their final checks before take off. "Make sure the aircraft is ready to go, first and foremost," says Advance Crew Chief Joseph Khodabakhshian. "Safety is always a priority."The Thunderbirds also have three different shows prepared depending on cloud coverage....

Typhoon with D-Day invasion stripes among Duxford D-Day Anniversary Airshow highlights ·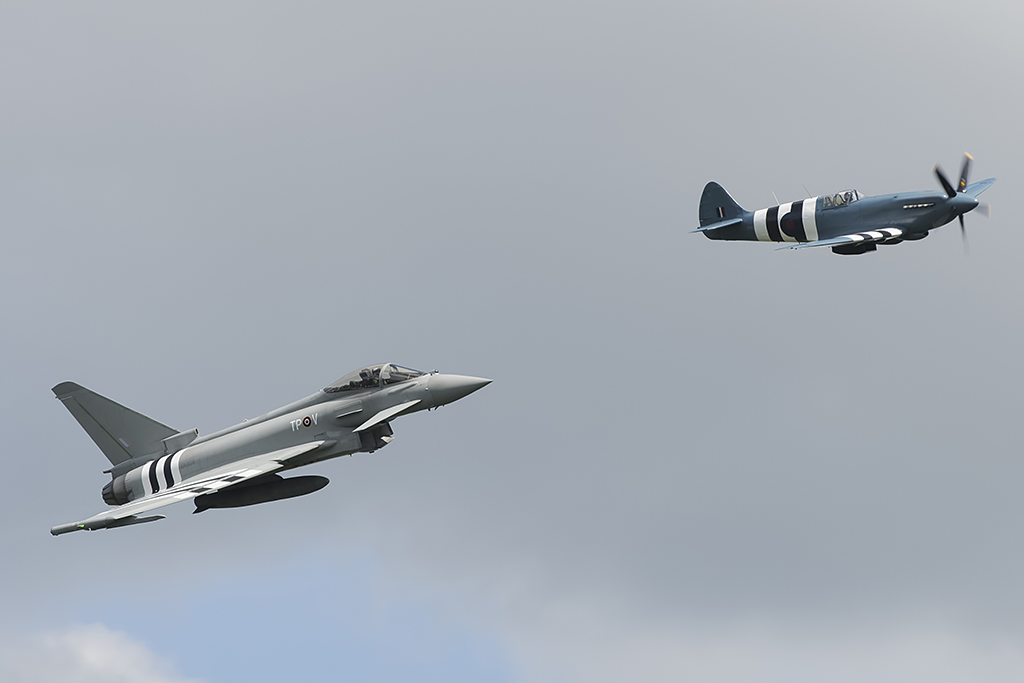 David Cenciotti | The first airshow of the season at Duxford celebrated the 70th Anniversary of the Normandy Landings. Among the highlights of the D-Day Anniversary Air Show there was a flypast made by a Eurofighter Typhoon of the 29 Sqn from RAF Coningsby, representing its namesake predecessor (the Hawker Typhoon), and a Spitfire of the BBMF (Battle of Britain Memorial Flight). Both aircraft were painted with the...

Don't miss Red Arrows show over the Solent in D-Day commemorations - On The Wight | Residents in Ryde are in for a treat this afternoon as the Red Arrows take part in D-Day commemorations across the Solent. As part of a commemorative service on Southsea Common which starts at noon, the Royal Air Force aerobatic team will be performing over Southsea Common at 2pm....

Folkestone Airshow 2014 - Kent Online | Crowds of 200,000 visitors are expected to hit Folkestone seafront to see a huge range of aeroplanes and helicopters in flight. This year's Folkestone Airshow on Saturday, June 7, and Sunday, June 8, features the ever-popular RAF Red Arrows display team, some of the world's most iconic wartime aircraft and, new for this year, a display by the Breitling Wingwalkers....

D-Day 70: Red Arrows leader 'comes home' to Portsmouth - Portsmouth News | THE daredevil pilots of the Red Arrows squadron will take to the skies above us led by a man with family links to the area. Squadron Leader Jim Turner, 41, was set to lead the aerobatic team as they perform over Portsmouth at 2pm today. Sqn Ldr Turner's father was born and brought up in Southsea and his grandparents met and married in Portsmouth where they were doctor and ward sister respectively at the Royal Hospital. His great uncle, Major Dennis Connors, was Lord Mayor of Portsmouth in the late 1960s....

Blades aerobatic display team to return for Sunderland Airshow - Sunderland Echo | BREATH-TAKING aerial acrobatics and cutting-edge displays will be on the cards as the Sunderland International Airshow returns for the 26th time. And this year, organisers hope to attract even more families with little ones to the action-packed event, headlined by acrobatic display team The Blades....

New F-35 is making its UK debut at the air tattoo - Swindon Advertiser | THE skies above Fairford will be painted a vast array of colours at this year's Royal International Air Tattoo (RIAT) as the 50th anniversary of the Red Arrows is celebrated. The world famous display team will be joined by other aircraft from around the world to put on colourful aerobatics throughout the three-day event. For plane lovers the 2014 show, taking place from July 11 to 13, will be an historic occasion for another reason, with the new F-35 Lightning II set to make its first appearance outside of America....

CF-18 Pilot Capt. Adam "Manik" Runge · The International Council of Air Shows Captain Adam "Manik" Runge talks about his experience flying the CF-18 Hornet in the Royal Canadian Air Force.

The Latest on PRS, etc. · Mike D, Reno-Stead Airport Association | There will be a great deal of flight activity at Stead over the next 10 days. I have attached information regarding 2014 Pylon Racing Seminar activities and schedules. In addition to PRS, we will be hosting the Collings Foundation "Wings of Freedom" tour from noon on Wednesday until noon on Friday. Flight activity will include B-17, B-24, B-25 and P-51 flights over the three day event. The aircraft will be located at center ramp east of the RARA grandstands....

New Livery For the Starfighter Aerospace's Aircraft · WarbirdsNews | During a recent visit to the Starfighter Aerospace facility at the Kennedy Space Center we had the
opportunity to photograph the new paint scheme applied to the company's F-104 Starfighter. Starfighters Aerospace has for some years now made hundreds of thousands of F-104 Starfighter fans around the world happy by keeping a handful of these beautiful jets in the...

The Sword of David — all you ever wanted to know about the Israeli Air Force by travelforaircraft | This book is thoroughly enjoyable and fills a niche describing the history, organization, aces, equipment and battles of the Israeli Air Force (IAF). The artwork on the cover is stunning and the plethora of photographs are primarily from private collections (i.e. IAF personnel) — these are not publicity photos, these are photos which have been taken by those who have the mission's perspective and a keen awareness....

Young Eagles flight rally this Sunday * Morris Daily Herald | MORRIS – Children and young adults ages 8 to 17 have a chance to take to the skies this Sunday as Experimental Aircraft Association (EAA) Chapter 95 hosts a Young Eagles Flight Rally at Morris Municipal Airport. The rally is part of the EAA Young...

NASA and Titan Missile Museum to Send Locals Names Into Space · WarbirdsNews | PRESS RELEASE – Sahuarita, Arizona—Jun. 1, 2014. The Titan Missile Museum will help send your name into space during its first of four 2014 cool Saturday summer evening programs, Moonlight MADness. Working with NASA, Titan volunteers will run the Educational Design Challenge (EDC), geared specifically for kids, on Sat., Jun. 14. Participants who complete the challenge will have their names sent into space as virtual crew members of the first Orion EFT-1 unmanned space flight scheduled for Dec. 2014. In addition, during Moonlight MADness you can see the awesome six-story rocket with eerie green lights on, launch seltzer rockets with MAD Scientists, sample space food, take the astronaut test, explore the Titan missile's launch control room and more.