Enshrinement Ceremony MOVED to Hope Hotel Richard C. Holbrooke Conference Center in Dayton - NAHF | (Dayton, Ohio – October 2, 2013) The Congressionally chartered non-profit 501(c)(3) National Aviation Hall of Fame (NAHF) hosts its 51st Annual Enshrinement Dinner & Ceremony on Friday, October 4. Over 600 will be attending the sold out, black-tie event. Enshrinement receptions were to have taken place Friday in the NAHF Learning & Research Center and the adjacent National Museum of the United States Air Force, with the formal dinner and
ceremony in the museum's Modern Flight Gallery. Due to the ongoing federal government shut-down, which has closed down the hall of fame and the museum, NAHF officials announced today that the event will go on but will instead take place at the Hope Hotel & Richard C. Holbrooke Conference Center in nearby Fairborn, Ohio....

Venue Change for National Aviation Hall of Fame Dinner - ABC22 | FAIRBORN -- The government shutdown is already having a direct impact on events here in the Miami Valley. The 51st annual National Aviation Hall of Fame Dinner and Ceremony was suppose to take place the National Museum of the United States Air Force Friday but because of the shutdown it has been moved to the Hope Hotel and Richard Holbrooke Conference Center. Organizers for the event are upset because they have planned for it all year long. Since it is now at the Hope Hotel, which is smaller there will be space issue. It will also cost the Aviation Hall of Fame more money because of changes in the production costs. The ceremony honors some of the nation's top aviation pioneers. It's often called the Oscar night of aviation... video and more

The California Capital Airshow's back - The Sacramento Press | The California Capital Air Show in its 8 year is set to rumble into Rancho Cordova's decommissioned Mather Air Force Base. October 5-6 is set to include many world class performances from elites in aviation...


MCAS Miramar 2013 Air Show - Patriots Jet Team, Shockwave Jet Truck, Sean Tucker (Oracle Challenger), Red Bull Helo, "Dusty" The Disney Plane....

She started an airshow pilot career at age 50! - Toriaflies | When she turned 50, she launch her professional airshow pilot career. She has now more than 300 airshow performances under her belt. Meet her (and me!) at the College Park Aviation Museum or online on March 3.

Fly-in to mark area aviation group's 50th anniversary - Kansas.com | The Experimental Aircraft Association's local Chapter 88 is celebrating 50 years with a fly-in Saturday at the Newton City/County Airport that includes flights on a 1929 Ford Tri-Motor and a variety of activities. The day will feature a candy drop and airplane rides for children; a display of a variety of home-built, classic and vintage airplanes; a rocket display; a spot-landing contest; and other activities, said EAA Chapter 88 president Doug Range...

Fly-In at Adams County's Salamon Airport - Ledger Independent | WEST UNION, OHIO | The Adams County Chamber of Commerce and the Adams County Airport Board will be sponsoring a "Fly-In" on Saturday, Oct. 12, from 10 a.m. to 4 p.m. at the Adams County Salamon Airport located six miles north of West Union just off Ohio 247... This family fun filled event will have plane and helicopter rides from Stratus Helicopter and the Appalachian Air Force. Sky divers will also make an appearance from the Screaming Chicken Sky Divers with a noon and 4 p.m. jump. The Young Eagles will be providing plane rides to children from ages 8 to 18....

43nd Annual International Cessna 190/195 Club Fly-In Lands in Tupelo MS - Alabama Aviator - Aviation News | Last weekend 28 Cessna 195s from both East and West coasts, including Canada gathered in Tupelo, Mississippi to share their love for the magnificent classic aircraft. Their time was spent exploring the beauty of northern Mississippi, visiting William Faulkner's home in Oxford, a working Catfish farm and even Elvis Presley's home...

Sunny skies for Southeast Aviation Expo · General Aviation News Staff | For the first time in its three-year history, the sun shone on the Southeast Aviation Expo at Greenville Downtown Airport (GMU) in South Carolina. Held Sept. 27-28, this year's expo attracted a number of pilots, who showed up to browse the exhibitors, attend educational forums and hear National Business Aviation Association President Ed Bolen discuss the state of the industry....

Malta International Airshow 2013 highlights - The Aviationist | Held on the Sept. 29 – 30 weekend, the yearly Malta International Airshow at Luqa airport, featured once again some interesting attendees. Among the highlights of the 2013 edition, the C-130J-30 Super Hercules of the Qatari Emiri Air Force that had taken part to last year's airshow as well, the RAF Eurofighter Typhoon FGR4 and Tornado GR4, and the German Navy special colored P-3C...

Al Ain Aerobatic Show takes excitement to new heights in its 10th year - The National | ABU DHABI // The skies over the Eastern Region will again fill with the roar of engines as the world's top aerobatic thrill-seekers stage their return to Al Ain Aerobatic Show. Elite military teams, daredevil pilots, wing-walkers, parachutists and a line-up of aircraft never before seen in the region are set to entertain crowds at the family event next month...

T-6 Reno Air Race Champion Dennis Buehn – Warbird Radio LIVE! – Episode 520 | WARBIRD
RADIO – T-6 air racing champion Dennis Buehn joins Matt Jolley for a look at the highly competitive world of the Reno National Air Races. Dennis recently took home the gold in the T-6 class at the 50th anniversary race....

Crowds welcome Honor Flight veterans home from DC - WLOX | What a moving sight, a show of love and respect. Hundreds gathered at Gulfport Biloxi Regional Airport Tuesday night. They came to welcome back the 91 Mississippi World War II veterans back to the Gulf Coast. Those veterans made the trip to Washington, DC aboard the MS Gulf Coast Honor Flight. Each time there's an honor flight, people gather to cheer and thank the veterans for their service....

Mike Millard at WACO Air Museum - Dayton Daily News | The WACO Historical Society will host Mike Millard, a former U.S. Air Force Thunderbird team member, Oct. 17 at 7 p.m. at the WACO Air Museum, 1865 S. County Road 25A. Millard is retired from the Air Force, where he was a...

Video Interview With B-24 Co-Pilot Ralph Lynn · Warbirds News | For one of our first stories for "The Restorers" series, we went to Stockton, CA to film with a group of folks at Vintage Aircraft who were putting on Bomber Crew Fantasy Camp, in collaboration with the Collings Foundation and their B-24 "Witchcraft". For this story we followed the events of the camp all the way until they dropped concrete bombs in the dessert. This was the first time they hit their target!...

Alabama Ninety Nines Attend Southeast Gulf Coast Fall Section Meeting - Alabama Aviator - Aviation News | Eight members of the Alabama International Organization of Women Pilots attended a Biloxi Gulf Coast Fall Section meeting hosted by the Mississippi Chapter. Almost fifty members from southeastern states were represented at the event last weekend...

Harrison Ford to receive humanitarian award at NBAA2013 · General Aviation News Staff |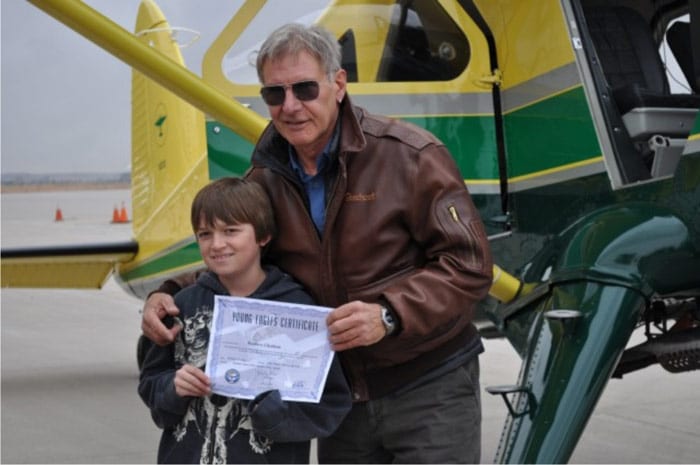 WASHINGTON, D.C. — The National Business Aviation Association (NBAA) will present actor and pilot Harrison Ford with the NBAA's Al Ueltschi Award for Humanitarian Leadership at the Opening General Session of the association's 2013 Business Aviation Convention & Exhibition (NBAA2013) in Las Vegas on Oct. 22...

'Misprint' of a famous misprint released · General Aviation News Staff | WASHINGTON, D.C. — The Postal Service has printed 100 additional sheets of stamps of the recently issued Inverted Jenny stamp — but with the plane flying right-side up. These limited edition stamps were circulated with the recent issue of the most famous "misprinted" stamp. Customers who recently purchased the new Inverted Jenny stamp could have a very limited edition of the famous stamp, post official officials said...

PARIS TN: Young Eagles take flight at Henry County airport - Paris Post Intelligencer | That was the shared opinion of John Thomas Atkins, Claire Dickson and Joshua Logan Osbourne, three of Henry County's newest Young Eagles, after they touched down at the Henry County Airport following a flight over Henry County. The three were among...

Ask Me Anything: Astronaut Dr. David Wolf - Indianapolis Monthly | Former astronaut and Purdue grad David Wolf will discuss his 168 days in space at The Children's Museum on Oct. 3...