World-class coach takes to skies with Blue Angels - Imperial Valley Press | Starrett, a world-renowned athlete and coach, took to the skies with Blue Angels No. 7 pilot Lt. Ryan Chamberlain as part of the Blue Angels Key Influencer rider program. The program allows a flight to select individuals because of their presence and ...

This Husky is a Thunderbird - Pueblo Chieftain | Riley, 31, is a captain with the U.S. Air Force who just completed a two year stint flying at air shows with the Thunderbirds, that prestigious group of
pilots who perform gravity-defying stunts the world over. His love of flying was born in his native...

Auckland air show off to flying start - 3News NZ | Auckland has a new anniversary weekend event, with the first New Zealand International Air Show being held over three days at the North Shore Aerodrome. Stunt couple Melissa and Rex Pemberton opened the show with a small-scale version of their wing ...

Stuntman allows parachute fail for ultimate display - New Zealand Herald | Berry is back up today, along with Swiss "Jetman" Yves Rossy, vintage and model aircraft displays, and aerobatic performers including 28-year-old blonde bombshell Melissa Pemberton, who flies with her husband Rex. The day ends with competitive air ...

Diversity on display this Australia Day - The Australian | Free events were being held across the city at Federation Square, Docklands, the Sidney Myer Music Bowl and the Kings Domain Gardens, where the Royal Australian Air Force Roulettes performed an aerobatic display. Melbourne will cap off its Australia ...

WWII vet to fly one more time - Cape Coral Daily Breeze | The B-24J Liberator, along with the vintage Boeing B-17 Flying Fortress, which served as heavy bombers, and a North American P-51 Mustang, which flew escort on their missions, will be part of a unique display at Page Field from Monday to Wednesday of ...

The Goodyear Trophy, 1947 - IPMS | The years between 1929 and 1939 were hailed as "The Golden Age of Air Racing" - an era of invention and adventure, when innovative individuals could build an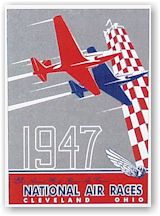 airplane and compete in air races all around the US. However, already towards the end of the 1930s it was realized that air racing had become too expensive and too technically advanced for most home-builders. In 1940 the US Professional Racing Pilots' Association (PRPA) took an...

Flying is a family thing - Kansas City Star | He would take to the skies easily, and became part of the air racing circuit — the NASCAR of his day. On one cross-country dash, the wheel of his plane broke when it hit a gopher hole in a field in Utah. He jury-rigged a replacement out of found...

Spitfire nursed back to life after 11 year restoration (With Video) from The Kathryn Report | An expert team of technicians from the Battle of Britain Memorial Flight restored the rare 'low back' MkXVI Spitfire to flying order at RAF Coningsby in Lincolnshire....

Alouette III auctioned at Artcurial from Passion for aviation by Xavier Cotton | I have previously announced auction aeronautical will be held Sunday February 17 11H and 14H in Artucurial (exposure - 7 roundabout Champs Elysées 75008 Paris) On this occasion an Alouette III (lot 470) of the Irish Air Corps is exposed in the courtyard Marcel Dassault for Friday, January 18. Here is the complete catalog of sale (527 lots)...

[Video] China's brand new military airlifter makes first flight from David Cenciotti's weblog | Coded 20001, China's large military transport aircraft designed Y-20 made its first flight from Yanliang flight test center on Jan. 26....

January 2013 Young Eagles Report - EAA Chapter 242 | Fog was threatening on January 12th but cleared in time for distant pilots to make it in and we had a productive morning. Twenty three kids and several adult (Eagles) had a wonderful airport and flight experience. Thanks to the everyone who
helped us at this event to launch 2013 Young Eagles....

de Havilland DH.95 Flamingo from Planeshots

Man VS Machine from Apron 6 | Another two pictures from the Connie. Two pictures in which man and machine blend in each other. During the two days I really wanted to photograph the people who worked on the Connie as it's not often you get the opportunity to photograph an iconic plane with the mechanics working on it. And after all, [...]


Pilot Hit By New Year's Gunfire from AVwebFlash Current Issue | A Florida pilot has uploaded a YouTube video detailing how he was hit by a bullet while flying with his girlfriend over Jacksonville on New Year's Eve. Graham hill was apparently grazed by what may have been celebratory gunfire as he flew a rented Cessna 172 over the city to view the midnight fireworks display. "I heard a loud pop," he said. He didn't immediately realize he'd been hit. After checking to make sure his girlfriend was OK, he said he scanned the cockpit for anything that had been shattered and just as he noticed the hole in the pilot side window he felt blood running down his neck...

SkyCar going into production in 2014 from Spaceports | Moller International is now apparently $80 million closer to putting the SkyCar into production with the financial backing of Athena Technologies, LLC of Harbor City California. The goal of the newly formed JV is to establish co-production for its aircraft in the US and the People's Republic of China....

CoolPix: Space Shuttle Discovery Up Close At The Udvar-Hazy Center from AirPigz by Martt | The first day of the AirPigz National Air and Space Museum MeetUp was agreat success! 13 people in all

gathered today at the Udvar-Hazy Center to enjoy a fabulous collection of great aircraft. It was a great start to three days of avgeekery and friendship that should see several more people join the event as we move into Washington DC to tour the legacy NASM facility on the National Mall tomorrow. It's sure to be another fantastic day!...

Russia Advancing 2015 Moon Lander, China to Land Moon Surface Rover in Late 2013 from Spaceports | Russia's Federal Space Agency Roscosmos plans to launch automatic interplanetary station "Luna-Glob" in 2015 from the new Vostochny spaceport. According to the head of the Federal Space Agency, Vladimir Popovkin, "Luna-Glob" will become the first spacecraft to be launched from the spaceport in the Amur region of eastern Russia. The station will also become Russia's first lunar probe of the 21st century....

10 Billion Miles From Home - Air & Space | More than 35 years into their mission, our farthest-flung spacecraft are not finished yet.