AIRSHOW 2013 – "LIGHTNING STRIKES" - Mid Valley News | Warbirds will once again fill the skies over Chino Airport during the Planes of Fame/County of San Bernardino Air Show over the
weekend of May 4-5, 2013. On May 3, the public and museum members are invited to an Airshow Preview Event consisting of...

'Blue Angel' Hornet stops by Hillsboro to promote air show - KATU | The popular U.S. Navy Blue Angels will headline the Oregon International Air Show this summer. On Thursday morning, one of the iconic blue and gold F/A-18 Hornets touched down at Hillsboro Airport to promote the upcoming visit by the entire team. The...

Planes of Fame Features WWII Survivors; Flies Focke-Wulf - Flying Magazine | Wilbur Richardson also had the crowd on the edge of the seats as he spoke of his missions in a gun turret of a B-17 bomber. With 30 missions under his belt, Richardson survived a gunshot wound to the thigh and one major engine fire, an incident during...

The famous Patrouille de France Saturday opening MP 2013 - Maritima.info | The Air Force and BA Salon are associated with the opening of Marseille-Provence 2013, European
Capital of Culture. PAF fly over the cities in the territory of MP early Saturday afternoon. The Air Force Base and...

Remembering an aviation Pagani Zonda " - balsas.lt | Pagani Zonda Tricolore was dedicated to the Italian Air Force aerial acrobatic squadron "Freccia Tricolore" 50th anniversary. Thus clip the car sported a graceful planes Aermacchi MB-339-A/PAN Company. Admire aviation practice "Zonda Tricolore...

Air show began in 1960, called 'Space Fair' - Ventura County Star | Civilian air show acts during this time period included Dick Schram, "The Flying Professor," in his Piper Cub as a comedy act and Frank Tallman, a legendary Hollywood stunt pilot, flying a bright red World War I Fokker DR-1 German plane. Tallman was...

Air racer ready to show skills - Northern Star | A highlight of the weekend will be the breathtaking and low-level displays of renowned aerobatic legend Paul Bennett. Paul will be performing in his Pitts Special aerobatic biplane. Other favourites that will be visiting and available for joy flights...

Documenting fearless flight Posted by Dan Domsic | Fishers-based filmmaker debuts 'Wings for Maggie Ray' | One Fishers-based filmmaker is out to tell the story of a Hoosier some say was without fear. "Wings for Maggie Ray," a documentary by Philip Paluso, owner, writer and director at Medium Cool Pictures debuts on WFYI this Thursday at 9 p.m. The film details Margaret Ray Ringenberg's life – from her time on an Indiana farm to her days as part of the Women's Air Force Service Pilots during World War II to a...

Popular TV antiques show heading to air museum - This is Somerset | Popular TV antiques show heading to air museum. Trusted article source icon. Thursday, January 10, 2013. Profile image for Western Gazette - North Dorset · Western Gazette - North Dorset. Follow. A BBC antiques show is being hosted in south Somerset at...

Oshkosh 2013 Gets Stung By Jerry Yagen's Mosquito? from AirPigz by Martt | AVweb had a story yesterday about how the EAA was going to stand firm on their policy of not paying appearance fees to have specific aircraft attend the annual convention and fly-in in Oshkosh,
Wisconsin. This has become an issue because it appears that Jerry Yagen, the owner of the Mosquito recently (and impeccably) restored by Avspecs LTD in new Zealand, has said he won't bring the Mosquito (and his new-manufacture Me 262) without being paid to do so. Hmm, really? Normally I'd just hear this news and then let my opinion rattle around inside my head, but as a guy who has covered this Mosquito extensively in the last several months here on AirPigz, I decided I have something to say....

A perspective from the point of view of a museum volunteer from National Museum of the USAF Top Stories | As a volunteer at the National Museum of the United States Air Force, I want to share a few thoughts about the museum, the visitors and the dedication of the volunteers and staff. I have been coming to the museum since I was a youngster in grade school. At age 64 I am no longer a youngster. The museum isn't young either. It has blossomed, from one hangar in the 1950s, to a 17 acre complex. The museum was...

1912: Famous aviator visits Cape = Southeast Missourian (blog) | Tony Jannus, a pioneer aviator, met his death in the cockpit of a Curtiss H-7 airplane on Oct. 12, 1915, while training Russian pilots to fly combat missions. According to Wikipedia, his plane developed engine problems and crashed into the Black Sea...

Airport got start with B-17 bombers - Cincinnati.com | "Funding was approved in 1942 by President Franklin Roosevelt for a 928-acre airfield and practice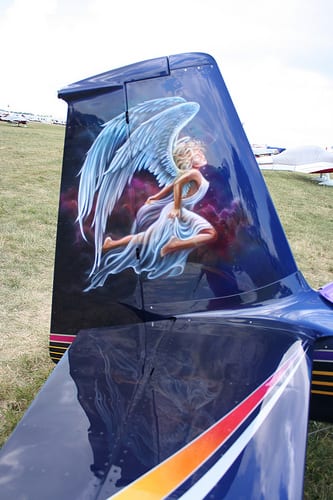 field for B-17 bombers from Lockbourne Air Force Base in Columbus," said Flanagan. According to the Encyclopedia of Northern Kentucky, runways were...

American Angel from General Aviation News by Meg Godlewski | Angels have been part of aviation myths since the early days of flight — so much so that two successful Hollywood movies, "A Guy Named Joe" and the 1989 remake "Always," were centered on a pilot turned angel who comes to the rescue of fellow pilots. John and Patti Stahr from Eugene, Ore., enthusiastically embraced that angelic connection with their RV-8 "American Angel."

Search for WWII Spitfire planes may come to an end in Burma from The Kathryn Report by The Kathryn Report | A team searching for scores of lost Spitfire planes that were packed in crates and buried in Burma during the last days of World War II believes it may have hit paydirt.David Cundall, whose 17-year quest to unearth the long-lost planes has cost him his life savings, told a news conference today that searchers have found a crate buried in muck in the northern Kachin state capital Myitkyina.

A monument to the memory of the Greatest Generation - Houston Chronicle | I take great pride in watching this institution grow from a single building to a six-acre, $325 million campus filled with priceless artifacts from G.I. diaries to a B-17 Flying Fortress. Just as precious is the opportunity for young scholars like...

Back to the left side, and a boo boo… from The EAA Zenith Project by ChadJensen | As you'll see from the first few pictures, Saturday's build session was filled with green and gold, and for good reason, but we're not here to talk about football. ;o) We had some drilling to do! First off, we had to install the lift strut attach fitting, so Dick Knapinski took care of that detail prior to lifting the skin over in to place.

Former EAA Vice President to Receive Harrison Ford Legacy Award from EAA - The Experimental Aircraft Association | Greg Anderson, former EAA senior vice president who helped launch the EAA Young Eagles program, will receive the Harrison Ford Legacy Award for his contributions to the GA community.

FlightTime Radio Show 258
FlightTime Radio Show 259

New Pilot Solos in RV-12 He Helped Build from EAA - The Experimental Aircraft Association | Austin Malcomb, EAA 1044354, fulfilled a dream last Friday, January 4, when he soloed on his 16th birthday at North Vernon Municipal Airport (OVO). While soloing on one's first eligible day is not that unusual, the airplane Austin flew certainly was; it's an RV-12, N901EN, dubbed Eagle's Nest One, built mostly in the engineering classroom of Jennings County High School, North Vernon, Indiana.

Circle of Flight: Former Young Eagle Flies 500th Young Eagle from EAA - The Experimental Aircraft Association | On September 2, 1995, 8-year-old Bradley Bormuth of Morganton, North Carolina, went on a Young Eagles flight with his dad, Al, in his Cessna 210. Eight years later - on his 16th birthday - Bradley soloed. The following year, he passed his checkride and started giving Young Eagles flights.