Blue Angels prep in Brunswick
- Times Record | An advance team for the U.S. Navy Blue Angels will touch down at Brunswick Executive Airport Wednesday morning in preparation for next year's Great State of Maine Air Show. Lt. Brian Chamberlain, narrator for the famed aerial stunt team and pilot of ...
American Heroes Airshow – Los Angeles
from Photorecon by Matt Shinavar | The American Heroes Airshow is a fly-in at seven locations across the country of helicopters flown by what some would
consider American heroes, as it happens to be. The helicopters are those that are flown by local police, news, fire, military, and private contract work; the event organized to draw attention to the special and important role helicopters play in...
Duncan Aviation Career Day attracts 200
from General Aviation News by Janice Wood | LINCOLN, Neb. — Duncan Aviation recently welcomed 200 students, parents, counselors and teachers to its aviation career day, Adjust Your Altitude. The program was designed to educate, inspire and ignite students' passion for the aviation industry, company officials said....
EAA Museum Exhibit to Honor Frank Christensen's Eagle
from Alabama Aviator - Aviation News | EAA AVIATION CENTER, OSHKOSH, WI- Aircraft design pioneer Frank Christensen, who advanced kit-built aircraft with his innovative Eagle aerobatic airplane, will be the featured speaker at EAA's annual Wright Brothers Memorial Banquet on Friday, December 14, at the EAA AirVenture Museum in Oshkosh.
I Finally Got My Upside-Down Pitts S2C Flight In With Billy Werth! (Grayout Aerosports)
from AirPigz by Martt | Billy Werth (
Grayout Aerosports
) and I have been trying to get together to go
flying in his Pitts S2C for about 2 years now... every time we had it scheduled something would get in the way to keep it from happening. Well, yesterday it finally happened! This was my first time ever flying an airplane as hot as the Pitts and...
Money Goes Missing From Kansas Honor Flights Fund
from Aero-News Network | Flights To WWII Memorial Halted After Thefts Discovered The program director for an organization in Great Bend, KS, which raised money to fly WWII veterans to Washington, DC, to visit the WWII Memorial has been arrested and charged with two counts of theft by deception. LaVeta Miller is accused of taking about $110,000 from Central Prairie Honor Flights...
Don P Thometz 1922- 2003
from Test & Research Pilots, Flight Test Engineers | Don Thometz was an Army Air Corps instructor during World War II and a United Airlines DC-3 copilot in United's early years. He flew nonscheduled cargo operations to Alaska and flights that supported the building of the...
Sqn Ldr Leslie V. Worsdell 1917-2008
from Test & Research Pilots, Flight Test Engineers | Leslie Worsdell was the first apprentice flying instructor trained pre-war by Marshall of Cambridge. He played an important part in flying training over a career of 50 years in aviation, which included working as...
Read about Jerrie Mock
from WAI Connect Blog by Pat | If, like many others, you're stumped to name the first woman to fly solo around the world, you need to read about Jerrie Mock. She has been inducted into WAI's International Pioneer Hall of Fame, and she has a fascinating story of being just an "average" person who had a dream and pursued it....
Girls Inc Group Celebrates Women in Aviation With a First for Some Local ...
- WDEF News 12 | It's part of their celebration of Women in Aviation month. The girls met the only female pilot currently flying in and out of Chattanooga. Rebecca Gibson works for Crystal Air. She told the group about her career, answered questions and gave them a ...
Calling All Racers!
from WAI Connect Blog by Amy Laboda | Many Air Race Classic participants are members of
Women in Aviation, International
. They often meet during the annual International Women in Aviation Conference, being held March 14-16, 2013, in Nashville, Tennessee. Are you thinking about racing? If you have raced before, then you may have that "itch" to race again. The Air Race Classic draws...
Out of Africa plane to go under the hammer at Bonhams
- Breaking Travel News | It still wears its yellow-and-black livery and registration G-AAMY (in homage to pioneering English aviatrix Amy Johnson) as seen in the Sydney Pollack-directed movie, which went on to win seven Oscars in the year of its release. In the film, the two ...
The origin of White Lightning
from General Aviation News by Meg Godlewski | One of the best parts about interviewing someone about their airplane is that after the story is published, someone who has additional information about the airframe will often send a note...
Video: F-35 Goes On The Attack... And Wins!
from AirPigz by Martt | Here's part of the official Lockheed-Martin press release on the testing: EDWARDS AIR FORCE BASE, Calif., November 19, 2012 – An F-35A Lightning II conventional takeoff and landing (CTOL) aircraft rapidly expanded its high angle of attack (AOA) test envelope to its 50 degree limit in only four flights during recent flight testing here. F-35A test aircraft are...
F-22's success more than 'skin deep'
from Air Force Link Top Stories | Many are surprised to discover that the largest organ the human body has is the skin. Skin provides a physical barrier against harmful, external factors. The F-22 Raptor, much like the human body, has a layer of skin called low observable. LO not only assists in retaining the jets' stealth capabilities but also prevents corrosion and other damages. Like human skin, the F-22's coating consists of several layers. The surface of the F-22 appears to be a simple gray paint, but in reality the high-tech surface renders one of the largest fighter jets virtually undetectable by radar....
FlightTime Radio Show 242
| Thanks to Glenn Boyles as he helps us out and takes the Key Auto Studios on the road to the Wings N Wheels auto and car show at Craig Airport. (OK, OK, I know it's now Jax Executive but I know it as Craig!) With Charlie camping at Mayo and Milford in Texas rooting the Florida Gators on, somebody had to have the fun and Glenn got the long straw!
FlightTime Radio Show 243
| John Cunningham joins the guys via the Sunrise Aviation Hotline to discuss his new book, "Green To Go". This book is set in South Florida and is a great action adventure story with aviation woven through out. Milford read it, (he had help with the big words) and recommends it highly!
Mojave Airport Video
from Wasabi Air Racing by Elliot "Stinky" Seguin
Sport pilot to celebrate 100th birthday flying his Evektor LSA
from General Aviation News by Dan Johnson | On Nov. 30, Guy Reynolds will celebrate his 100th birthday by taking a flight in a Light-Sport Aircraft. Putting a finer point on it, he'll take this flight in his LSA. Are you surprised that a centenarian has an LSA? Admit it...I was. However, Guy is no ordinary guy. He bought his Evektor Sportstar back at the beginning of LSA and he's...
Ballarat Aero Club celebrates 50 years
- Ballarat Courier | Ballarat Aero Club putting on a display at the airport for its 50th anniversary....
Two-Seat Solar Flight
from AVwebFlash Current Issue | Solar flight pioneer Eric Raymond is working to complete his first two-seat design, Sunseeker Duo, which he expects will be "the highest performing solar airplane ever built and the first to carry passengers," and he's seeking grassroots support. Raymond has previously worked on the Solar Impulse project, which aims to fly around the world on solar power, alone, and in the 1990s he flew his own solar-powered design across the country in 21 legs....
Santa to land at the Air Zoo
from General Aviation News by Janice Wood | KALAMAZOO, Mich. — Santa is scheduled to land at the
Air Zoo
, Saturday, Dec. 1. In addition to welcoming Santa from 1 p.m. to 3 p.m., the Air Zoo is also offering a special holiday promotion. When guests purchase a SkySpace Kids Club or supporting Air Zoo membership on Dec. 1, they'll receive a free gift (while supplies last)....
NASA Space shuttle-carrying jet lands for good
- CBS News | NASA 905 also ferried the Enterprise for display at special events such as the Paris Air Show in France and the 1984 World's Fair in New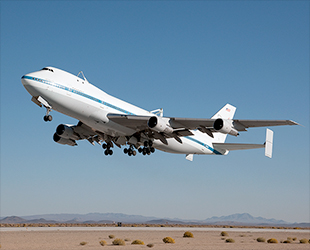 Orleans, La. NASA 905 flew 70 of the 87 ferry flights during the shuttle program's operational phase, including 46...
Astronaut David Wolf on NASA, research and Purdue
- WBAA | It's been nearly a year and a half since NASA ended the Space Shuttle program. The craft was the most visible symbol of the administration for those not old enough to remember the moon landings. Now, officials are trying to capture the attention of ...
Space Agencies Name One-Year ISS Crew
from Spaceports | ...American astronaut Scott Kelly, 48, and Russian cosmonaut Mikhail Kornienko, 52, will launch on the one-year space station flight in spring 2015 and return to Earth in spring 2016, NASA officials announced Monday, Nov. 26, 2012. Crews so far have done only six-month stints on the station....