Blue Angels air show draws tens of thousands - Pensacola News Journal | As temperature on the tarmac soared this afternoon, Elizabeth Key and her two young daughters retreated to the shade of a parked airplane to watch stunt pilots at the Blue Angels Homecoming Air Show. Key, a military wife, sat and slurped snow cones ...

This weekend's air show a new kind of homecoming for two Blue Angels - Pensacola News Journal | Blue Angels pilot Maj. Brent Stevens is the pilot of the No. 4 Jet, or slot position. He will be flying his final two Blues shows during this weekend's homecoming airshow a Pensacola Naval Air Station on Friday and Saturday...

Taking on 9 G's in a Thunderbird, High Above Florida - NBC 6 Miami | I grew up going to the Wings Over Homestead Air Show with my family. I marveled at the great majesty of these jets that did "cool tricks," manned by those who protected our country. My brother and I would sit on the roof and watch the red, white and ...

Air show gets city's name - Charlotte Observer | The annual Monroe air show this weekend has a new name, "Warbirds over Monroe," to better tie the event to the city, which covers all expenses now.

Salute to Military Service weekend - Houston Chronicle | ... Johnny Hanson / Houston Chronicle. The Salute to Military Service weekend will feature military demonstrations including the Golden Knights Parachute Jump Team and the U.S. Coast Guard, training exercises, military vehicles and entertainment. View ...

Photorecon Members Published in Warbird Digest Magazine by Joe Kates - Photorecon | A few weeks before the 2012 Reno Air Races I was contacted by the Editor of Warbird Digest magazine to
explore how Photorecon could help out with the upcoming Reno issue. After catching my breath and coming back to earth I said YES, we would be honored to help with the Reno coverage. As the owner of Photorecon I contacted several of our contributors and set...

READER SUBMITTED: 'Women Take Flight' New England Air Museum - Hartford Courant | 4, meet more than 20 extraordinary women who have pioneered new careers for women in aviation and aerospace engineering! Discover the opportunities women now have working in the aviation and aerospace industries while seeing examples of their ...

The Medal of Honor(s) Marine F/A 18 by Douglas Aguillard - Photorecon | A few weeks ago, I was photographing the U.S. Marines VMFAT-101 "The Sharp-shooters" squadron at a civilian airport outside of San Diego, when I noticed an all white F/A-18 with no markings on the plane.VMFAT-101 is a Fighter training squadron, based out of MCAS Miramar, and during their lunch break, I asked several of the pilots about the odd paint...

70 year old carrier pigeon mystery almost solved — what was the urgent message to Bomber Command in WW II? from Travel for Aircraft by joseph_may | Command in WW II? <>><>><><><><> Most of the information in this post comes from a thorough article written by Mr. Alan Cowell of The New York Times. The report appeared in the 2 November 2012 issue and is entitled, "Memo [...]

Wright Brothers Aeroplane Museum? from Alabama Aviator - Aviation News | MONTGOMERY AL- Ohio and Alabama have a wealth of aviation history in common. Both have ongoing efforts for a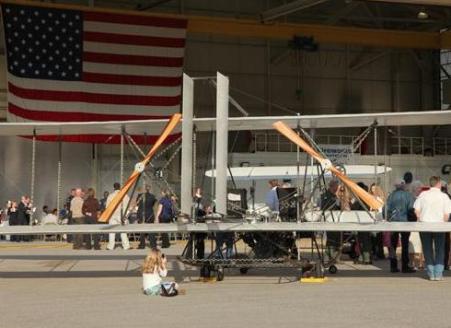 Wright Brothers history museum. Both museum plans were close but neither off the ground. For years, Nick Engler tried to work a museum deal in Dayton but now has his sights set to take flight elsewhere with reproductions of early gliders and airplanes. For years, Montgomery has...

Video + CoolPix: Aero Telemetry Starts Carving 20 Foot Wingspan Spruce Goose! from AirPigz by Martt | Today marks the 65th anniversary since Howard Hughes made the one and only flight in the fascinating 320 foot (and 11 inch) wingspan Hughes H-4 'Hercules' - or Spruce Goose as we've always known it. That makes a pretty cool day to find out about a new project by the guys at Aero Telemetry. If you don't know about the off-the-scale cool stuff done by...

No Plane No Gain Proclaims Alabama Governor for GA Appreciation from Alabama Aviator - Aviation News | Gov. Robert Bentley recently proclaimed October 2012 as GA Appreciation Month, making Alabama the 46th state to recognize the value of general aviation since the beginning of the No Plane No Gain campaign, which is sponsored by NBAA and the General Aviation Manufacturers Association...

Watch a Hurricane Hunter's WC-130J plane fly into Sandy superstorm from David Cenciotti's weblog | The following interesting video shows aircrew assigned to the 53rd Reconnaissance Squadron from Keesler Air Force Base, Biloxi, Mississippi, fly a USAF WC-130J into storm Sandy off the East Coast of the United States on Oct. 29...

Baumgartner Documentary, Space Dive, Airs from AVwebFlash Current Issue | A documentary, Space Dive, will air beginning this weekend (Nov. 4), detailing Felix Baumgartner's journey to a successful world record freefall jump with the corporate support of Red Bull and the mentoring of previous record holder, Col. Joe Kittinger. The one hour thirty minute program pulls highlights from Baumgartner's years of training and includes previously unreleased footage from cameras mounted on his suit as he passed the speed of sound. It also details Baumgartner's claustrophobic reaction to his pressure suit and complications that could have caused the team to abort. Check BBC and National Geographic channels for local programming times (announced times listed after the jump).

UPDATE 1-Last NASA space shuttle becomes museum piece - Reuters | A prototype shuttle, Enterprise, was given to the Intrepid Sea, Air & Space Museum in New York City. Delaware North is designing a $100 million exhibit scheduled to open in July 2013 to showcase Atlantis and educate the public about the shuttle program.