Navy, Marine, Air Force jet fighters headline Wings Over Wine Country Air Show from General Aviation News by Janice Wood | The Pacific Coast Air Museum welcomes Navy, Marine and Air Force front line fighter jets to its airshow line-up of performers. The Wings Over Wine Country Air Show will be held at the Charles M. Schulz – Sonoma County Airport in Santa Rosa, Calif., Aug. 18-19...

Weekend picks: Be wowed at Air & Water Show - Chicago Daily Herald | This year's headliners include the U.S. Navy Blue Angels, Army Parachute Team The Golden Knights and the Navy Parachute Team The Leap Frogs. Civilian aircraft performers are the returning Aeroshell Aerobatics Team and the Lima Lima Flight Crew.

Wings of history - Coeur d'Alene Press | The scent of exhaust rises, and the B-25 fighter plane jerks forward, like an antsy horse. As it rolls, a cacophony of noises chime in from all around, the mechanization of this grand jalopy popping, grinding, chugging, thrashing. There is no ...

Blades aerial daredevils due to fly in Falmouth this evening - Falmouth Packet | The Blades aerobatic
team are set to wow crowds with a daredevil display at Falmouth Week tonight (Wednesday). The spectacular display will appear in the skies above Falmouth harbour at 6.15pm as one of the highlights of Henri Lloyd Falmouth Week.

Red Arrows on-track for aerobatic display over Cromer Carnival - Norfolk Eastern Daily Press | Earlier today, thunderstorms were forecast to coincide with the aerobatic display over Cromer. However, weather reports for Cromer have been revised with sunshine and only a light rain shower expected during the display. Another rain shower is expected ...

Weather limits Red Arrows display at Cromer Carnival - Norfolk Eastern Daily Press | Murky weather clipped the wings of the Red Arrows Cromer carnival display - but the crack aerobatic team battled on in poor visibility to give a curtailed performance. Comments; Email; Print; Got a story? To send a link to this page to a friend, simply ...

Thunderbirds, Snowbirds perform at Canadian Air Show from Air Combat Command - Top ACC Stories | The U.S. Air Force Air Demonstration Squadron "Thunderbirds," performed alongside the Royal Canadian Air Forces air demonstration team the "Snowbirds," at the Abbotsford International Air Show Aug. 10 through 12. This year, the Abbotsford International Air Show celebrated its 50th anniversary and the air show marked the first time the two demonstration teams performed at the same venue since 2010....

Episode #30 – Performing in the Thunderbirds, Afterburner Explosions, & Teaching the Embraer Phenom - Stuck Mic AvCast | And now for some details about today's guest, Dave Coffman: Dave began his flying career at 16 and earned his Private Pilot's license shortly after his 17th birthday. He graduated with Honors from Florida Institute of Technology with a B.S. in Air Commerce Flight Technology and later completed his Masters Degree in Aeronautical Science from Embry Riddle University. After...

2012 air show to top numbers from 2010 - Wetaskiwin Times Advertiser | "We're quite happy with that considering we were up against the Big Valley Jamboree, the Heritage Festival and Loonstock," he said about the other major events that were happening in the region on the same weekend as the air show. McFaul said the air ...

Help for Heroes open day to fly high - Selby Times | EXCITEMENT is building for the annual Help for Heroes charity open day at Sherburn Aero Club. Previously held at RAF Church Fenton, the event has been hosted by the aero club for the last two years. During that time it has raised more than £14000 for ...

Jason McKean Memorial Model Air Show from Academy of Model Aeronautics's Facebook Wall | Saturday, October 13, 2012 9:00 am to 3:00 pm Featuring 50 to 100 model aircarft Exhibition Flights Aerobatics and Xtreme 3D Flights WWI biplanes WWII fighhters and vintage "warbird" WWII Tribute to the Aircraft of the ERA Music Food Raffle Prizes Swap-meet This will NOT be at the Hammond Muni...

Airshow to feature B-17 bomber from General Aviation News by Janice Wood | A fourth aerobatics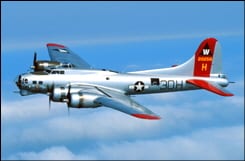 act has been added to The Wings over Waukesha Air Show, as former US Air Force A-10 pilot Jim Leavelle will be performing in his T-6, along with Jim "Fang" Maroney Super Chipmunk aerobatics, Dave Dacy-Tony Kazian wingwalking, and Dr. Bill Blank Super Decathlon aerobatics. The airshow, which will be held Aug. 25 and 26, at the Waukesha County Airport (UES) in Wisconsin, also will feature the Experimental Aircraft Association's B-17 "Aluminum Overcast" bomber from World War II, which will offer rides and tours...

Airman Down - airspacemag.com | Rescue aircraft are different today, but "surrender" is still a dirty word.

NASA's first Crew Compartment Trainer scheduled to arrive at the National Museum of the U.S. Air Force from National Museum of the USAF Top Stories | NASA's first Shuttle Crew Compartment Trainer (CCT-1) is tentatively scheduled to arrive on NASA's Super Guppy aircraft at the National Museum of the U.S. Air Force on Aug. 22 at 4 p.m.

Setting SAIL for history: Houston's hidden space shuttle opening to public tours - collectSPACE.com | Enterprise, the original shuttle prototype, which is now exhibited at the Intrepid Sea, Air & Space Museum in New York City, was similiarly OV-101. Endeavour, which next month will be flown to Los Angeles for the California Science Center, was ...