Photos: 2011 ACC Aerial Demo Teams certify
from Air Combat Command | Every year the Air Combat Command Aerial Demontration Teams must receive certification given by the ACC commander prior beginning any performance or starting air show tours. The Viper West, A-10 East and F-22 Raptor demo teams were just a few that converged at Langley Air Force Base, Va., Feb. 1-3, to practice and showcase their aircrafts' capabilities. ... slideshow.
Waiting to conquer the skies
- Deccan Herald | Participation in this year's air show has shot up and the best of the aviation entrepreneurs from across the world are descending in the City for the air ...
Index
- sfapt.org | Great new photo on Special Foarces Asso. Parachute Team website. "Bo Kinnison bring in US Flag kicking-off football game at Freedom High School, Morganton NC, 2008. Photo by Jeremie Chapin." http://sfapt.org/
Video: Ryan Mathews rides in F/18 Super Hornet
- Sign On San Diego
San Diego Charger Ryan Mathews got a taste of what its like to be a Naval Aviator last week. Check out the video linked above. If you'd like to see for yourself, come on out to the CONA Open House and Parade of Flight, this SATURDAY.
Centennial of Naval Aviation - Heritage Paint Schemes
from FenceCheck Forums
Am I High Aviation flight school of Wisconsin celebrates Women of Aviation Worldwide Week
- womenofaviationweek.org | To celebrate Women of Aviation Worldwide Week, Am I High Aviation is planning a day of free movies and flying. On March 13, tasting flight will cost just $20 at Stevens Point Municipal Airport. What a deal!
Mike on Boston's 'Chronicle' TV Show
from Mike Goulian Airshows | Tune in to watch Mike Goulian on Chronicle, a Boston based nightly television show with anchor, Anthony Everett. Mike helps Anthony make his dream come true – starting his quest to learn to fly. Anthony spent the day with us at our hangar in North Andover, MA to experience the passion of flying at Mike's flight school, Executive Flyers Aviation. ...
DH Mosquito RR299
from Vintage Aeroplane Writer | From the 'gone but not forgotten' file, I decided to dig out a selection of shots of the world's last flying Mosquito, RR299, G-ASKH as it was operated by British Aerospace. ...
Aerial Beauties - The Most Beautiful Vintage Airplanes
from Another Time by Dan Linn | A note from my friend Jeff today had my mind racing this afternoon. What are my top ten favorite airplanes? We talked of what our guidelines were... existing airplanes... extinct types... and just what we thought were the most beautiful airplanes ever built. Beauty, as in ...
EAA Webinar Tells the Story of Canadian Pilot Training as the "Aerodrome of Democracy"
from The Aero Experience | Today's EAA Webinar featured Rob Fleck, Vintage Wings of Canada President, telling the story of Canadian pilot training during ...
Applications for $60,000 Electric Flight Prize at EAA AirVenture 2011 Now Being Accepted
from Aviation Blogs | Applications for the $60,000 Electric Flight Prize at EAA AirVenture 2011, showcasing the accomplishments and viability of flight powered exclusively by electricity, are now being accepted. An Initial Application Form, along with the official rules, is available to download atwww.airventure.org/electric. Three flight competitions held during EAA AirVenture 2011, scheduled for July 25-31 at Wittman Regional Airport in Oshkosh, along with an ...
Aviation Charity Nominated for Nobel Peace Prize
from Planenews Aviation News Portal | Wings of Hope a St. Louis-based aviation charity that implements poverty reduction strategies to help those in need attain self-sufficiency, has been nominated for a 2011 Nobel Peace Prize, the organization announced Feb. 2. ...
Actor Wins Wright Memorial Trophy
from Pacific Flyer | Approximately 900 members of the aviation community were at the Aero Club of Washington Wright Memorial Dinner recently to see aviator/actor Harrison Ford accept the 2010 Wright Memorial Trophy. The trophy honors Orville and Wilbur Wright and commemorates the anniversary of man's first powered, ...
One famous aviator has died and one has quit flying
from Pacific Flyer | Charles H. Kaman, 91, credited with introducing the first turbine-powered helicopter in 1951, ... Arnold Palmer, 81, a pilot since 1956 is not just a famous golfer ...
Ground Broken For New Museum of Flying
from Pacific Flyer | A ceremonial ground breaking was held January 21 for the future Museum of Flying location at 3100 Airport Avenue. In April 1989, the Museum was opened on the north side of the Santa Monica Airport. Originally founded in 1974 by Donald Douglas Jr. as the Douglas Museum and Library located on the South side of the Santa Monica Airport, the Museum ...
The Need for Speed
- Air & Space Magazine | How six X-planes took aviation to 7,000 mph.
WWII pilot recounts crash-landing of recovered bomber
- WIS | The B-25-C bomber crashed in Lake Greenwood back in 1944 during a training mission. Now a pilot who survived the crash is telling his story as he relives ...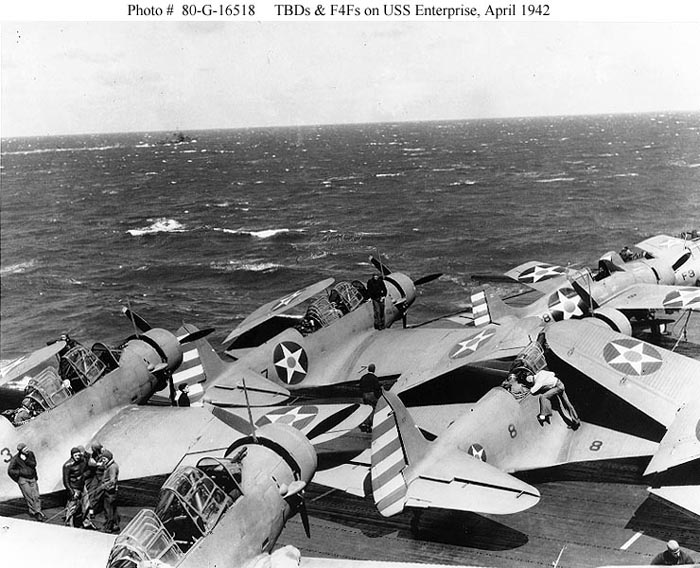 World War II: Douglas TBD Devastator
from About.com Military History | Often dubbed a failure due to its brief World War II service, the Douglas TBD Devastator was a revolutionary aircraft at the time of its introduction. Created in response to a 1934 request for a new torpedo/level bomber by the US Navy's Bureau of Aeronautics (BuAir), the TBD Devastator featured a monoplane ...
Photo via
Warbird Resource Group
Movie Monday - February 8 - The Indispensable KC-135
from FlightBlogger - Aviation News, Commentary and Analysis | SEATTLE -- The timing of this particular Movie Monday is very intentional. This coming Friday Boeing and Airbus will submit their bid to the Department of Defense to replace 179 KC-135 (Boeing 707) tanker aircraft. ...
Today in Aviation History – February 8
from Calgary Recreational and Ultralight Flying Club
Aviation photographer aims to 'capture the feeling of each flight'
- San Diego Union Tribune | Aviation photographer Erik Hildebrandt was upside down in one of the Blue Angels planes when he took this shot during a ...
Birthday News and Flying Again
- autogyro circumnavigation of the globe | Today is Norman's Birthday and he wants to thank everybody for the overwhelming amount of Birthday wishes he has received. To say thank you he has written a detailed account of his recent trip back to the Philippines to carry out essential work on 'Roxy'. He has also added a sub-note detailing the plans for his return from Woodlands to the UK. As you will ...
Boy, 7, tries to buy fighter jet on eBay for £69K
- News.com.au | AN overenthusiastic seven-year-old London boy almost bought today his very own real-life Harrier fighter jet on eBay for £69,999 ($113,515). The British-built Harrier jump jet was for sale on the site - but for a fixed price instead of an auction. A youngster hit the "buy it now" button to purchase the restored fighter jet, causing his father to quickly apologize to the sellers and tell them his son was not able to buy the aircraft out of his pocket money. ...
3rd Annual NFCC Amateur Rocketry Conference, Feb 18-20
from Rocketry Planet | MADISON, Florida USA — The North Florida Community College (NFCC) in Madison and the NFCC Sentinel Rocketeers cordially invite amateur research rocketry enthusiasts in northern Florida and the southern Georgia and Alabama areas to join them for their 3rd Annual Amateur Research Rocketry Conference later this month. The NFCC Sentinel Rocketeers are National Association of Rocketry Section #675 and ...
Construction Begins on 1,000-MPH Rocket Car
from Autopia by Chuck Squatriglia
Space Shuttle May Fly Without NASA [Space]
from Gizmodo by Sam Biddle | Already missing the soon to be shelved Space Shuttle? You might not have to, with private contractor United Space Alliance considering a $1.5 billion a year proposal to take the fleet private. ...