Civilians get the ride of their lives with the Blue Angels - WALA-TV FOX10 | Officials say the men are both heavily involved with the Blue Angels, and are always at the home shows. Cory Pippin is talking with Bergosh and Baugus before and after their flights. See their stories on FOX10 News at 4 p.m.

Gold Team delivers game ball to Harnett Central High from US Army Golden Knights by wfallin | The Golden Knights delivered a football to the Harnett Central High School Game on last Friday
night via our twin otter dehaviland aircraft from over 2'500 feet. At speeds of 120 mph the game ball was ready for the kick off on time and on point. The Gold Team had a wonderful time introducing the High School to each of the team mates and speaking to the JROTC about the many different experiences that each of the soldiers have cherished. For one jumper he...

AIRSHOW NEWS: Shuttleworth Collection Air Display Dates 2013 from Flightline UK | The Shuttleworth Collection have released thier 2013 Events Calendar. The Collection have broken with tradition and given their calendar a complete make over with new events in April and throughout the season...

CEPA Expo 2012 from Airplanes Channel: Aircraft, Pilots, Heritage, Photos, Video, Events, News by Editor | The Central Europe Private Aviation Expo Prague 2012 (CEPA Expo 2012) will focus on ways to streamline methods of doing business in the Private Aviation market in Central Europe in order to promote this growing industry. There will be...

California Aircraft Expo 2012 from Airplanes Channel: Aircraft, Pilots, Heritage, Photos, Video, Events, News by Editor | California Aircraft Expo 2012 offers aviation enthusiasts the opportunity to view the latest products from California's leading aircraft manufacturers all at one venue...

Podcast: Stallion 51 Announces New Upset Recovery Training from AVWeb Podcast - Podcast | Stallion 51 is well known for its P-51 Mustang program using the dual-equipped Crazy Horse. But now it's branching out into upset recovery training using both the Mustang and an L-39 jet trainer. At the NBAA Convention press day on Monday, well-known aerobatic performer Lee Lauderback explained that the program will be aimed at corporate and professional pilots and is available in several levels.This podcast is brought to you by ForeFlight and Sennheiser.

Radio-controlled model aviation exhibit at Museum of Flight from General Aviation News by Janice Wood | SEATTLE — On Nov. 4, the Marymoor Radio Control Club presents an exhibition of flyable RC aircraft at The Museum of Flight...

Timeless Voices - Richard Rogala from eaavideo.org | While Timeless Voices focuses on aviation stories, occasionally we come across other stories worth preserving. This is one. Richard Rogala was aboard the USS Pueblo when it was captured by North Korea on Jan. 23, 1968. He spent 11 months as a POW.

Timeless Voices - Sam Bousfield from eaavideo.org | Sam Bousfield is an architect by trade, and an inventor at heart. He is the designer of the Samson Switchblade roadable aircraft, a unique 3-wheeled motorcycle-type design using a ducted fan pusher configuration with forward retracting wings.

Pryor Field WW II Historical Marker Unveiling VIDEO from Alabama Aviator - Aviation News | DECATUR ALABAMA - Officials with the airport authority at Pryor Field hosted a historical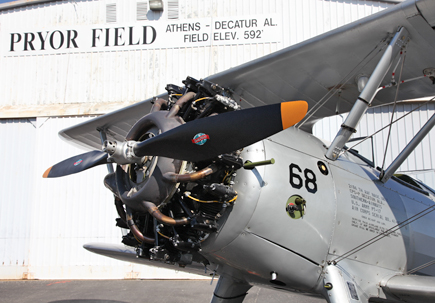 marker dedication commemorating the airfield's role in World War II pilot training. An open house in the new Terminal Building followed the event, on Thursday. Pryor Field Regional Airport opened in October 1941 as the home of the Southern Aviation Training School, 65th Army Air Forces Training Detachment, and...

Spring Behind the Scenes Tour registration opens Nov. 1 from National Museum of the USAF Top Stories | Get a first-hand look at the aircraft restoration process during the Behind the Scenes Tours at the National Museum of the U.S. Air Force. Registration for tours from January through May 2013 opens on Thursday, Nov. 1. The free tours take place every Friday from 12:15 p.m. to 3 p.m. Space is limited, so advance registration is required...

Crowning glory - A-10 Thunderbolt over Egypt from Flight Image of the Day by Dominic Perry | The US Air Force titled this picture "A long way home" and for once, that's no exageration. The Fairchild Republic A-10 Thunderbolt II - usually based in Arkansas - was on...

What the Hell is Wrong with EAA? from Nordo News by Rich Davidson | OK, let's get it out in the open. We all know the "Couldn't move to Oshkosh" line was merely an excuse to replace the captain in order to head off a full blown mutiny. But what happens after you make the Captain walk the plank? People or groups with a desire to survive do an emergency status review of all policies and programs then begin bailing water as quickly as possible. Not EAA...

CoolPix 2Fer: Up Close And Personal With The X-15 Rocket Nozzle! from AirPigz by Martt | I captured these two pictures at the end of January 2012 during the AirPigz
meetup at the Air Force Museum in Dayton Ohio, but before I tell you any more about why I think these pix ar so cool, I wanna tell you that I've recently decided that there's gonna be an AirPigz meetup on Fri thru Sun (January 25, 26, 27 - 2013) at the National Air & Space Museum (both the National Mall facility and the Udvar-Hazy) near Washington DC. I don't have any more details yet to share just yet but...

Chapter 677 Marks Record Year for Young Eagles from EAA - The Experimental Aircraft Association | Chattahoochee Valley EAA Chapter 677, based at Columbus Airport (CSG) in Columbus, Georgia, reached a major milestone at its October 27 Young Eagles rally. The 43 kids flown that day pushed the chapter's 2012 total to a record 500, more than doubling last year's effort. The chapter had something special in store for No. 500....

Romanian senator quits politics to build an airplane from The Kathryn Report | Romanian senator Radu Berceanu is to retire from politics and will not campaign for reelection, instead he plans to build his own airplane. The Democratic Social Party (PDL) senator said...

Learn about the space station during Family Day on Nov. 17 from National Museum of the USAF Top Stories | Commemorate the anniversary of the greatest engineering feat in modern history - the International Space Station - during Family Day from 10 a.m.-3 p.m. on Nov. 17 at the National Museum of the U.S. Air Force. November marks the 14th anniversary of the launch of the first module of the space station and the 12th anniversary of a continuous human presence on this fascinating human outpost in space!

New Mexico Governor Advances Re-Write of Spaceflight 'Informed Consent' State Law
from Spaceports | New Mexico Governor Susana Martinez says expanding the informed consent law is important to keep New Mexico competitive with other states, specifically: Virginia, Florida, Texas, California and Colorado. "We need to make sure that legislator understand how important it is to pass laws that don't restrict other tenants from coming to Spaceport America," the Governor Martinez explained to KRWG 22 News....

Superstorm deflates Intrepid's shuttle pavilion - Wall Street Journal | NEW YORK — The superstorm has caused the Space Shuttle Pavilion at the Intrepid Sea, Air & Space Museum to deflate. A statement from museum president Susan Marenoff-Zausner says unprecedented levels of water on the Hudson River flooded both the ...

Space Shuttle Enterprise Exposed After Sandy Barrels Through Northeast ... - Huffington Post | Portions of the space shuttle Enterprise have been left exposed after superstorm Sandy ripped through the Northeast Monday. The shuttle is usually enclosed in the Space Shuttle Pavilion, a structure on the deck of the Intrepid Sea, Air & Space Museum.