The Breitling Dragon Tour 2012 from General Aviation News by Janice Wood | The Breitling Jet Team, Breitling Wing Walkers and Yves "Jetman" Rossy are flying East for the winter, to bring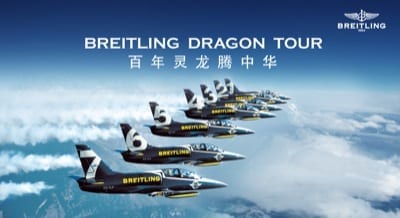 Breitling's passion for aviation to new audiences in what is being called "The Breitling Dragon Tour."

Wings of Freedom tour is coming to Greenville - Greenville News | The tour will showcase the Boeing B-17 Flying Fortress "Nine O Nine" WWII Heavy Bomber, Consolidated B-24 Liberator "Witchcraft" WWII Heavy Bomber and P-51 Mustang fighter. The B-17 is one of only 10 in flying condition in the United States, and the ...

Arizona Aircraft Expo slated from General Aviation News by Janice Wood | Several aircraft dealers in Arizona are working together to create the 4th Annual Arizona Aircraft Expo, scheduled to take place Nov. 9 and 10 at Landmark Aviation at Scottsdale Airport (SDL), where the general public and prospective buyers can see the newest technologically advanced aircraft from Cessna, Cirrus, Beechcraft, Diamond, Eclipse, Embraer, Piper, Lancair, Quest, CubCrafters, and more.

Annual Fly-In, Drive-In scheduled for Nov. 2 - Beauregard Daily News | DERIDDER -- The Friends of the DeRidder Army Air Base will host the Flying Pig Cook off and annual Fly-In, Drive-In on Saturday, November 3, 2012, at the Beauregard Regional Airport, located at 1220 1st Avenue in DeRidder. The event begin at 7 a.m ...

Models fly in for airshow - Timaru Herald | FLIGHT COMMANDER: South Canterbury Model Aircraft Club member Charles Vincent, a model plane enthusiast for 60 years, with his model North American B-25 Mitchell bomber. The club will hold its annual fly-in this weekend at Redruth Flying Field.

IAI to Exhibit Its Maritime Heron UAS Capabilities in a Live Demonstration Throughout the EuroNaval Show from sUAS News | Ben Gurion International Airport, Israel | Israel Aerospace Industries (IAI) invites visitors, exhibitors and guests of this year's EuroNaval International Naval Defense and Maritime exhibition and Conference, to a live Maritime Heron Unmanned Aerial System (UAS) demonstration. During the exhibition, IAI crew will operate a Heron UAS in a maritime application over...

Ryan connects with WWII veterans through letters - Gulf Coast News Today | ...Ryan also remembers vividly another date in American history, April 18, 1942. It was on that date that Col. James H. Doolittle led a squadron of 16 B-25s, including 80 airmen – 52 officers and 28 enlisted men – into Honshu, Japan to retaliate against the Pearl Harbor strike....

Airmen missing from Vietnam War identified from Air Force Link Top Stories |The Department of Defense POW/Missing Personnel Office announced today that the remains of two Airmen, missing in action from the Vietnam War, have been identified and will be buried, as a group, with full military honors.

Tribute to test driver Claude Dellys - AeroBuzz.fr (translated) | Saturday, October 20, 2012 (1430), the 3AF (Association of Aeronautics and Astronautics France) devoted a conference to test pilot
Claude Dellys, born just last 100 years ... After the war he became a test pilot, he participated in many programs advanced testing, such as ...

Retracing her father's World War II footprints - MPNnow.com | Janet Hillenbrand of Tully, the daughter of former Bloomfield resident Charlie Bennett, sits at her table surrounded with the many mementos of her father's experience as a B-17 co-pilot shot down over Germany during World War II.

Fitting planes in the square should encourage tourism Macaws, SP from NOTÍCIAS SOBRE AVIAÇÃO AVIATION NEWS (translated) | Hunting Mirage III, also known as F-103, was donated by FAB. The Mirage III fighter, also known as F-103, is being assembled in the Square Roberto Mercatelli in Macaws (SP), and must promote tourism in the city. The city won the Brazilian Air Force plane (FAB) and the assembly must be completed in a month. A team of FAB is assembling all the pieces of the aircraft and will be in a space that is being prepared in the region of Lake City, one of the city's postcards...

Ground Broken For New Naval Air Museum - Bay Net | It took a long time. Ground was finally broken Tuesday afternoon for the new Patuxent River Naval Air Museum on Route 235 just outside Gate 1. According to several speakers at the occasion, it has taken at least 15 years of hard work and dedication on ...

New England Air Museum slates Veterans Day program from General Aviation News by Janice Wood | The New England Air Museum in Windsor Locks, Connecticut, will hold its annual Veterans Day program Nov. 11. Visitors can meet and talk with local aviation combat veterans from World War II, the Cold War era, the Vietnam Conflict, and Iraq and Afghanistan...

Potter Group transports historic German figher plane to new home - SHD Logistics | Specialist logistics solutions provider Potter Group Logistics transported the historic Messerschmitt Bf 109G-6 German fighter plane for the Yorkshire Air Museum & Allied Air Forces Memorial. The replica has been on loan to Gateguards Ltd, one of the ...

'Volunteer of Quarter' recognized at National Museum of the U.S. Air Force from National Museum of the USAF Top Stories | 88th Air Base Wing Vice Commander Col. Daniel Semsel presented Springboro resident Bill Denlinger with the Team Wright-Patt "Volunteer of the Quarter" award for the third quarter of 2012 on Oct. 11. Denlinger began volunteering...

Endeavour's Final Mission -- Across L.A. from AVwebFlash Current Issue | Moving a retired space shuttle from LAX to the California Science Center, 12 miles away through densely populated urban neighborhoods, is no easy task. Residents complained when about 400 trees were cut down (each one will be replaced with two new plantings), but when the huge shuttle actually turned up on their streets over the weekend, it drew admiring crowds. The shuttle's final trip...