Dan Marcotte Bails Out by Rob Reider | Shortly after noon today, Friday, April 18, Dan Marcotte bailed out of his Ultimate Biplane while practicing an aerobatic routine, television stations WCAX & WPTZ reported....

Support for Captain Greg McWherter * Rob Reider | A couple of days ago Captain Greg McWherter was relieved of his command for allegations against him when he was Boss of the Blue Angels. While I don't know the specifics, the Navy Times article stated: "...a March 24 complaint alleging misconduct and an inappropriate command climate while he led the Blues from November 2008 to November 2010 and again from May 2011 to November 2012."...

Downscale air show set for next weekend at Lonesome Pine Airport - Kingsport Times News | WISE — The rockets red glare will include other colors of the spectrum come the weekend of April 26-27 at Lonesome Pine Airport as locals stage the facility's first Aerospace Days extravaganza featuring diminutive — and some not so diminutive — rockets and remote-controlled aircraft...

Inaugural #GigatownWanaka Jet racing at the Warbirds - Scoop.co.nz | Wanaka: The success of the inaugural #GigatownWanaka Jet racing at the Warbirds Over Wanaka Airshow will likely see the event return to the next airshow in March 2016, organisers have said. The high-speed racing thrilled crowds of around 50,000 people on Friday, Saturday and Sunday as an invitational US team
challenged three Kiwi pilots around a course marked by giant inflatable pylons...

Video: Storms fail to dampen excitement for airshow crowds * Southland Times | Team Reno consisted of Kiwi expat Jono Kokshoorn and "legends" of the Reno Air Racing Championships Lee Behel and Rick Vandam. New Zealand motorsport legend Greg Murphy was also able to make it a double-win for New Zealand after beating...

CAF Houston Wing Annual Open House and Fly In – Air Show Report · Warbirds News | The Houston Wing of the Commemorative Air Force held their annual Open House and Fly In over the weekend of April 12th/13th, with more than twenty warbirds and vintage aircraft in attendance....

Thunder Over Louisville: John Klatt MXS * The Aero Experience | Thunder Over Louisville featured world-class aerobatic performers, including John Klatt in his first show of the season in the MXS sponsored by the Air National Guard. Klatt, a Lt. Colonel in the Minnesota Air National Guard, actively promotes the benefits of military service at events around the country. He has...

Thunder Over Louisville: Billy Werth from Grayout Aerosports | The Aero Experience coverage of Thunder Over Louisville continues with the Friday practice performance of Billy Werth from Grayout Aerosports in his Eagle 540. Werth is an accomplished aerobatic performer and regional jet pilot from the Danville, Indiana area, and has performed in Fair St. Louis airshows previously in his Aviat Pitts S-2C with Dan McClung of the Red Eagles Team. Grayout Aerosports also ...

Iran stages "massive" aerial parade with F-14, F-4, Mig-29 and several other warplanes · David Cenciotti | On Apr. 18 Iran celebrated the National Army Day with a traditional and interesting flypast of most of its active warplanes. Eight formations for an overall 27 aircraft took part in the aerial parade: not really "massive" as some Iranian media wrote, still an interesting opportunity to see the majority of the IRIAF (Islamic Republic of Iran Air Force) fighters and bombers in the air...

Last flyable B-29 'superfort' to visit Seattle * KOMO | SEATTLE - Seattle is the birthplace to many historic aircraft, and Boeing has pioneered a number of iconic military planes. The B-29 was Boeing's answer to replacing its ubiquitous workhorse - the B-17 flying fortress...

Video: Flying over Long Beach in a B-17 bomber * Long Beach Press-Telegram | A B-17 lands at Long Beach Airport on Friday afternoon. The Wings of Freedom Tour is back in Long Beach, thanks to The Collings Foundation, a nonprofit that supports "living history" events. This tour showcases two fully restored bomber aircraft: a B ...

Effort to Save Willow Run Bomber Plant Faces May 1 Deadline * WAI Connect Blog | A fundraising effort is underway to save a portion of the Willow Run bomber plant near Yipsilanti, Michigan. The Michigan Aerospace Foundation says they have until May 1, 2014, to raise the necessary funds to purchase a portion of the property and save a section of the historic plant to house the Yankee Air Museum....

Sgt. Jack Freeman remembers Tet Offensive at Bien Hoa Air Force Base in 1969 * War Tales | ...The 19-year-old sergeant would arm anything that flew in and out of Bien Hoa Air Force Base, about 20 miles north of Saigon. He served in the 90th Tactical Fighter Squadron that provided air support to the ground troops...

Yankee air museum to honor Vietnam veterans - Eastern Echo | ...The Yankee Air Museum at 47884 D Street in Belleville Mich., intends to honor America's fallen service members with a tribute and ribbon cutting ceremony for the grand opening of the Vietnam War exhibit. This event will take place on Memorial Day, Monday, May 26 at 9 a.m...

Last Stearman NOT Last Stearman * NORDO News | A while back I wrote about the USAF Museum at Wright Patterson and their restoration of the last PT Stearman built. The word on the street was that they were rapidly restoring it and removing some important history that came about due to it being the last one off the assembly line. More important was the fact that the word on the street actually came from a USAF press release that said just that....

Blackbird Mach 3 Duet - M-21 "Blackbird" + D-12B Tagboard rare pair, 1 of 2 by travelforaircraft | The Museum of Flight has a beautiful pairing of Mach 3+ aircraft created for high value Cold War reconnaissance missions, the Lockheed M-21 as well as D-21 drone — the M-21 (known by Lockheed as "Archangel" and by the USAF as "Oxcart", now known most often as "Blackbird") was the mothership to the drone which has the codename Tagboard. The M-21 design is modified from the A-12 (the direct ancestor to the SR-71 ) externally differentiated by a second cockpit, the Launch System Operator's position — making it difficult indeed to determine if one is looking at an M-21 or an SR-71 unless the D-21 is mounted atop the fuselage. The D-21 Tagboard shares in the Blackbird lineage with...

Royal Netherlands Air Force F-16 demo team's inverted selfie · David Cenciotti | The latest example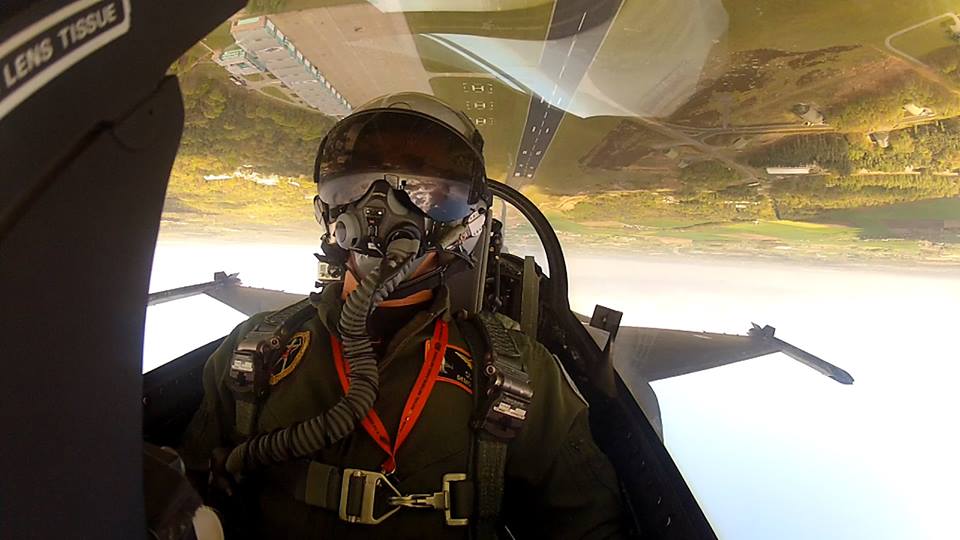 of self-portrait photo most probably taken with a GoPro camera from the cockpit of an F-16 comes from the Royal Netherlands Air Force: a cool series of "selfies" was posted by the Dutch Demo team on their Facebook page...

'Hidden Warbirds' takes readers on hunt for aircraft around Alaska and the world - Alaska Dispatch | Over the years aircraft hunters and museums have come through Alaska in search of pieces and parts to fill holes in aviation collections Outside. Most frequently, they are in search of military aircraft generally lost during the World War II era, when battles raged in the Aleutians and bases across the territory were also used to transfer aircraft to Russia...

Florida governor proclaims April General Aviation Appreciation Month · General Aviation News | Florida Governor Rick Scott has declared April "Aviation Appreciation Month." In Florida, general aviation supports 54,000 jobs and $6 billion in annual economic activity...

Patty Wagstaff to appear at Build A Plane's Teachers' Day · General Aviation News | Three-time national aerobatic champion and International Aerospace Hall of Famer Patty Wagstaff will speak at Build A Plane's 2014 Teachers' Day on Tuesday, July 29, at EAA's AirVenture in Oshkosh, Wis. The annual event brings teachers together from across the nation to examine ways to use aviation to motivate kids to learn science, math, engineering and technology...

Astronaut Michael Foale to visit region for Durham University talk * ChronicleLive | He left NASA in 2013 after 26 years to work on developing an electric aircraft. Apart from the public lecture, Michael Foale will also being visiting NETPark, the science park at Sedgefield, and talking to schools. To book a place to hear Michael Foale ...