This weekend - Thank you Fenccheck
» Warbirds Over Wanaka International Airshow 2014
» Plane Crazy Sat / Mojave Fly-in 2014
» Wings Wheels and Rotors 2014

Thousands to flock to see Wanaka warbirds * Newstalk ZB | Tens of thousands of people are set to flock to Wanaka this weekend to watch the biennial Warbirds Over Wanaka. 50,000 people are expected to attend the aviation extravaganza over Easter. This will be the 14th running of the show, which begun in 1988...

Make a Wish Participants Get Private Air Show at Davis-Monthan - Arizona Public Media | More than 150,000 people attended the Davis-Monthan Air Force Base open house over the weekend. But before the crowds gathered on Saturday and Sunday, a special group of people were on the tarmac for their own air show. Families participating in the Make a Wish Foundation, wounded warriors and World War II veterans were given a sneak peak of the show, presented by the Air Force demonstration team: the Thunderbirds...

Planes of Fame Air Show - Promotional Video | Show dates May 3 and 4

EAA AirVenture 2014 NOTAM Now Available For Download from EAA AirVenture Oshkosh | April 16, 2014 - The FAA has released the EAA AirVenture Oshkosh 2014 Notice to Airmen (NOTAM), featuring arrival and departure procedures for the 62nd annual fly-in convention July 28-August 3 at Wittman Regional Airport in Oshkosh. The NOTAM, which is in effect July 25-August 4, outlines procedures for the many types of aircraft that fly to Oshkosh for the event, as well as aircraft that land at nearby airports...

Bronco Demo Team set to excel at Waddington again * UK Airshow News - Flightline UK | The
OV-10B Bronco Demo Team is a group of enthusiastic people who aim to demonstrate this unique aircraft type to the public. The North American Aviation Rockwell OV-10 Bronco is a turboprop light attack and observation aircraft. It was developed in the 1960s for counter insurgency (COIN) combat. One of its primary missions was as a forward air control (FAC) aircraft in the Vietnam War....

Flying with Diabetes fly-in planned · General Aviation News | A Flying With Diabetes weekend is planned for July 26-27 at Council Bluffs Airport (KCBF) in Iowa. The weekend is a fly-in for pilots with diabetes and without. Ideal as a stop-off on the way to EAA AirVenture Oshkosh, inspiring talks will be given by pilots with diabetes, including a Beech Baron speed record to the North Pole, and a round-the-world flight....

Brantford earmarks $25000 for air show - Brantford Expositor | The Rotary Club Charity Air Show is getting plenty of support from the city. Councillors voted in favour of providing a hangar at the Brantford Municipal Airport for the air show dinner to be held on Aug. 26 and the air show itself, which is being held Aug. 27. As well, the city will provide event insurance, floral arrangements and the use and delivery of tables and chairs for the dinner...

CAF AirPower Tour Ready To Hit The West Coast · Warbirds News | The Commemorative Air Force's iconic Boeing B-29 Superfortress returns to California and the Northwest U.S. this summer. It will be FIFI's first visit in almost 20 years to many locations which include over 15 cities in Arizona, California, Washington, Idaho, Utah and Colorado. Highlighting the tour will be FIFI's return to Boeing Field in Seattle. The B-29 is one of 1,100 produced at the Boeing Renton facility and the only B-29 in the world that still flies....

First woman to fly solo around the world celebrates 50th anniversary - Fairborn Daily Herald | COLUMBUS — Jerrie Mock, the first woman to fly solo around the world, will be honored as fellow aviators, historians, community leaders and friends gather to celebrate the 50th anniversary of her flight. On April 17, a life-size bronze statue of Mock holding a globe, created by Columbus artist Renate Burgyan Fackler, will be unveiled at Port Columbus International Airport, the departure and landing site for her extraordinary achievement...

1 of 4 remaining Doolitte Raiders to share story in Everett * heraldnet.com | Retired Lt. Col. Ed Saylor, one of only four remaining survivors of the 80 men who flew the first bombing raid on Japan following the 1941 attack on Pearl Harbor, is scheduled to visit Paine Field on Saturday....

The Tale Of The B-17 "Blind Date" Crew - Jalopnik | On June 25th 1944, ten brave young men began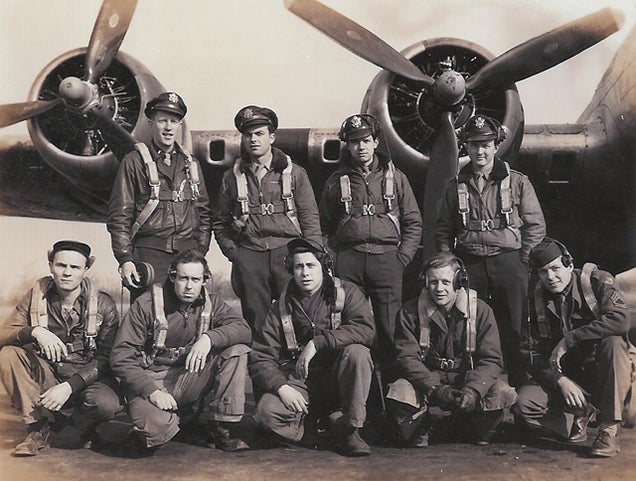 training together at Ardmore, Oklahoma. Two months later, they picked up a Boeing B-17-G in Lincoln, Nebraska, with orders to deliver it to Burtonwood Air Depot at Cheshire, England. The pilots...

Happy Birthday To The de Havilland DH.89 Dragon Rapide · Warbirds News | By Aviation Enthusiasts LLC -Eighty years ago today, the de Havilland DH.89 Dragon Rapide took flight for the first time. The Dragon Rapide was one of the most successful light commercial transports of the 1930s. The outbreak of World War II saw Rapide production soar to keep pace with demand for communications and navigation trainers. After the war...

Will the old helmet work in the Mohawk? * Rob Reider | Many years ago I started a collection of flight helmets. Every once in a while...

Ely Air Lines By Mike Ely and Linda Street-Ely

Swarm Of Bees Causes Plane To Turn Around Mid-Flight
- Newsy | Passengers on a plane from Las Vegas to Duluth, Minn., had to turn around mid-flight Monday for a reason you might not expect. "An Allegiant Air jet flew into a swarm of bees. It was so bad passengers say it smelled like the plane was on fire as thousands of bees flew into the engines and actually blocked the windshield."...
Come fly at the Young Eagles Rally at the Garberville airport
- Redwood Times | The Garberville Pilots Association will be holding the 2014 Garberville Young Eagles Rally on Saturday, May 17 at the Garberville airport on Sprowel Creek Road. The Willits EAA Chapter 1027 along with the Garberville Pilots Association is proud to announce they will be co-sponsoring this event...