It's Air Show season! - This weekend's shows * Thank You Fencecheck!

» SAA Zebula Airshow & Fly-in 2014
» Houston Wing Open House 2014
» Red Bull Air Race 2014
» Thunder & Lightning Over Arizona 2014
» Walterboro Wings-n-Wheels 2014
» Thunder Over Louisville 2014
» Planes Trains and BBQ 2014
» Aerodrome Wine Classic Fundraiser 2014

Video: Fat Albert to thrill crowd during Thunder Over Louisville - WAVE | LOUISVILLE, KY (WAVE) - Thunder Over Louisville is not only about the fireworks, but also the airshow. There will be some incredible aircraft soaring over the Ohio River. At the National Naval Aviation Museum in Pensacola, Florida where the Blue Angels are based, more than 150 planes are in the museum, each with an incredible story to tell...

Video: Last-minute preps being made for Thunder Over Louisville * WLKY Louisville | Security is the top priority for police going into Thunder Over Louisville this Saturday. Authorities said they have a plan in place to keep everyone safe. Ever since the outbreak of violence on March 22, police have been very visible at Waterfront ...

Video: DM Air Show: Thunderbirds fly in, base gears up - TUCSON (KGUN9-TV) | Davis Monthan Air Force base is expecting more than 200 thousand people to watch its air show this weekend. Thursday the Air Force Thunderbirds arrived to practice for the aerobatics they'll show off Saturday and Sunday afternoons....

80000 people expected at Red Bull Air Race * Croatian Times | Some 80,000 visitors are expected in the western Croatian town of Rovinj this weekend at the Red Bull Air Race. Tickets for the event that will take place in Saturday and Sunday, and will attract pilots from around the world, cost from 99 to 4999...

Sun 'n Fun Celebrates Successful 40th Fly-In * EAA | April 10, 2014 - The 40th Sun 'n Fun International Fly-in and Expo that wrapped up in Lakeland, Florida, on April 6 saw one of the largest turnouts in years thanks to perfect weather, improved operations, 3,000 dedicated volunteers, and popular attractions including the Navy's Blue Angels Naval flight demonstration team that performed Friday, Saturday, and Sunday....

Banner year for SUN 'n FUN * General Aviation News | "Pick your cliche," said John "Lites" Lennhouts, as the president of SUN 'n FUN kicked off his closing day briefing. "We hit it out of the park, hit a home run, what have you." Great weather, both locally and for those traveling from afar, strong advertising in both Tampa and Orlando, and a stout schedule all led to a banner year for SUN 'n FUN, based at Lakeland Linder Regional Airport in Florida....

Crawl through WWII-era planes at Wings of Freedom Tour stop - East Valley Tribune | Rare aircraft from the World War II era will land April 10-13 in Scottsdale for a living history display, and local veterans are encouraged to visit and share their stories with the public as part of the affair. The Wings of Freedom Tour, presented by The Collings Foundation, will feature the authentic Boeing B-17 Flying Fortress "Nine O Nine" WWII Heavy Bomber, Consolidated B-24 Liberator "Witchcraft" WWII Heavy Bomber and P-51 Mustang fighter....

More Military Displays for RAF Cosford Air Show * UK Airshow News - Flightline UK | Today the organisers of the RAF Cosford Air Show revealed a number of exciting additions to aircraft appearing at this year's event. Following on from last year's popular Medical Emergency Response Team (MERT) demonstration, which saw Prince Harry in his first air show appearance, the RAF Chinook and Army Apache will again be at Cosford as part of the planned six-hour flying display. As well as performing their individual displays, they will showcase the combat capabilities of the two helicopters in an exciting joint demonstration with the RAF Regiment. Other helicopters taking part in the flying display include the Royal Navy Lynx, making a welcome return with its 'Black Cat' solo routine...

Red Arrows practice session over Cyprus - Famagusta Gazette | The Red Arrows have tweeted a cockpit photo of a practice session over Cyprus yesterday. For the next two months, the Team will operate from the the Akrotiri bases as training is completed for its 50th display season....

The arrows Tricolori May 18 for the first time in Loano * Translated | The "Frecce Tricolori", and all other participants will be deployed by Friday, May 15th on the airport of Villanova d'Albenga. The program is updated daily on facebook Aero Club Savona and the site www.aeroclubsavona.it....

X-47B UCAS-D wins Collier trophy - Australian Aviation | The Northrop Grumman X-47B unmanned combat air system demonstrator (UCAS-D) program has been awarded the 2014 Collier Trophy for the greatest achievement in aeronautics or astronautics in the US. The award, announced by the National Aeronautic Association (NAA), recognises the achievements of the X-47B industry team "…for developing and demonstrating the first unmanned, autonomous air system operating from an aircraft carrier."...

Historic Flight Foundation commemorates Doolittle Raid - South Everett Beacon | The Historic Flight Foundation is celebrating the 72nd anniversary of the Doolittle Raid with an all-day event and contest. During this time in 1942, the U.S. was planning its first air raid on Japan in response to the Pearl Harbor attack....

Solar Impulse 2 Completed, Aims for 2015 Global Flight * EAA | Solar Impulse 2, the new solar-powered aircraft designed to make the first around-the-world solar flight in 2015, has been completed, according to its visionaries Bertrand Piccard and André Borschberg....

Cleveland Air Race Mustang Under Restoration at New England Air Museum * Warbirds News | The
New England Air Museum in Windsor Locks, Connecticut has a unique collection of remarkable aircraft, including several historic air racers. One such example, currently under restoration, is Anson Johnson's P-51D Mustang, #44-72400. Johnson flew in the 1948 and '49 Cleveland Air Races in this aircraft, winning the Thompson Trophy in 1948. Like most air racers based on military aircraft designs, this Mustang received a number of modifications to make it lighter and faster than a stock example...

Four named for Georgia Aviation Hall of Fame * macon.com | WARNER ROBINS -- A pilot who helped rescue hostages with a C-130 that now sits at the Museum of Aviation is among four people named Thursday to be inducted into the Georgia Aviation Hall of Fame. According to a museum release, the inductees are Gordon Bellah, a World War II flight instructor and skydiving pioneer; David Garrett Jr., former president and chief executive officer of Delta Airlines; Johnny Kytle, an airmail and aerobatic pilot; and retired Air Force Lt. Col. Mack Secord, one of the first pilots who served in Vietnam....

Spirit of '45 Day Express to Helping to Rally Support for Preserving Willow Run · WarbirdsNews | The Spirit of '45 Day Express will be visiting the Yankee Air Museum in Bellevue, MI on Wednesday, April 15 to help rally public support for the "Save The Willow Run Bomber Plant Campaign" that is raising $8 mm to restore the plant. The Campaign has been organized by the Michigan Aerospace Foundation, the fund raising arm of the Museum, and is chaired by former astronaut Jack Lousma and GM CEO Bob Lutz. A portion of the restored aircraft plant will be used as a new home for the Museum. More than $7 mm has been committed so far. Approximately $1.5 mm remains to be raised by May 1....

Airship Hangars Around The World· Ian Brown | From the late 19th century to the period between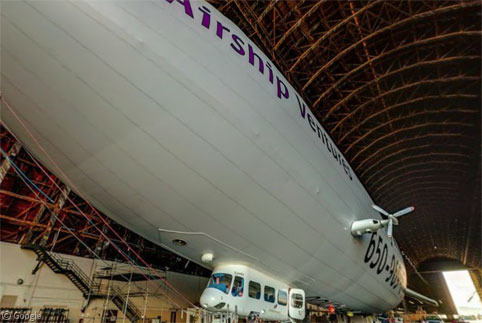 the World Wars, hundreds of airship hangars were built in Western Europe and the USA to house the massive lighter-than-air craft. Today, only a handful of these huge structures remain, including the earliest such building – Hangar Y at Chalais Meudon outside Paris....

Winners announced for museum's national writing competition award * National Museum of the USAF Top Stories | Deborah Rocheleau, Jarrod Roetenberger and Claud J.A. Boyd were announced as the first, second and third place winners, respectively, of the Air Force Heritage and History Writing Competition, sponsored by the National Museum of the U.S. Air Force in Dayton, Ohio...

Take Someone Flying on International Learn to Fly Day * EAA | April 10, 2014 - EAA always encourages its members to take others flying, but on Saturday, May 17, there's an even better reason to do so: The fifth annual International Learn to Fly Day is an opportunity to help someone take that first step to discover the fun, freedom, and accomplishment of becoming a pilot. It could be a friend, a relative, a friend of a relative, or a relative of a friend. For a person age 18 or older, you could take an Eagle Flight. If your passenger is age 15-17, you could make it a Young Eagles flight....