Photos, video: Blue Angels stage flyby near One World Trade Center - nj.com | Seven F/A-18 Hornet aircraft piloted by the U.S. Navy Blue Angels flight demonstration squadron flew by One World
Trade Center this afternoon for a promotional photos shoot....
Also covered in The Aviationist

Blue Angels treat New Yorkers to flight demonstration at 1 World Trade Center - New York Daily News | What in the World was that? Oh, just your everyday hotshot pilots! The legendary Blue Angels gave New Yorkers a thrill (and perhaps a scare) as the U.S. Navy flight demonstration team buzzed by 1 World Trade Center on Friday, providing quite the photo op...
More from: Business Insider, News Day

Thunderbirds return for '14 graduation - U.S. Air Force Academy | Formed in 1953, the Thunderbirds are charged with demonstrating the professionalism of Airmen and the capabilities of modern airpower. The 2014 season will mark the 32nd year the squadron has performed in the F-16 Fighting Falcon. Assigned to Air...

U.S. Air Force Thunderbirds To Perform Flyover For DAYTONA 500 - WNDB | Daytona Beach, FL – The U.S. Air Force Thunderbirds, known worldwide for their precision aerobatics, will return to Daytona International Speedway to perform the flyover for the prestigious 56th annual DAYTONA 500 NASCAR Sprint Cup Series season opener on Sunday, Feb. 23...

Airshow Performer Patrick McAlee Releases 2014 Promotional Video - The Aero Experience | Airshow performer Patrick McAlee releases his 2014 promotional video! Buckle-up and enjoy the ride!

Twilight show coming to Abbotsford Airshow - Chilliwack Progress | Aviation enthusiasts will have another reason to come out to the Abbotsford International Airshow this year as a new segment has been added to the popular annual event: a twilight show. According to Jim Reith, AIA president, the evening show will be...

Stunning Airshow set for Phuket's Patong Beach tomorrow afternoon - Phuket Gazette | PHUKET: The Phuket Gazette has just been advised of an Airshow over Patong Beach tomorrow (Sunday, December 15) at 4pm. Organized by Patong Municipality to celebrate the opening of Phuket's high season for tourism, the show will be repeated, also...

World Soaring Masters Held in Muncie, Indiana Attracts World's Finest Competitors - The Aero Experience | Your scribe had the honor of being the contest director for the 4th World Soaring Masters held in Muncie, Indiana September 20th through the 22nd of this year. Hosted by the League of Silent Flight (LSF) on the National Flying Site of the Academy of Model Aeronautics (AMA) and sponsored by JR Radios and Horizon Hobby, this event is a premier radio controlled soaring contest with many of the best fliers in the U.S. and other countries attending. One of the few sailplane events around with cash prizes, the level of flying and competition is top notch and a very competitive....

Bud Nosen Passes Away - NORDO News | Here's to Bud Nosen. He brought large scale radio control aircraft kits to the masses. If you ever flew radio control aircraft, or you still do, then I'm sure you know the name. I still wish I had kept that 1/4 scale Champ. I wonder where it is today?...

Historic Flight Foundation At Kilo-7 Offers Collection Of Important Aircraft Produced Between 1927 And 1957 - In Flight USA | In Flight USA thanks the Historic Flight Foundation and HFF volunteer Liz Matzelle for the use of our cover photo. The Foundation website is www.historicflight.org.Historic Flight's mission goes beyond serving as trustees of an era. They want you to experience the roar of their F8F "Wampus Cat" taking off; Watch engineers at work restoring the aircraft to flying condition; Share the rush of viewing international treasures from all angles...

World's Only Flying B-29 Superfortress Heads to Florida in February - PR Web | The Commemorative Air Force's (CAF) iconic Boeing B-29 Superfortress bomber FIFI -- the only remaining flying example of the aircraft in the world --- returns to Florida this February and March. FIFI will visit local airports in 10 Florida cities...

COLUMN: Reflecting on WWII in late life - Cambridge Chronicle | He flew in a B-25, starting in his teen years, and managed to survive despite the hazards of facing enemy fighter planes and antiaircraft fire. He doesn't talk much about this part of his life, but I continue to appreciate his courage. The battles...

Bring Your Warbird To NWOC 2014, Cavanaugh Flight Museum To Permit Ramp Parking - Warbirds News | Warbird operators participating in NWOC 2014 will have a unique opportunity to display their vintage aircraft as the Cavanaugh Flight Museum opens their ramp space to participants arriving in their Warbirds. Ramp space is provided at no charge.During Saturday's NWOC reception/dinner at the Cavanaugh Flight Museum, participants will be able to see and tour these aircraft along with the museum's historic, Warbird inventory...

The F-8 Crusader in Aeronavale Service - The Lexicans | The legendary F-8 Crusader served with the Aeronavale from 1964 (trails starting aboard Clemenceau in 1962) to 2000. The Aeronavale used the F-8E(FN) initially. The FN had the fire control system modified to carry the Matra R.530 missile (in addition to the Sidewinder). In addition the wing incidence angle was increased from 3 to 5 degrees to accommodate operations from the decidedly smaller aircraft carriers...

New England Air Museum has activities for kids on holiday break - Foothills Media Group | WINDSOR LOCKS >> The New England Air Museum will hold family fun activities Dec. 26-31. Daily activities on these dates include demonstrations about the science of flight, and the Museum's Flight Sim Spot will be open each of these days between noon...

[Photo] Man-carrying pod used on U.S. P-38 Lightning during WWII · David Cenciotti | Exint pods, man-carrying pods used to insert or exifiltrate special forces or wounded soldiers were not only tested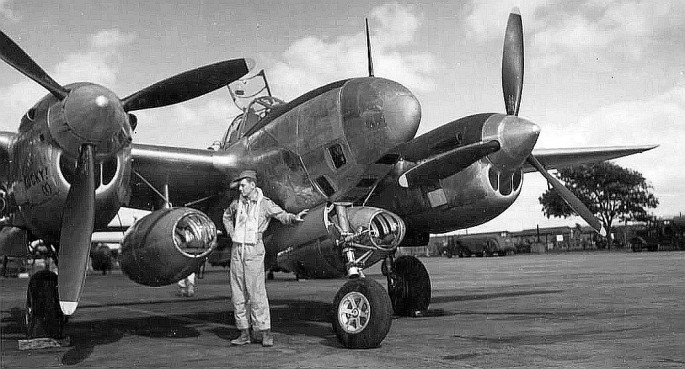 British Harriers and AH-64 Apache and certified for Israeli AH-1 Cobra attack helicopters...

Here's another stunning selfie taken from the backseat of an F-16 - The Aviationist | This selfie was taken during an air-to-air refueling sortie involving F-16 and F-22 Raptor aircraft back in 2009 but it was recently uploaded on the New Jersey ANG Facebook page...

Continuing the Legacy Essay Contest Lands Father and Son at Southwest Airlines Dallas Headquarters - The Aero Experience | The Sixth Annual Continuing the Legacy in Aviation event, sponsored by Southwest Airlines, Frontiers of Flight Museum and the Tuskegee Airmen Inc., was held August 13-14 in Dallas, Texas. A select number of participants aged 11-18 were chosen for the opportunity through an essay contest held in May. One of the ...

Two South Dakota CAP cadets awarded flight scholarships · General Aviation News Staff | Two Civil Air Patrol South Dakota Wing cadets, William Small and Silas Busch, have been selected for 2014 Wing Flight Scholarships. Cadet Colonel Small of the Lookout Mountain Composite Squadron in Spearfish and Cadet First Lieutenant Busch of the Rushmore Composite Squadron in Rapid City will each receive a $1,000 scholarship to be used for flying instruction leading towards earning a private pilot certificate...

The NewMoon Race Begins for Entrepreneurs - Spaceports | Chang'e-3, the unmanned spacecraft carrying a mobile rover, is due to touch down on a lava plain named Sinus Iridum, or Bay of Rainbows, shortly after 3 p.m. GMT (10 a.m. ET) on Saturday, December 14, 2013, according to the state-run Xinhua news agency. As the...

Astronaut Discusses Lack of ISS Coolant - Spaceports | Aboard the International Space Station, Expedition 38 Flight Engineer Rick Mastracchio of NASA discussed the progress of his mission, research aboard the orbital laboratory and his...