Paulding air show seeks to break from airport authority after two years - Neighbor Newspapers | The second annual Salute America Air Show last month earned a slight profit and entertained more than three times the attendees of the prior year, its director said last week. Before its third year, however, this bird hopes to leave the nest. Brent Sparks said an estimated 12,000 to 18,000 people filled Silver Comet Field airport near Dallas to watch the wide variety of acts for the second annual show. Sponsorships totaled $325,000, and the various performers and attendees spent $20,000 in area hotels and motels, Sparks said....

M-345 HET in new Frecce Tricolori display team livery unveiled · David Cenciotti | On Sept. 24,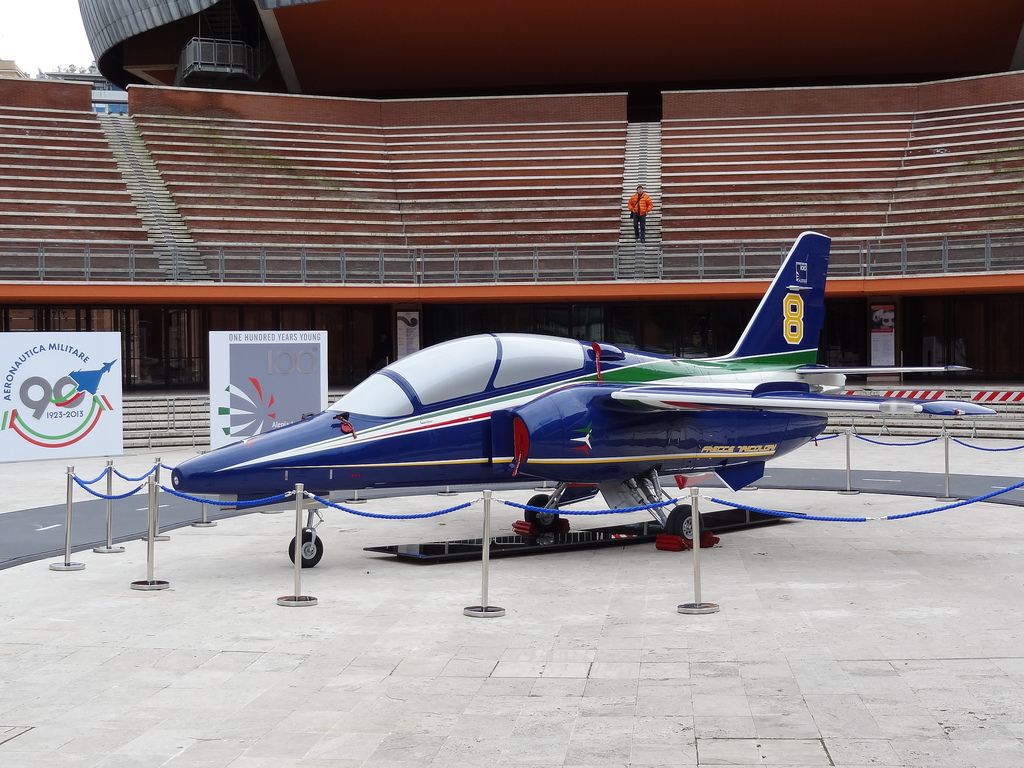 2013, the Italian Minister of Defense announced that the Frecce Tricolori, Italian Air Force's aerobatic display team will replace their MB.339s with the...

Reno Air Races CEO: 'We're in trouble' from RGJ.com | The National Championship Air Races isn't broke, but Reno's 50-year-old aviation event does need financial help to make it through the first quarter of the year and ensure a 51st year and beyond, its president and CEO said Tuesday...

Timeless Voices - Tom Bitters · eaavideo.org | Tom Bitters served in the U.S. Army during the Vietnam War as an Airborne Sensor Specialist onboard Grumman OV-1 Mohawks with the 244th Aviation Company (Aerial Surveillance). He logged 366 hours of combat time while in Vietnam.

Engine Number One Installed on B-29 "Doc" · Warbirds News | Steve Jantz reports that last Saturday a small group of volunteers installed the the first engine on "Doc". This is a milestone on this ongoing project. Two more engines await preparation and to be installed. A fourth engine is in the finishing stages at Anderson Aeromotive,, Grangeville, Idaho. Progress Continues...

Videos: Sweet 'Wheel Landings' With The Under-6-Pound RC C-47! - AirPigz | I expect that you need to have some taildragger experience in your logbook (or loads of RC taildragger time) to really appreciate how cool it is to see this 10 foot wingspan C-47 making such wonderful 'wheel landings'. If you aren't fluent in 'taildragger', 'wheel landings' are the ones where the tail stays nice and high as the airplane approaches the runway well above stall speed, then the...

The Wings Over New Zealand Show – Fighter Pilot Bernie Farrell – Ep4 | WARBIRDRADIO – Dave Homewood is back with another great show. Listen in as Dave talks fighter jets with former New Zealand aviator Bernie Lewis. In his prime, Bernie was no stranger to the F-86 cockpit...

Oil worker finds a nearly intact WWII-era Kittyhawk deep in the Sahara - IO9 | A Polish oil worker
out on a survey in the Sahara Desert recently stumbled upon this incredibly well-preserved Curtiss P-40 Kittyhawk. Riddled with bullet holes and featuring the tell-tale signs of a crash landing, the remains tell a harrowing story — one with a likely tragic ending...

WW1 Bomber Wings Found in Garage · Warbirds News | The unique remains of a First World War Handley Page O/400 bomber aircraft have been saved by a team from the RAF Museum.Members of the Michael Beetham Conservation Centre at the RAF Museum Cosford, have succeeded in rescuing a number of wing sections from a 95 year old bi-plane bomber which had been used to support a garage roof in Connah's Quay, Flintshire. The 25 foot long wooden wing sections included four examples of the lower starboard wing and one lower port wing...

Armstrong Whitworth Argosy - Travel for Aircraft | A design of the late 1920s at the direction of Imperial Airways the Argosy was built to be powered by three engines for greater reliability — beginning a trend built upon by Fokker, Ford and Stinson. Flying from 1926 through 1935 the Argosies flew European circuits as well as routes connecting Europe to the Middle and Near East for Imperial Airways — carrying as many as 20 passengers as far as 405 miles (652km) in an enclosed cabin, though the pilots were exposed in an open cockpit in an upper flight deck. Argosies were en evolutionary step in luxury passenger travel as well as reliable air mail service (a service more secure than many land routes)....

Vampires of Las Vegas - Vintage Wings of Canada | In the period immediately after the Second
World War, there were two major surpluses created which would ultimately be a breeding ground for either great ideas or bad ideas. Immediately following cessation of hostilities around the planet, war production ground to a halt and the world found itself with hundreds of thousands of surplus aircraft and just as many surplus aviators. Most aircraft would meet the salvage blade and the smelter's fiery furnace. Most pilots would return to civilian life, the bulk of them to never fly again...

Harrier by Jonathan Glancey, review - Telegraph.co.uk | Like the Hurricane, the Harrier is no beauty. Its appearance was dictated by the Cold War considerations that brought it into existence. Nato wanted a light tactical support fighter capable of taking off vertically or in a very short space, that could operate from makeshift bases in forest glades and back roads and therefore be less vulnerable to enemy air strikes. The resulting downward-slanting wings and huge lateral air-intakes give it a hunched, bug-like demeanour. Somehow, though, it looks right. In its long service life it has proved to be brilliantly versatile, capable of doing far beyond what it was originally designed for. As well as the Falklands, the Harrier saw action in Iraq and Afghanistan and the Balkans...

Fighter pilot goes above, beyond call of duty - F-16.net | Maj. Adam Thornton, 56th Training Squadron instructor pilot, says he will never forget this mission. It was the longest mission he had flown, one in which he eliminated multiple enemy targets and earned an Air Medal for going above and beyond the call of duty. Thornton was in an airplane on his way to Nellis Air Force Base, Nev., from Shaw AFB, S.C., for a temporary duty assignment, when in midflight his plane changed course and headed back to Shaw. His unit had been activated in response to Operation Odyssey Dawn, the 2011 U.S.-led operation in Libya to implement a no-fly zone and prevent forces loyal to President Muammar Gaddafi from carrying out air attacks on rebel forces....

UCAP340 "Flying in the Chicken Suit" | Falling out of good planes, jumping out of broken planes, and flying something plane-like into the clouds. This and more on the Uncontrolled Airspace General Aviation Podcast.

Miami Dade Fire Rescue's First Female Pilot Kalynn Cresse Is Living Her Dream - NBC Miami | Kalynn Cresse has dreamt of flying since she was 18. Now, after more than 2,000 hours spent in the skies, the 25-year-old is living out her dream as Miami-Dade Fire Rescue's first female pilot...

Volocopter: 18-propeller electric helicopter takes flight - CNN | Indeed, the Volocopter's simplicity sets it apart from other helicopters, and its creators hope in the future commuters will be able to take their electric aircraft to work, instead of languishing in gridlocked cars below. The European Union is already ...

Tennessee Teen Wins Igor Sikorsky Youth Innovator Award - Aero-News Network | Sikorsky Aircraft has given a 15-year-old Tennessee teenager its 2013 Igor Sikorsky Youth Innovator Award and a $1,000 scholarship check for imagining an electrically driven helicopter designed specifically to serve humankind by mid-century...

Dad gets a shot at space travel - Auckland stuff.co.nz | The 49-year-old Silverdale Primary School caretaker has been getting used to G forces by letting friends take him on flights from the North Shore Aero Club in Dairy Flat. The astronaut training programme includes fighter jet flights, a session in a G ...