Blue Angels: Normal People, Extraordinary Job
- KELOLAND TV | Many kids and young people look to the Blue Angels as super heroes of sorts. Lt. Simonsen says they're just normal people with an extraordinary job. "We're normal Navy pilots that get to put on a blue flight suit for two or thee years and perform for ...
Blue Angels Fly In To Sioux Falls
- KDLT News | With the capability of traveling just under twice the speed of sound, the Blue Angels arrive in town. They're a team of hand-selected Navy Marine Corps officers who travel throughout the country representing the military....
Fairchild tankers fly with Thunderbirds
- Northwest Cable News | Fairchild's KC135 joined up with The Thunderbirds, the Air Force's precision aerobatic team, over the skies of Nevada, California and Oregon for a refueling mission en route to Lewis-McChord Air Force Base in Tacoma. The Thunderbirds are set to perform ...
AirVenture 2012 Set to Be a Good One
- Flying Magazine | ... include a tribute to Experimental Aircraft Association founders Paul and Audrey Poberezny, celebrations of the 40th anniversary of the Van's RV and 75th anniversary of the Piper J-3 Cub, military salutes to the Tuskegee Airman and Doolittle Raiders ...
Air Force Week in Photos
from Air Force Link Top Stories | This week's photos feature Airmen
around the globe involved in activities supporting expeditionary operations and defending America. This weekly feature showcases the men and women of the Air Force. View the slideshow.
F-16's fly-in to Eugene Airport for Oregon Air Fair
- KMTR NewsSource 16 | The fair begins Saturday July 21st, 2012 at the Oregon Air & Space Museum on Boeing Drive at the Eugene Airport. Other attractions include a display of WWII-era military vehicles, a US Coast Guard Helicopter with a search and rescue aerial display ...
Excitement sky high for Princeton air show
- Pentiction Western News | Excitement sky high for Princeton air show. 0720airshow.jpg. Bill Findlay pilots a Harvard Mark IV RCAF trainer aircraft over the Similkameen during a warm up for Saturday's Princeton International Air Show. Gates open at 9 a.m.. Mark Brett/Western ...
Taylor Airport Fly-In Is Approved
- AzJournal.com | Hatch said that the local chapter is willing to hold a breakfast, and pilots will fly into the Taylor Municipal Airport and offer rides to any Young Eagles, ages 8-17, at no cost. Young Eagles is the EAA term for kids who have an interest in aviation...
The Olympic Airshow
from Featured by Paul Tannahill | The Olympic Flight Museum's "Tora" Zero Replica piloted by museum president Brian Reynolds formed up with the museums P-51D Mustang American Beauty flown by Bud Granley for a few passes and a mock dog fight. (Paul Tannahill) For the 14th year running, Fathers Day weekend and the Olympic Air Show, hosted by the Olympic Flight Museum, at the Olympia Regional Airport, in Washington State,...
Vertical Challenge 2012
from Featured by Sagar Pathak | Each year the Hiller Aviation Museum at the San Carlos Airport in California holds it's annual Vertical Challenge Airshow. The two-day event started on Friday, June 15 with the arrival of military helicopters from southern California. Participants included a...
Post-war Classics at the Blakesburg Fly-In
from Antique Airfield News | While biplanes are pretty, it
is the post-war classics that fly day in and day out. This week saw a number of pre-registrations in that category. Please fly those Aeroncas, Luscombes, Short-wing Pipers, Cessna 120/140s, Stinson 108s, and more rare birds like Porterfields, Skyrangers, and Funks to Antique Airfield!...
Solar plane

lands

in France

after traveling

16 hours

from Spain

from

AVIATION

AVIATION

NEWS

NEWS

(translated) |

Aircraft

completed

1st

intercontinental flight

powered by

solar energy.

This

was

the last step

before returning

to base in

Payerne

, Switzerland...
Eye of the tiger!
from Bayou Renaissance Man by Peter | I've reported before on the aircraft art of 'Tiger Meet', more formally known as the NATO Tiger Association. Reader Scott M. remembered that earlier article, so he sent me these pictures (which I presume he took) of a Czech JAS-39 Gripen aircraft photographed at the recent Florennes air show in Belgium. He says, "The eyes have it!"
Pioneer Navy aviator remembered in San Clemente
- OCRegister | Local resident Ed Iglesias' career ranged from flying Navy Hellcat fighter planes over Iwo Jima and Okinawa in World War II to recovering stolen planes in Latin America for insurance companies as a civilian in the 1970s and '80s. Iglesias, a member of ...
Honoring the WASP
from General Aviation News by Meg Godlewski | Michael Porter's restored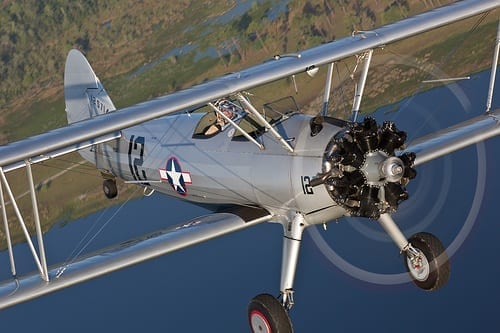 Stearman helps tell the women's story "Is that what I think it is?" There's something special about seeing a military aviator reunited with an airplane that he or, in this case, she flew during the war. It can be an emotional moment, like watching the reunion of long-lost family members. During this year's SUN 'n FUN, a handful of members of the Women Airforce Service Pilots (WASP) were reunited with a 1942 Stearman that had been based at Avenger Field in Sweetwater, Texas,...
Hill's passion: Old planes, training young pilots
- Nashville Ledger newspaper | Or else he may be doing the same thing with a B-25, the preferred mode of transport for Jimmy Doolittle's 30 seconds over Tokyo. Then there's always the trusty "pig boat" – PBY Catalina – used on all fronts, but especially effective in the Pacific Theater.
A day in the life of an FAA test pilot
from General Aviation News by Janice Wood | CBS recently profiled Lorry Faber, a pilot who has had some amazing adventures during her 25-year career, including flying the President of the United States overseas, taking dignitaries to and from Washington D.C. and hovering over Mount Fuji in a helicopter. Currently, she tests air transportation projects, such as those for NextGen and ADS-B. Check out a day in her life...
'Young Eagles' program at Clow Airport
- Suburban Life Publications | Each month, Clow International Airport, 130 S. Clow International Pkwy. in Bolingbrook hosts a Young Eagles program, giving children of all ages the opportunity to fly in aircrafts. The...
Apollo's Children: Many Still Inspired
- video from Spaceports