RSAF's Black Knights: Pride of the Lion City - Aviation International News | Singapore's Black Knights aerobatic team has been reformed for the seventh time to wow the crowd at this year's show. The six Lockheed Martin F-16Cs have been painted in a snazzy new red-and-white design. Led by Lt Col Joseph Leong, 44, a 26-year...

Youngest RSAF Black Knight maintains calm to cope with pre-show excitement - Straits Times | As the date of the Singapore Airshow draws near, Captain Devdutt Sasidharan of the RSAF's Black Knights is striving to maintain his cool as the pre-show excitement builds up...

RI`s airforce aerobatic team will perform at Singapore Air Show - Antara News | Jakarta (ANTARA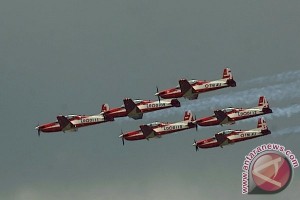 News) - The Indonesian Air Forces Jupiter Aerobatic team will perform at the Singapore Air Show on Tuesday, despite tension between the two countries regarding the naming of the Indonesian Navys ship, KRI Usman Harun. This was an announcement made by Defense Minister Purnomo Yusgiantoro here on Monday. "The Jupiter Aerobatic team is already in Singapore and is currently training for the Singapore Air Show," noted Purnomo....

Singapore Airshow: RAAF fast-jets return to show with Super Hornet display - IHS Jane's 360 | The Royal Australian Air Force (RAAF) is set to make a return to the fast jet flying roster at this year's Singapore Airshow, following the retirement of the service's General Dynamics F-111 Aardvarks in 2010. With the F-111 having consistently dazzled...

Hunter air racer Matt Hall takes flight over Sydney - Newcastle Herald | Air racing requires pilots to fly individually against the clock, turning tightly through a slalom course of soft pylons standing about 20 metres from the ground.The Red Bull Air Race World Championships will return from a three-year hiatus on March 1...

Top gun pilot taps into motor sport's 'cool suit' technology to jet ahead of Air Race rivals - Herald Sun | Hall, one of eight pilots who will contest the international eight-round championship, will wear a cutting edge V8 Supercar "cool suit'' owned by Whincup during this year's Red Bull Air Race championship. Hall flies over Sydney Harbour and nearby...

Canada's Snowbirds cancel 4 US shows due to budget cuts - CTV News | MOOSE JAW, Sask. -- Canada's famed Snowbirds aerobatic flying team has been forced to cancel all shows in the United States because of budget cuts. Snowbirds spokesman Capt. Thomas Edelson says the number of flying hours were cut for the squadron...

Plans underway for Thunder Over the Valley Air Show - WFMJ | VIENNA, Ohio - Thunder Over the Valley Air Show will be heading to the area in May. Only 16 Air Force bases were chosen to host an air show this year, and Youngstown is one of them. Members of the Western Reserve Port Authority met with the Air Force ...

Air show needs lift with funds - Warren Tribune Chronicle | She said more than $200,000 is needed to make the event a reality. Varying levels of sponsorships have been created in which sponsors will be rewarded with flights on World War II-era air show planes like a B-17 and B-25, the day before the show begins...

Stamps celebrating 50th season of Red Arrows announced - isleofman.com | Isle of Man Stamps and Coins are releasing a set of six stamps celebrating the 50th display season of the Red Arrows on February 19th. The celebratory anniversary pack comes complete with six stamps that depict the speed, agility and precision of the...

Air Force Thunderbirds return for Daytona 500 - Daytona Beach News-Journal | After a year hiatus from Daytona brought on by bad weather and a federal sequester, the U.S. Air Force Thunderbirds are scheduled to mark the NASCAR Sprint Cup Series season opener Feb. 23. Speedway President Joie Chitwood III said their absence has...

Buzz Aldrin Departs with Think Global Flight - FlightSim.com | Astronaut Buzz Aldrin, Captain Judy Rice, Voyager Pilot Dick Rutan, and Wings Over the Rockies Air & Space Museum President Greg Anderson. Think Global Flight Embarks from SUN 'n FUN to Promote Education Around The World. SUN 'n FUN, Lakeland ...

Celebrate Presidents Day by climbing aboard Air Force One - National Museum of the USAF Top Stories | As Presidents Day approaches on Feb. 17, visitors to the National Museum of the U.S. Air Force have the unique opportunity to view and walk through several truly significant aircraft. The museum's Presidential Gallery is home to aircraft that carried U.S. presidents from Franklin D. Roosevelt through Bill Clinton, as well as heads of state, diplomats and other dignitaries and officials, on many historic journeys...

Training at Tuskegee: Turning dreams into reality - Air Force Link | Following this phase, they were given advanced transition training from the AT-6 to the P-40 Warhawk or the twin-engine AT-10 Wichita trainer for pilots who would be flying B-25 Mitchell bombers. Instructors were especially crucial in the advanced phase.

Medic Geoffrey Morris, awarded 'Silver Star' for saving lives in Vietnam - War Tales | >>>On June 1, 1970 Morris was the medic aboard an air ambulance on a rescue mission near Hue, the ancient capital of Vietnam. His Huey attempted to pick up a couple of wounded soldiers when all hell brook lose....

Spitfire FR.XIVe for RAF Museum Aerial Photography Exhibition · Warbirds News | Warbirds News has some additional information to add to the story we published a few days ago regarding the new
RAF Museum Hendon exhibit "Britain from Above" which will open on February 20th. The display will now feature a Supermarine Spitfire FR.XIVe fighter reconnaissance variant, complete with its oblique fuselage camera ports. This artifact will surely be a major draw for the exhibit, in addition to the magnificent images on view and effectively demonstrate an important facet of aerial photography. The aircraft...

When a B-47 pilot got rid of a nuclear bomb near Savannah, Georgia - The Aviationist | There have been a lot of articles about the famous collision of a B-47 carrying a nuclear bomb, with a F-86 over the skies of Georgia during the late 1950s. What really happened about 56 years ago, can be found in the book "Boeing B-47 Stratojet: True Stories Of The Cold War In The Air" to which Col. Howard Richardson submitted his first-hand account of that fateful night and its "Broken Arrow" event...

Wanaka airshow's DC3 has seen a lot of history - Southland Times | ZK-AWP, which will fly at Easter's Warbirds Over Wanaka Airshow, is the last flying example of a Royal New Zealand Air Force DC3, the last flying National Airways Corporation (NAC) plane and the last flying example of a Fieldair top-dressing plane...

WI Aviation Hall of Fame Announces New Scholarships - WAI Connect Blog | The Wisconsin Aviation Hall of Fame is offering five scholarships in 2014, two of which will be offered for the first time: the Jeff Baum Scholarship and the Robert Payzer Memorial/EAA Chapter 640 Scholarship...

Morpheus lander flies over space center - Spaceports | The fifth free-flight test of a Morpheus prototype lander was conducted Feb. 10, 2014, at NASA Kennedy Space Center's Shuttle Landing Facility...