Alberta International Air Show soars high again - Globalnews.ca | The Alberta International Air Show is in the books for another year with organizers quick to call the event another success. Thousands filled the tarmac at the Lethbridge County Airport Sunday to take in the final day of the high flying spectacle, their last chance to do so until July of 2015. Budget cuts in the U.S. left organizers with fewer performers this year, forcing them to go with an all Canadian show, but Air Show President Brent Botfield says the format did work to their advantage....

Organizers pleased with air show - Lethbridge Herald | Final attendance numbers weren't released Sunday, but organizers of the 2013 Alberta International Air Show, presented by The Lethbridge
Herald, were confident they were close to reaching the goal of 25,000 people between the two days. Brent Botfield ...

Flying farmer and daring dentist thrill 85000 at air show - Irish Independent | A FARMER and a dentist entered the history books in a cloud of smoke when they became the country's first ever civilian aerobatic team. A record 85,000 people lined the waterfront in Bray, Co Wicklow, to see Gerry Humphreys and Eddie Goggins make their debut at the annual Air Spectacular, part of the Bray Summerfest. It was the pair's sixth year participating in the event, but their first as the Air Dynamics duo....

Freudenstadt show leaves everyone gasping for air - Translated | Freudenstadt-Musbach (ph). Star guest at the Musbacher flight days, the 42-year-old Matthias DOL from Tannheim. For years, the pilot of the Red Bull is one of the best aerobatic pilots in the world. His acrobatic performances were the highlight of the program on Saturday....

Geico Skytypers To Make First Chicago Air & Water Show Appearance | The 2013 Chicago Air & Water Show will feature several new acts in 2013 including the Geico Skytypers. The team will fly an 18-minute low altitude precision performance showcasing the performance of their six SNJ-2's, best known for training the greatest generation of pilots. The SNJ-2 is often identified as the T-6 Texan and is an aircraft Chicago Air & Water Show fans should be familiar with as it is flown by Team Aeroshell and also by several other performers over the year....

Ohio Air News 242 - Charles Johnson | Great Lakes International Air Show, St Thomas, ON Canada and the closeing of the Dunnville, ON airport Both by Ken Mist

Culpeper Airfest to salute WWII training plane - The Free Lance-Star | The North American Training Organization will hold the 75th anniversary celebration of the T–6 World War II advanced training airplane at Culpeper Regional Airport's Airfest on Oct. 12. As part of the celebration, some 24 T–6 planes are scheduled to fly in formation over the Pentagon and Washington on Friday, Oct. 11, according to Airfest 2013 chairman Mike Dale....

EAA AirVenture Oshkosh 2012 Reprise: Iron Eagle Aerobatic Team - The aero Experience | EAA AirVenture Oshkosh 2012 attracted top-tier performers from around the country to star in the daily airshows. The Iron Eagle Aerobatic Team performed in some of those airshows, delighting hundreds of thousands of visitors with precision formation flying and amazing opposing solo passes. Team pilots Bill Gordon and Billy Segalla flew the Eagle biplanes while narrator Alan Lanco kept the crowd engaged with every maneuver. The current members...

Another Vintage Warbird Flies - Nordo News | The number of first flights of historic aircraft always seems to tick up this time of year. Not only is it flying season but many restorers have the goal of making it to Oshkosh to display their latest participation trophy and possibly claim an award. Adding to this Summer's count is the Stinson L-1 owner by Kermit Weeks....

Pilots touch down in Vulcan for Fly-In Breakfast - Vulcan Advocate | The skies were as fair as can get Sunday morning for the 38th annual Fly-In Breakfast. Almost 30 planes touched down at the Vulcan Airport, and considering Lethbridge had an air show going on over the weekend, organizer Pat Wisener said, "for us to get this much activity is over the top." It was an excellent day, and everything seemed to go off "amazingly well," he said. The Vulcan Flying Club, which hosts the event, gets some help from the local Lions club, which cooks the breakfast of pancakes, eggs and ham. The Vulcan Airport Committee also lends a hand by guiding planes in and helping to prepare the grounds....

WWII veteran gets special flight - WKYT | LEXINGTON, Ky. (WKYT) - World War Two veteran and prisoner of war Paul Sears tells his story often. "I was 18, just barely one month beyond 19 when we were shot down," Sears described. It's been seventy years since Sears sat in the back of a Flying Fortress, but those memories as a tail gunner are still just as vivid. "We were able to fly about 110 miles away from the target before we were shot down," Sears said. Mr. Sears survived being a POW and hasn't flown in a Flying Fortress since that day in 1943. That changed this week....

Hooked on Mil's Mi 6 fast freighter by travelforaircraft | Mil Design engineers produced the Mi 6 (NATO's reporting name is "Hook") in the late 1950s in response to both military and civilian needs to move heavy as well as outsized cargo into or over unimproved terrain. The Soviet military needs ranged from moving missile equipment, after delivery to an airfield,over forested or rough terrain to armored vehicles as well as troops (90 infantry or 70 paratroopers). The Mi 6 was not only the...

The most important jet you can't see By Thom Patterson, CNN | It may be the most historic plane in the world: Special Air Mission 26000, SAM for short. Not familiar? Maybe you know its nickname.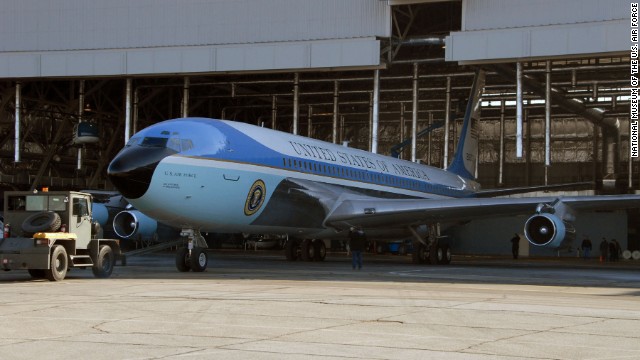 Back in its heyday the sleek, blue and white airliner was called Air Force One. This ain't just ANY Air Force One. SAM 26000 saw more historic events than any other -- ranging from the tragic to the hilarious. A national treasure, the airliner now sits in the Air Force museum in Dayton, Ohio. But you can't see it. It's off limits to visitors. For many history buffs and aviation geeks, that's a cryin' shame....

The Aviation Historian Responds to Whitehead Hogwash -Nordo News | Ever so often an idea or a movement comes along that is so blindingly stupid you can't see your way to respond. Yet it is the lack of response which allows horribly flawed ideas and incredibly irrational movements to take hold and move forward. Without a swift and factual retort, the most silly of notions can blossom and propagate until they threaten to choke out reality. Connecticut's decision to recognize Gustav Whitehead as the first in flight is such a movement built upon the baseless notions of a man named John Brown....

The Surly Bonds of Earth - General Aviation News | Tributes to Bill Tinkler, Bob Gandy | My Old Man didn't realize that when he shared his love of flying with me all those years ago that a whole new world and a whole new community of friends would be opened up to both of us. Unfortunately, our shared love of flight doesn't make our aviation community immune from life. Since the Old Man and I have made many, many friendships over the years, it's inevitable that some will be lost, and some have been....

Disney Takes to the Air - airspacemag.com | A chat with the director of Planes | Opening in theaters in August, Disney's Planes is an animated feature about a crop duster named Dusty who dreams of competing as an air racer. Director Klay Hall, twice nominated for an Emmy® for the animated television series "King of the Hill," calls himself "a lifelong aviation enthusiast." In the course of researching for the film, Hall attended the National Championship Air Races at Reno for several years to understand the heart and personalities of air racing. He spoke with Air & Space Editor Linda Shiner....