March is Aviation Heritage Month in AL
- State of Alabama - Office of the Governor Bob Riley - Proclamation
NOW, THEREFORE, I, Bob Riley, Governor of Alabama, do hereby proclaim March 2010, as Aviation and Aerospace Heritage Month in the State of Alabama.
Davis-Monthan Air Force Base - Aerospace & AZ Days
from
www.dm.af.mil
Aviation enthusiasts and spectators are invited to attend the Aerospace and Arizona Days air show here March 20-21. Gates will open at 8 a.m.
The air show will offer the public an up-close look at military and civilian aerial demonstrations and static-display aircraft from across the U.S.
The theme for this year's show is "Davis-Monthan: Tucson Pride, Air Force Power." Click here to watch video
www.dm.af.mil/news/video/index.asp
AirExpo 2010 is July 17 and 18
- Eden Prairie News
Airplanes expected to be on display include several World War II types such as the AT-6 Texan, the P-51 Mustang, the T-28 Trojan and the four-engine B-17 ... The invited VIPs include Tuskegee Airmen, Doolittle Raiders, Black Sheep, Vietnam River Rats, aces from World War II, Korea and Vietnam, ...
Military aerobatic teams line-up for the UK 2010
- Gary Watson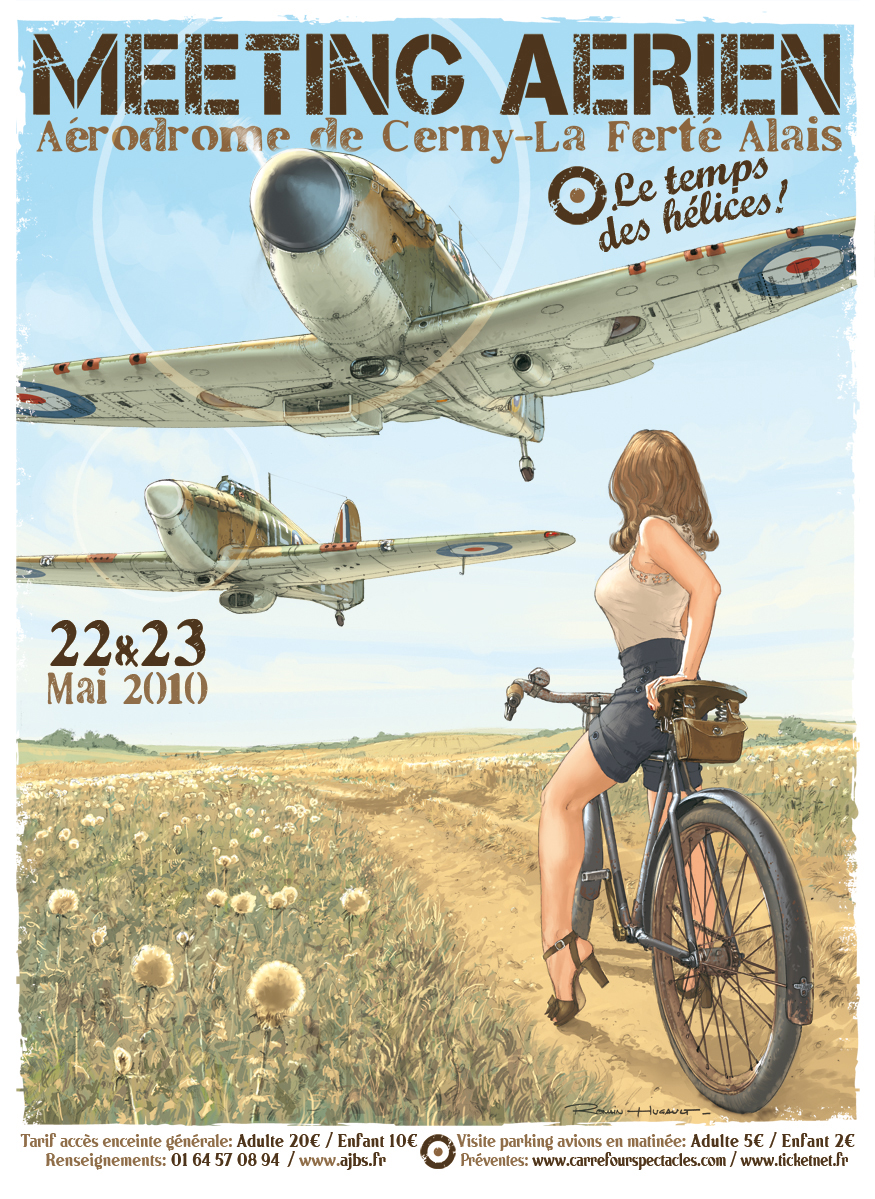 We over here in the UK have lots to look forward too this season, for a start, military aerobatic team-wise we have
the 'Turkish Stars' appearing at the RAF Waddington airshow over the weekend of the 3/4 July 2010 along with the 'Red Arrows' complet…
Ferté 2010
from Le blog de Romain Hugault
[see poster] This displays the largest annual meeting in France ...
Special "Battle of Britain"
Venez nombreux!
Of Concern:
Dodd seeks difficult consensus on financial rules
- DailyFinance
I foresee many many flyovers by the Thunderbirds and Blue Angels being cancelled in the next three years too. Also demonstrations by the Golden Knights and ...
B-25s to gather at Doolittle reunion
from General Aviation News
One of the largest gatherings of B-25 Mitchell bombers since World War II is set to take place as part of a tribute to the Doolittle Tokyo Raiders during their 68th reunion at the National Museum of the U.S. Air Force, April 16-18. ...
Doolittle Raider's Reunion Event Details
– Warbird Radio LIVE!
TUESDAY – Robert Bardua from the National Museum Of The United States Air Force will join us to discuss the upcoming Doolittle Raider's Reunion. This year the event is being held at the museum and numerous special events are scheduled. If you'd like to call in and join the conversation use the contact info below. DOOLITTLE [...]
Trip to Al Ain
- Breitling Jet Team
Before explore the aerial photographs taken by Katsu during the stay in Al Ain, here's a photo report of travel performed and commented by Douky from his Swiss army knife phone (picture strongly Katsu ...) [w/photos]
Aero GP on Motors Tv
from Airsports.TV's Blog
The air racing series of Aero GP are back again in the spotlight. For those who live in Eastern Europe and haven't seen the Aero GP from Al Ain 2009, now you have another chance. The air racing, target bombing and air combat series from last year event will be on Motors TV channel. For all fans from around the world:
Aero GP, Al Ain 2009 will be available soon on the Airsports World Series 2009 DVD!!!
Fly-In & Air Race
- Facebook
100 Mile Air Race sanctioned by the Sport Air Racing League (
www.sportairrace.org
) | Static Aircraft Display | Classic, Antique and Special Interest Car Show | Sport Bike Motorcycle Performance | BBQ Cook Off sanctioned | Live Music
From Powder Puff Derby to Air Race Classic
– Women Pilots in the Air
Within months after the Wright brothers broke the boundaries of flight, more and more men around the world were inventing their own planes and heading up into the wild blue yonder. They sat on top of one of the plane's wings, and the controls consisted of two levers, and they didn't wear seatbelts, if you can believe that!
Lots of women wanted to fly too, of course, but they typically were turned down when they requested flying lessons. Many men legitimately felt that women didn't have the temperament to fly, but many more simply wanted to keep the blue yonder to themselves. Pilots had quite a cachet, and if a woman could do it, then obviously it couldn't be that hard! ...
"The 38" WASP Posthumously honored
from You Fly, Girl by Cathy Gale
There are only about 300 surviving WASP who received (or will receive) Congressional Medals thanking them for their service during World War II. However, the WASP who have passed away were honored as well, including the 38 who died during the war. ...
Jax man's book tells lofty story of WWII pilots
- Jacksonville Journal Courier
Jacksonville native Robert Underbrink got interested in military flights conducted in China, Burma and India during World War II after returning to his hometown.
After moving back in 1990, he lived near Thomas Auner, a retired Jacksonville physician who shared stories of his World War II experiences with Underbrink.
"He had many wonderful stories about flying the 'Hump' and living with his Christian missionary parents in India," Underbrink said. The Hump refers to the high mountain range between India and China.
During the war, American pilots such as Auner flew gasoline, ammunition and supplies to Chiang Kai-shek's army, which had been fighting the Japanese in China since 1937. ...
Astronaut Neil Armstrong Lands on Intrepid Sea-Air-Space Museum
- DNAinfo
... Neil Armstrong took one giant step toward helping Manhattan land its own space shuttle with his visit to the Intrepid Sea, Air & Space Museum on Sunday. ...
'Today's Air Force' features military aviation history
from Air Force Link Top Stories
In this edition of "Today's Air Force," help celebrate the 100th anniversary of Lt. Benjamin Foulois' first solo flight and tune in for a look at some of the major aviation milestones from the past century, and the men who achieved them.
The 30-minute, weekly news show can be seen every day on The Pentagon Channel and American Forces Television Service stations around the world. The show also airs ...
Movie Monday - March 15 - General Dynamics F-111 Aardvark
from FlightBlogger
This week's Movie Monday takes an early 90s look at the General Dynamics F-111 Aardvark. After watching the final public displays of the Royal Australian Air Force F-111s in Singapore in February, I was interested to delve into the history of this aircraft.
While not a perfect parallel, The F-111 Aardvark was derived from a similar philosophy that gave life to the F-35 Joint Strike Fighter: Create a single fighter platform that can leverage common capabilities across different military services. In this case, the F-111A was developed for the US Air Force and the F-111B was developed for ...
Bookstore Sells Half of All Copies of WWII Book
- Publishers Weekly
The Udvar-Hazy Center is affiliated with the Smithsonian National Air & Space Museum in downtown Washington, DC; aviation and space artifacts that cannot be ...
The Eugene Smith Story
- Warbird Radio Presents
Hear the story of the P-47 pilot who discovered the Nazi's location before The Battle Of The Bulge. This week Warbird Radio Presents – The Eugene Smith Story. Click "Continue Reading" for a P-47 Photo Tour along with a picture of Mr. Smith's uniform and ukulele (you'll understand after you hear ...
Designer of famous flame has other sky-high pursuits
from Calgary Herald
Alan Dixon likes to tinker, whether it's building a First World War-style biplane, restoring an old car, or putting the Olympic flame atop the Calgary Tower.
Dixon, senior vice-president and chief engineer at ATCO Gas, is a handy guy to have around.
"I've probably renovated every square inch of my house," he says.
He lovingly restored a robin's-egg blue 1963 Volvo to mint condition, even hand-stitching the leather upholstery.
And then there was that little project for the 1988 Olympic Winter Games.
Twenty-two years ago, Dixon already had a reputation at ATCO Gas as a guy who could build anything, so his bosses charged him with engineering a flame cauldron for the Calgary Tower. ...
Arnold Palmer's 1976 Record Global Circumnavigation in Learjet 200Y
from Business Aviation Now
The Sonnig team says the mark to beat is 67 hr., 1 min. set by the late Steve Fossett in the Virgin GlobalFlyer in 2005. Not so, says the National Aeronautic Assn., record-keeper in the U.S., noting that Fossett's record is for Speed Around the World, Nonstop and Non-refueled. (Mortara plans 10 refueling stops.) ...
March 15
from Cut and Paste Aviation
... 1938 -- 15-26 A de Havilland DH88 Comet (G-ACSS) takes off from Gravesend in Kent to fly to New Zealand and back. The aircraft is flown by Arthur Clouston and Victor Ricketts, who establish a new record of 10 days 21 hours. ...
Dozens Of Kids Enjoying Spring Break At Tulsa Air And Space Museum
- News On 6
TULSA, OK -- There's high-flying fun to be had over spring break at the Tulsa Air and Space Museum. Dozens of children are attending spring break camps this ...
Free flight for youths
- Lafreebee
The EAA Young Eagles program was launched in 1992 to give interested young people, ages 8 - 17, an opportunity to go flying in a general aviation airplane. These flights are offered free of charge and are made possible through the ...
'Young Eagles' take to the skies
- Porterville Recorder
"I think I might be the most excited kid in Porterville right now," he said, as the Cessna 182 he was strapped in to began rolling ...
Thai students visit air force base
from Air Force Link Top Stories
Royal Thai Air Force members opened their gates to the public for the first time March 10 for an open house featuring U.S. Air Force aircraft and people, here.
Approximately 50 students from Ban Phaknam School, located about one hour away from the base, visited with Airmen participating in Cope Tiger 2010. The aerial field training exercise involves U.S., Thai and Singaporean forces training together March 1 to 12.
The children got an up-close look at the A-10 Thunderbolt II, C-17 Globemaster III and C-130 Hercules, all of which are deployed to Thailand for the exercise. ...
Awards Recognize Contributions To Aviation
- AVweb
Two major aviation awards programs have announced their winners for 2010. The Lindbergh Award, which honors efforts to ...
Connell Recognized with Aviation Award
- Cedar Valley Daily Times
Airport Manager Jim Connell has been presented the Charles Taylor Master Mechanic Award in recognition of his fifty-plus years of aviation ...
Anna Mracek Dietrich of Terrafugia Speaks at the 2010 International Women in Aviation Conference
from WAI Connect Blog
Terrafugia COO Anna Mracek Dietrich shared the story of getting the Transition(R) Street-Legal Airplane off the ground in her keynote address at the Women in Aviation, International (WAI) 2010 Conference. With never-before-seen photos of the development and flight testing of the Transition, it's a great way to mark the anniversary of the Proof of Concept's first flight. ...
Forget flying in a jet pack, try this hovercraft (Video)
- SmartPlanet.com
It's been called an "aircraft, aeroplane, hovercraft and flying boat." I can relate to a hovercraft's motions. I played with a remote control hovercraft ...
Discovery has a leak!
from How I Am Becoming An Astronaut
While attempting to load propellant Friday night, a leak was detected in Discovery's RCS (Reaction Control System) Helium Isolation Value – on the right-hand OMS (Orbital Maneuvering System) fuel system. Further testing and troubleshooting steps are being planned at the launch pad to examine two helium system regulators, which maintain pressure to the fuel tank and are further down the plumbing from the isolation valves. ...
Pitts Airshow, Daldosch N89HC, Kunstflug Österreich, Wels
via OneRiot.com
Wanted! Sponsor for Red Bull racing plane, Extra, Edge, PC7 or similar to race at Red Bull air race, supply airplane, get price money. Call 6763256095, ask...
Caption Contest #34 - Skydiver Driver!
by Martt
Usually a 'skydiver driver' is the pilot of the jump plane, but this time I think we've found a whole new meaning! And you just gotta love an airplane that can let a car full of people drive right out the back end : ) ...
Max Air 2 Air
- Max Haynes
Hello Plane Folks, This week I bring you an essay on an adventure in C&P Aviation's Grumman Albatross. It was a thrill!
http://maxair2air.com/
Also, there is a new entry in my FLOG, by blog on learning to fly.
http://maxsflightlog.com/entry09.html
Enjoy! Max
via x-ray_delta_one
from x planes
Blackburn Beverley
from Planeshots
Photos: Revisiting WWII history
- Ultimate Tomball
Cope Tiger 2010 open house
from AF.mil Photos
Blue Angel 1st show 2010 El Centro NAF Part 2
from OneRiot.com
NAF El Centro Air Show 2010 - NAF El Centro - 03/13/10
from FenceCheck Forums
Top of 24 Hours for March 15, 2010
from AIRFIGHTERS.COM - Top Photos of the Day
Video: John Travolta Shoots New Breitling Advert!
- jewellerystylist
Warbird Of The Day – Lockheed Neptune
from Warbirds Online
.